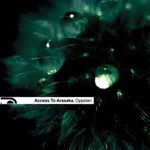 Once introduced to that delicious, sweet nectar, the addict constantly searches for more. Just another hit, another bump, another tweak to get one smiling. In my case, the choice of drug is music. Whether it be a melodic harmony within the player's piano keys, or nasty glitch within his framework – I … WANT … MORE! Hungrily consuming every minuscule release by a handful of favorite artists, I'm also on the lookout for new names. Who will be the next dealer of bliss, of poison, and of true love? Yessss… Give it to me… Inside these headphones, a digital structure gets transformed into a swallowed pill, an inhale of ambiance, a prickle of a crunchy beat.
A newcomer to the scene, Access to Arasaka wishes to remain anonymous, hoping to have his real name "erased like unwanted hentai pictures on a 3.5 floppy disk." With Oppidan, his unique output has been finally picked up by Tympanik and Spectraliquid in one shot. Prior to signing, he has released a few digital EPs all on his own: Korova EP (2006), Cassiopeia (2007), and Vessel EP (2007); with a few additional free releases on Danish illphabetik net label: METAX (2007) and :Port (2008). Oppidan is his debut full length, featuring vocal contributions by Beau Jestice and Jamie Blacker (aka ESA).
This is the delicious clicky, crunchy, and super melodic IDM that your brain has been craving. Luscious pads, modulated synths, and sporadic percussion will keep you at the edge of your seat, as you attempt to hold on to the kaleidoscope of sound thrown up in the air like abstract confetti, only to be arranged back into intricate designs before it lands on the floor. And this incredible intelligent complexity is what makes Oppidan an exciting and entertaining listen that begs for multiple returns. It's like finally solving a challenging puzzle that only reveals to you one side at a time.
Highly recommended if you are a fan of Gridlock, Kattoo, Hecq and the purveyors of digital organisms that eat through the neural network of your brain. Be sure to check out AtA's entertaining Matrix-like geeky web site where you can also download his latest digital EP, ==null for FREE.
– – –
p.s. On June 2nd, Spectraliquid announced its demise. With only nine releases by this Greek label, Spectraliquid introduced the world to Blackfilm, Frank Riggio, Cardopusher, and of course, Access to Arasaka. Their farewell letter ends with promises of new albums, remixes and contributions by Xsoz, Mobthrow and Subheim. I wish Kostas, Angelos and John the best of luck… We will miss you…