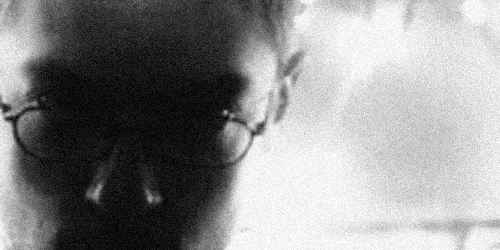 – Where did the name Access to Arasaka come from, and what does it mean?
::Access To Arasaka, quite directly, came from Netrunner. It was a card game shoot-off of the Cyberpunk 2020 roleplaying game. When attempting to find a name to fit this project, that one leapt out at me. It felt like a call-to-arms for everyone interested in dark futurism, in a way.
– How would you describe your music?
::I don't entirely know. The style is really just a mixture of every influence I've ever had, past and present. As the general idea of this project is a way to describe the future I anticipate, the sounds and styles themselves are an homage to every song that has already taken me there.
– Who are some of your influences?
::Many of my influences seem to be split between the newer IDM and glitch-oriented music (Autechre, Clark, etc), and the electronic music from the 90s (Orbital, Spacetime Continuum, etc). And, as I am unashamed to admit that I'm an 80s child, I am still inspired by Pet Shop Boys, Visage, Depeche Mode, and the like.
– There are some post-apocalyptic references in the titles of your tracks. What is the story behind Oppidan?
::Oppidan was based on a short story I wrote. It has never escaped the draft stage, and probably never will. The story follows a girl and her residency in one of the many street gangs inhabiting a district of several destroyed Chicago blocks. The story itself is more of a character study, yet I tried to create the album as a description of this actual world, and the events that take place within her story.
– How has the exposure of your music changed since you got signed to Tympanik and Spectraliquid?
::It has changed drastically. I was completely weary of putting it out on the internet in the first place. Once I did, to my amazement, people started to listen. And, for some strange reason, like it. As soon as Tympanik and Spectraliquid got a hold of me, the amount of listeners has been growing beyond my expectations. It's a very strange feeling.
– What is your production setup like? What software do you use?
::At the moment, I'm running mostly hardware. My studio consists of an Alesis Ion, Korg X50, Microkorg, Korg Electribe EA-1, Roland SH-101, and a Sirkut SNB. For sound editing, I use Sound Forge. And for general track construction (as well as a lot of the drum programming), I use FLStudio. I had started my music production on early versions of these programs, and have more or less stuck with them ever since. Must be a comfort thing.
– What are you working on right now?
::I have just finished the next full-length album, which looks as if it shall see the light of day via Tympanik. There will probably be a good two to three weeks away from music after this is all finished, in which I will do nothing but watch Robocop on repeat and eat a Funyun every time he fires his gun. If I don't die from a Funyun overdose, I'll get back to work on this rubbish soon.
See also Headphone Commute Review of Oppidan