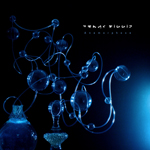 Like a hungry spider, returning to its nest of venomous eggs, the effect-rich sound of Frank Riggio crawls up your skin, and sinks its fangs in to open up a healed scab beneath your scalp. This album is dark, cinematic, enormous and elaborate. It is absolutely impossible not to compare Riggio to Amon Tobin – so let me just get the similarities out of the way. Saturated with samples, dense percussion, and intense micro-programmed twists and turns through the intricate passages, Riggio seems to have taken the path where Tobin veered off to persuade a more experimental sound. So let us leave Tobin in the studio, composing another video game soundtrack, and turn our ears towards Riggio, who sprung up from the underground last year, like a fresh poisonous mushroom after an acid rain.
Hailing out of Epinal (France), Riggio has been producing music since the age of 18. His influences include the above mentioned Amon Tobin, DJ Shadow, and Bonobo. In 2007, Riggio released his debut LP, Visible in Darkness. Soon after, his second digital LP, Symmetric Human Door, appeared on Australian net label, Omelette (available for free). He followed it up with another free digital 7-track release, Noise Thinking (Omelette, 2009), and in December, the Greek label, Spectraliquid, gave us the best Christmas present one would want – the third album from Frank Riggio, Anamorphose, available completely for FREE! What? I would have gladly paid money for this! I guess the motivation here is to fall in love with Riggio's sound – since he's got a fourth album on the way on Spectraliquid out in late Spring of 2010. And falling in love with this trip is easy!
Full of orchestral stabs, agitated strings, and an arsenal of  acoustic and digital percussion, Anamorphose is the lost score to my newly found nightmares. With nostalgic passages, scratching at my memory of abandoned dusty films, the beat treads on, like a rusty tank, smothering your neighbor's obscene American Girl doll into the cold oily mud of reality with its metal claws of freedom, fake lipstick and all… Apple orchards wither, as seen through the sepia filtered lens of an aged camera, then sink into the putrid ground to reveal the lonely scarecrow, its empty mouth dangling by a thread, in which the spider made its nest. The sound is so raw, I can draw these images all day. And the production is superb! The album is so good, it's tough to pick a favorite track!
Here's a taste of Zebra Cobra from the Noise Thinking EP mentioned above.
I mean, if I didn't tell you that this isn't Amon Tobin, I bet you wouldn't even know. Even the cover art for this and other albums along with the font, resembles the artwork of Supermodified (Ninja Tune 2000) and Foley Room (Ninja Tune, 2007). And I point that out with the greatest respect. While some may turn up their nose with accusations of a copycat, I happily proclaim – bring it on! More imitations of Amon Tobin, Aphex Twin, and Autechre (just to start with 'A's). These are the roots of evolution of music as it splinters into a million little pieces of sound. Permutations, anyone?
See also Two and a Half Questions with Frank Riggio
myspace.com/riggiofrank | frankriggio.com
myspace.com/spectraliquid | spectraliquid.com