In this installment of Sound Bytes, I am covering three releases which all bend the genres just a tiny bit, but enough to invent some of their own. Submotion Orchestra cleverly mixes jazz and dubstep to create some of the most amazing bass rumbling electronica, with melodies that get stuck in my head for days! Russian artist, Bop continues to perfect his sonic explorations into micro drum'n'bass with just a little bit of glitch and techno. And the prolific Venetian Snares is back with his mind warping breaks, this time deconstructing reggae from its jittering jigsaw jungle jingles… I hope jew enjoy, and jot me few jolly jives, jes? Jeez!
Submotion Orchestra – Finest Hour (Exceptional)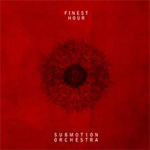 When the self-titled EP landed on my desk from Submotion Orchestra, I immediately recognized an amazing potential behind this group of seven musicians… well… OK, so I'm a big fan of Dom Howard's productions as Ruckspin on Ranking Records, and his bass-rolling dubstep influenced beats could only polish off this already shiny record. The single, All Yours, was already featured on Headphone Commute as Track of the Week, and since then, I have been patiently awaiting the full length. And here it is! With sublime vocals by the lovely Ruby Wood, trumpet solos by Simon Beddoe, and distant smokey keys by Taz Modi, the group creates a sweet, seductive, and ultimately poisonous concoction of acid jazz, dubstep, and soulful breaks. The melodies instantly find their way into repetitive memory banks of my mind and get stuck there for days. And I just can't stop listening… So why seven people? You see, Submotion Orchestra is a proper seven-piece band, where all participants play acoustic instruments, including bass by Chris Hargreaves and percussion by Danny Templeman and Tommy Evans, fusing an organic, incredibly atmospheric, and skillfully mastered record, which should make everyone on Ninja Tune jealous. Formed in Leeds in 2009, the band is already turning heads across UK's festivals and gigs. Finest Hour is a Submo's debut album on Exceptional Blue, a UK label that has been around for over a decade, releasing 12″ in a variety of electronica genres. Fans of The Cinematic Orchestra, The Kilimanjaro Darkjazz Ensemble and of course, Bonobo will be extremely excited to add Submotion Orchestra to their collection!
Bop – The Amazing Adventures Of One Curious Pixel (Med School)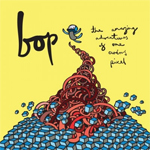 Releases from Hospital Records's Medschool have repeatedly appeared on my rotations. And although I mostly tend to consume label's compilations, there are definitely a few full-length albums and artists that I faithfully follow. One of them is St. Petersburg (Russia) based Alexander Dmitriev, who produces under his alias Bop. Dmitriev has previously released on a handful of Russian small labels, then moved up to Leipzig based Alphacut Records, and finally was discovered by Medschool in 2009. The label invested in Bop's first full length release, Clear Your Mind, which quickly gained attention with its experimental, minimal, and intelligent drum'n'bass. For his sophomore album, Dmitriev polishes off his glitchy beats with a touch of spacey, 8-bit chiptune vibe, deep dropping bass, and funky groove. Carefully shielding each frequency and individually processed signals from each other, the album traverses from the past of video game sound to the future of interplanetary travel. Appropriately titled The Amazing Adventures Of one Curious Pixel, the album tells a story of one lost digital picture cell, breaking off from the jumbled norm of a rasterized world, and venturing into an array of precision stitched, micro programmed rhythm, where each element has a life of its own. Spanning eleven tracks, the album includes one of my favorite remixes of Subwave's I Need You. With his second release, Bop continues to push the evolution of the genre, creating a unique style of his own. Check out our own Headphone Commute Podcast, to which Bop contributed two Micromixes consisting of tracks from his previous album and EP. The album can be purchased directly from the Hospital Shop.
Venetian Snares – Cubist Reggae (Planet Mu)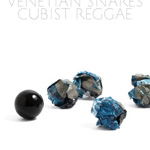 Like a tweaking Picasso on acid-laced ganja, Aaron Funk deconstructs the basic elements of reggae, then shuffles them around the straight edges and outlines of his twisted psyche. Foregoing his staple Venetian Snares delicious insanity of drill and breaks, Cubist Reggae is a four-track EP, on which Funk bends and chops basic loops into short studies of the genre. Instead of a smooth head-nodding smoke-filled vibrations, the sounds of Cubist Reggae are snipped, dropped, and then left to reverberate across extensive delays. Cutup, layered, and indeed dubbed over itself, the experimental production of the tracks strips the reggae off its glamor, leaving the naked, flesh-dripping skeleton to stumble over itself into a neurotic blender of Funk's surgical kit. Where You Stopped The Heaviest reminds me a lot of the melancholic Öngyilkos Vasárnap, from Funk's 2005 milestone, Rossz Csillag Allat Született (Planet Mu). Overall, VSnares satisfies the cravings of warped time signatures, triggered samples and low rumbling dub, enough to perhaps hold us over since his last full length, My So-Called Life, was released on his very own label Timesig, sponsored by Planet Mu. Only the lengthy track titles hold some unsolved mystery. Could these be the remains of the original reggae sources? The EP works well within its sixteen minute span (not sure how the concept would stretch out to an hour), and it's definitely nice to see Funk explore another territory. True fans of VSnares will understand…