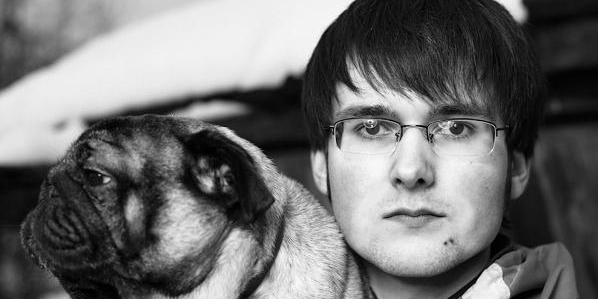 Let me introduce you to Bop. Hailing from Saint-Petersburg in Russia, Alexander Dmitriev is a new breed of producer intent on re-writing the rulebook with an intoxicating ice-cold sound; embracing influences from deep techno and minimalist dubstep through to IDM and ambient drum & bass. This is beautiful, melodic, micro-glitchy d'n'b that should definitely get you excited about the evolution of the genre.
In 2009, Dmitriev released his first EP on Med School, Song About My Dog and immediately captured my attention. He followed it up with his debut full length album, Clear Your Mind (Med School, 2009), and Headphone Commute has selected it for our Best of 2009, Music For Caffeine Free Car Chases.
Click above images to purchase directly from Medschool / Hospital shop
I am now delighted to present you with not just one, but two micromixes fused together. Although combined, both still clock in under 30-minutes, there is still a lot of music on here. This is a showcase of the latest compositions by Bop and a few of his label-mates. I reversed the order, and first feature Bop's Micromix #2 from May 2010, followed by Micromix #1 from April of last year, 2009. I don't think the order matters here, as long as you enjoy the music. Which, I'm confident, you will!

[ S T R E A M ] | [ D O W N L O A D ] | [ P O D C A S T ]
Micromix #2 (May 2010)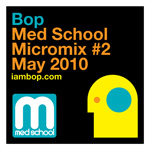 01. Bop – I'm Not A Human [dub]
02. Bop – My Heart Is In A Freezer [dub]
03. Bop – Extraterrestrial Creatures Are Stealing You From Me From The Bedroom (Without U) [dub]
04. Blu Mar Ten – Believe Me (Bop remix) [BMT dub]
05. Lynx + Hellrazor – Silver Glide (Bop remix) [Detail Recordings dub]
06. Bop – Nothing Make Any Sense (Blu Mar Ten remix) [Med School]
07. Subwave – I Need You (Bop remix) [dub]
08. Bop – Song About My Dog (Subwave remix) [Med School]
09. Bop – 8bitcosmos [dub]
10. Bop – Twilight [dub]
11. Bop – Simple Things [dub]
12. Bop – Enjoy The Moment (Unquote remix) [Med School]
Micromix #1 (April 2009)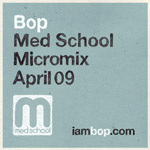 01. Bop – Tears Of A Lonely Metaphysician
02. Bop – Lost In This World
03. Bop – Zakoulki Soznaniya
04. Bop – Chaosmos
05. Bop – Forms, Ideas & Chips
06. Bop – Enjoy The Moment
07. Bop – Ataraxia
08. Bop – Random Thoughts
09. Bop – Nothing Makes Any Sense
10. Bop – Song About My Dog
11. Bop – Clear Your Mind
12. Bop – Rovor