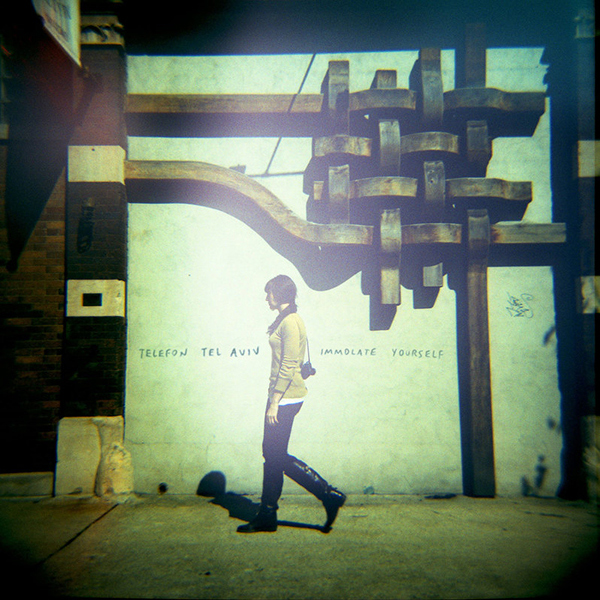 What follows below is a review for an album whose title has been rendered regretfully apt. The sudden passing of Telefon Tel Aviv's Charlie Cooper only two days after the group released their long-awaited third full-length studio record is a coincidence suggestive of a sacrifice: an untimely departure at the arrival of something so great, yet so final. The well-deserved reception of Immolate Yourself, made public on 20th January, has since seen TTA fans buzzing with excitement across music forums worldwide.
Based in Chicago and originally from New Orleans, the duo comprised of Cooper and Joshua Eustis had opted to join Berlin's BPitch Control community shortly after their successful release of Remixes Compiled (including Apparat's 'Komponent') provided clear indication as to why such a marrying of talent would be ideal. Previously signed on with Hefty Records, their earlier albums Fahrenheit Fair Enough (2001) and Map of What Is Effortless (2004) had been emotive masterpieces in their own rites. Early introduction into the world of TTA meant listening to tracks such as the first's title number, 'Introductory Nomenclature', and 'Nothing Is Worth Losing That', with an awe reserved to the contemporary electronic greats who so masterfully balance the timbre of their glitches, the time-delays on snare and the synthetic chorus in reverb that unfailingly elevates the entire listening experience.
Telefon Tel Aviv have always presented something so beautifully understated with their music's philosophical allusions as evidently inspired by science and literature ('What's The Use Of Feet If We Haven't Got Legs?'). But beneath that, their unique chameleon metamorphosis integrating sounds across genres (most notable R&B and ambient) into a quasi-minimal techno has never ceased to impress. And Immolate Yourself takes that even further, bringing in some New Wave inspiration ('Helen of Troy', 'M') with all the heavy 80s synth necessary for nostalgia to boot. Yet, somehow it still manages to sound very much like TTA, culminating halfway through on the hauntingly poignant 'Mostly Translucent' so worthy of replay and reminiscent of that driving force behind the fifth on their second LP. But all of this is beside the point. Because it is in this nature of TTA's sound that Charlie Cooper will be remembered.
Joshua Eustis, in a eulogy on MySpace for both his groupmate and close friend since high school, wrote:
'We have been so fortunate to tour the world together, while at the same time having a massive amount of laughs at one another's expense… His musicianship was surpassed only by his greater gift to the world — his warmth, his generosity, his unquenchable humor, and his undying loyalty to those whom he loved.
Aside from Charlie's singular genius and musical gifts, I can tell you that he was a total sweetheart of a guy, and a loving friend and confidant to people everywhere.' At the age of thirty-one and earlier having been set to tour North America with Matthew Dear, Cooper is survived by his parents, sister, nephew and 'more adoring friends than the Universe has dark matter.'