Matthew Robert Cooper has been releasing albums as Eluvium on Temporary Residence Ltd since his debut in 2003. So, yes, I have been listening to his music for 20 years now. In fact, I interviewed this Portland-based composer about a decade ago [I think we're due for a revisit, don't you think?], and Matt has graciously contributed a track to Volume 3 of For Ukraine benefit compilation, curated by Rafael Anton Irisarri. Eluvium's music defies categorization, but fans of ambient, contemporary classical, and solo piano will surely recognize his name. Some may be lucky enough to be in possession of his massive boxset, Life Through Bombardment Vol. 2. In the last few years, Eluvium has released Shuffle Drones (2017), Pianoworks (2019) and two volumes of Virga (2019 and 2021). These are some great examples in his latest exploration of cross-over genres, slotted, as the titles suggest, somewhere between neo-classical and drone. And yet, for his new release, Eluvium evolves synthetic experimentation into an orchestral, euphonious work of grand proportions, inviting an entire Budapest Scoring Orchestra, a modular synth and bass clarinet duo known as Golden Retriever, and the celebrated American Contemporary Music Ensemble (ACME), to compose a wide-spanning, concert-hall worthy album, inspired by T.S. Eliot's The Waste Land and Richard Brautigan's All Watched Over By Machines Of Loving Grace. I am honoured to premiere a track for you from his latest single, "Phantasia Telephonics," which reveals more than a few secrets, with some of them shared by Matt in a short write-up below. It's an amazing read [and listen!], and I hope you'll get excited to hear the entire thing!
[Editor's Note: The following words are by Matthew Cooper]
The first half of this piece was written using somewhat traditional synthesizer and sequencer techniques and automation, and applying similar methods to the piano. The second half was written with a focus on the Make Noise René (named after René Descartes – a philosopher who is known for his "mind / body problem", which is reflected in the device's "Cartesian" manner of X / Y (and Z) mapping of a sequencer). The outgoing sequence was run through a shifting tape delay to create a reflection of itself which is scattered, shattered, and refracted.
By design, this is the only track on the album performed entirely by synthesized and virtual instrumentation (there are no orchestral instruments implemented). It might perhaps seem an odd thing to do (and may even be impossible to tell for many), but I wanted this to be a point in the album where reality becomes more disoriented (within its overarching technology/human narrative) and try to invite an internal discussion of what is real/not real, important/unimportant in the creative experience – and what that, in turn, meant to me (and possibly other listeners). Choosing to keep it entirely synthesized instrumentation seemed like an interesting way to implement this. This track was also a compositional turning point for what methods were being employed in writing the album due to physical constraints I had been experiencing with my left arm. So in some ways, I think I wanted to pay homage to this. I'm not sure if it was purely for self-satisfaction or some form of intentional personal bemusement, but initially, I did not intend to tell anyone about this. Purposeful quiet brokenness, perhaps? Later on in the album, a stripped-down and more gentle variation of this melody returns with Clockwork Fables, which was composed for player piano.
I wanted this album to have a lot of conceptual and mechanical push and pull and blending between what we deem "technology" and what we would consider more "human" – or perhaps simply "natural" or even "reality". This piece is meant to act as a bit of a doorway towards this breaking point. Whereas the tracks that came before are suggestive of a more rudimentary or primitive mechanical world (and our harnessing of those mechanics), this track leans towards things starting to be a bit more confusing. At least, this is what I tell myself. I don't know if any of this matters or translates to the listener, I just do it because I enjoy puzzling out things like this and searching for ways that make all these parts come together into a particular form and narrative. I'm naturally drawn towards working things until they tie together in strange and unique ways and complete a specific narrative. It probably makes things more complex than they need to be, but this mixture seems to stimulate a pleasing variety of thoughts.
— Matthew Cooper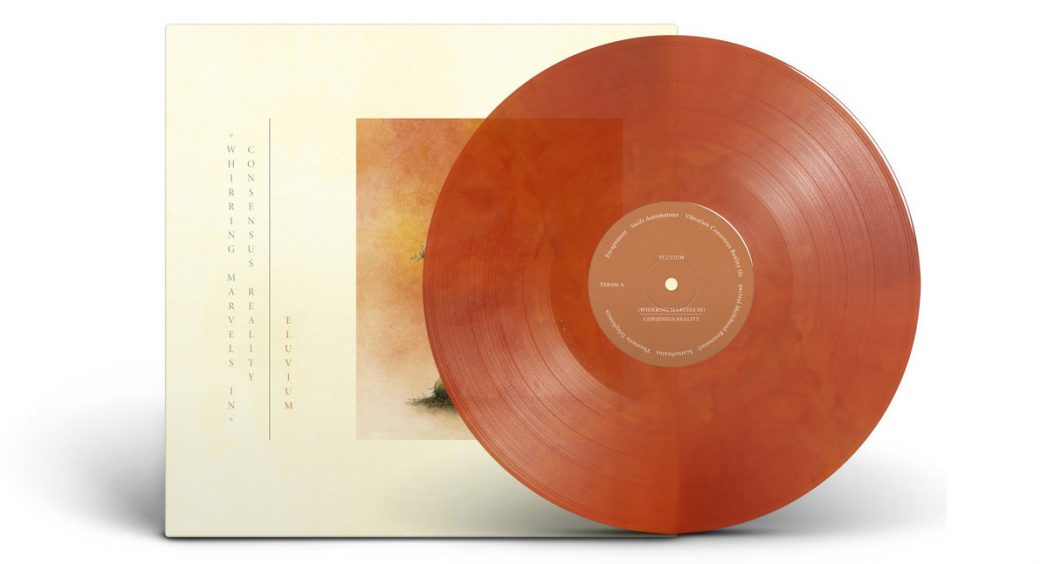 The full album, titled (Whirring Marvels In) Consensus Reality, is scheduled to be released on May 12th, 2023, but you can pre-order a CD or a "Wild Fire" coloured vinyl directly from his Bandcamp. You can also play through a few singles, which have been released on all digital streaming platforms ahead of the release.