AFX
Analord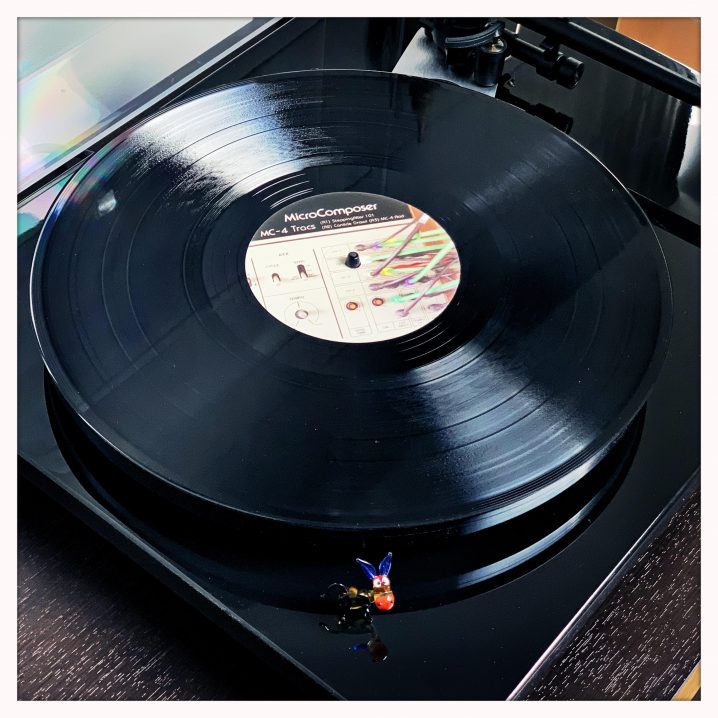 For my newly devised Daily Spin column, on which I feature one vinyl that I'm enticing myself to listen to and cover per day, today, I'm choosing four! That's because these individual 12-inchers are part of a single Analord series from AFX (yes, the one and only Richard D. James), and actually, I believe there are eleven of these altogether. I think I stopped purchasing these because I realized I was shelling out about $11 per record, and I wasn't truly connecting with the tweaked out electro, the best of which was subsequently released by Rephlex in 2006 as Chosen Lords. But, if you love Aphex Twin, with all of his demented excursions, and if you love acid, this selection of tunes will keep you nodding your head to the twisted 303 patterns slathered over 808 sounding rhythms. And, although I'm sure Analord is supposed to hint at something like "lord of the analog," I can't stop but think of the other perversion, which, on second thought, I'm sure James has implied here as well. The initial release by the label in 2005, curiously began with Analord 10, presumably because its faux-leather binder was intended to entice the collectors to pick up records 1-9. An always interesting marketing ploy and we've seen James turn to various degrees of self-promotion in the past, including his logos mysteriously appearing all over the world, or the blimp that flew over London in 2014. "As with the rest of James' best work as AFX, there's a restless, fidgety quality to everything else here — bursting with scampering rhythms and analog keyboard spasms, it's a deeply claustrophobic record overall." For me, these records are a combination of a guilty pleasure and a time-warp back to my DJing days in Chicago, when a few records randomly appeared in Gramaphone shop before they got snatched up by anyone who recognized the three small letters: "AFX."
Mika Vainio
Reat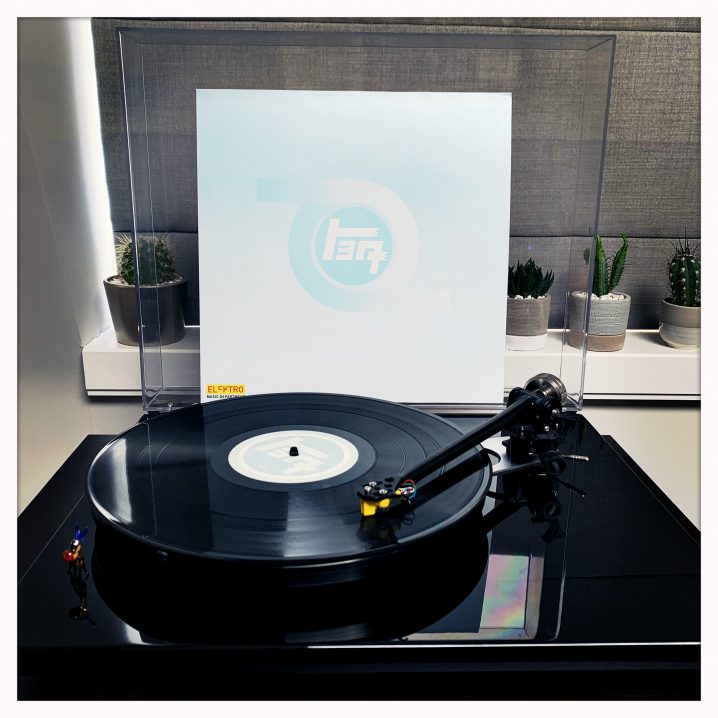 Today on the menu is the first posthumous release from the late Mika Vainio, who passed away in 2017. As one half of the incredible Pan Sonic (along with Ilpo Väisänen), as well as his very own solo project, named Ø, this Finnish musician produced some of the most advanced electronic music, always ahead of its time. His very own Sähkö Recordings, which he co-founded with Tommi Grönlund, showcased futuristic, experimental, and ultra-minimalist electronic music from the likes of Atom™, Mike Ink, Carl Michael Von Hausswolff, and of course, Panasonic, as the group was initially called, before the same-named consumer electronics company issued a cease and desist letter. For Reat, Berlin's Elektro Music Department issues eight post-techno pieces, produced and recorded by Vainio in Oslo's Time Socket, in 2016. This is a selection of Vainio's staple industrial-sounding percussion, deep analog bass, and high-pitched resonant clicks, similar to Alva Noto's micro-clipped static. There are some sampled and warped melodies on here, but they will only reveal themselves to those attuned to deconstructed glitchy sounds. "It's mostly distorted muscle and flinty bone with silvery threads of atmospheric subtlety that tie it all together [with] drum machine crack and pure voltage control manhandled into taut, burred metallic sculptures as arresting as anything in Vainio's catalog." The label sticks to their "Internet Free" commitment, so there is no digital release, no web site, and no press release. This is one of those rare vinyl pressing that you can only find in a record shop, and it's their first release since the first 19 entries they put out up until 2006 [a lot of them are by Klaus Kotai]. I hope you'll be one of the lucky ones to hear it.
London Chamber Orchestra
Adams / Glass / Reich
Minimalist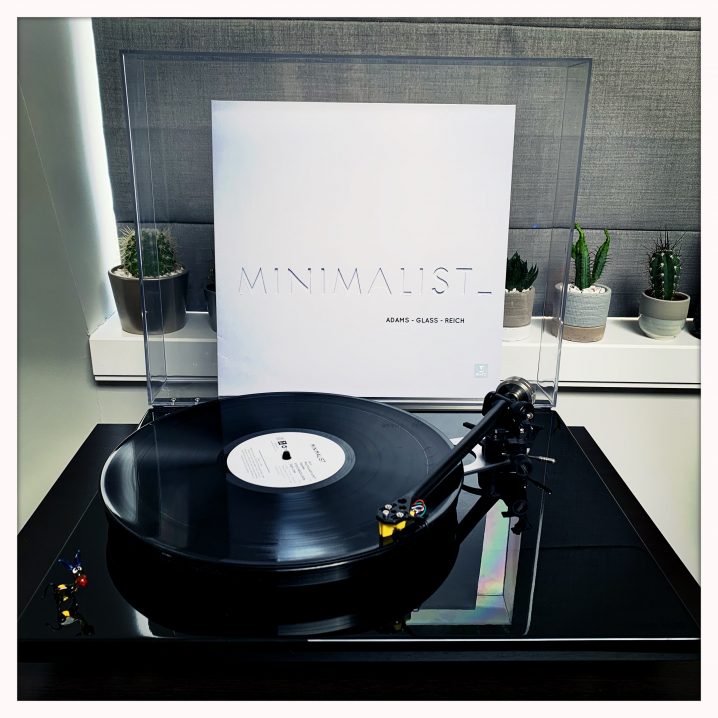 Minimalist is a compilation record released by Virgin Classics in the 90s and subsequently repressed by Warner Classics in 2015. Performed by the London Chamber Orchestra [under Christopher Warrem-Green], the vinyl features four pieces by John Adams taking up the A-side of the record, following a piece by Philip Glass and a longer composition by Steve Reich on the flip side. Although I have found it in the classical section of the record shop, this release clearly demonstrates that small space of genre transition, between the contemporary composers of the 20th century and their ambient and electronic music counterparts that build on loop-based repetition, tribalesque hypnotic rhythms, and minimalism at the core. Here we have the orchestra tenderly executing soft passages, then diving into rapid tremolos and trills. Single chord progressions give way to rising counterpoints in the mind of Adams [who's name of the record appears next to hear year of birth for some bizarre reason]. "Façades" by Glass is a study into slow meditative passages accented by a soprano saxophone melody. The background strings almost melt into a single chord reminiscent of an ambient synth pad. Finally, "Eight Lines" by Reich, is a single 18-minute movement whose structure is based on the Jewish traditional chanting, features syncopated melodies which are transposed and shifted over a drone-like background, incrementally building on the kaleidoscopic polyphony of rapid staccato piano notes. "You could hear the shifts of Reich's phasing patterns (when a fragment of musical material is repeated with a very gradual change) – music that insisted upon being listened to in a highly involved way." A fascinating record with three highly influential composers performed by LCO. The CD and digital versions of this release include one more piece by Philip Glass and composition by Dave Heath.