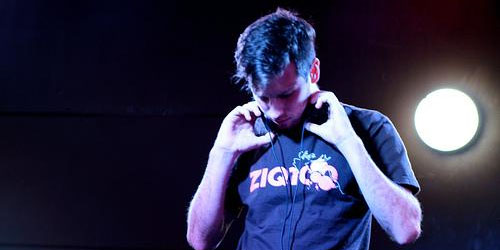 I hear some very advanced techniques in your production, yet you only have a few EPs under your belt. When and why did you start producing?
i've been producing for a few years now, i guess i'm interested in what Stockhausen, Eno amongst others pioneered – using the studio as an instrument, i'm interested in things which are beyond a pair of hands. not that everything i do is, but as a general means of generating sounds.
I compared you a bit to Venetian Snares (I meant specifically his modern classical meets breakcore album, Rossz Csillag Alatt Született). A few have also pointed out a few AFX elements. What are your true influences?
i have many influences, most of them seeming to have no connection to my music – i  like venetian snares, afx  – a lot of music i hear at the minute in the electronic field is either disgusting dance floor wank such as Basshunter or completely glitched to the point where the process overwhelms the sounds themselves. –  any artist which maintains a good balance i like – such as aphex twin, venetian snares, clark etc.
How does Rival Consoles compare to your alter ego, Aparatec?
aparatec would seem to be more plastic, keeping to that Detroit acid sound. though i don't set a constraint on what music should be associated with what name, i am purely trying to produce music which interests me, and then if good, expose it to people.
Which artist or track would you love to do a remix of? I'd suggest Thom York, but it seems that everyone took a stab!
although i respect good remixes it's not really something that interests me, i'm much more interested in new works – though i do make music by creating tracks and then re-sampling, re-structuring them. so my way of making music in general is a remix process. i've been meaning to remix 4:33 by J. Cage for a while.
What are you working on now? Any chance for upcoming full length?
i have a split 12″/download featuring 3 new tracks 'Milo', 'Func' and 'ARP', which also includes 2 tracks from Kiasmos, Ólafur Arnalds new minimal techno side project. i also have a debut album set to be released in June called 'IO' which steps into a slightly different feel than previous Rival Consoles releases. centered around analogue acid synthesizers, and a lust for catchy music which still has some kind of integrity. all to be released on Erased Tapes Records.