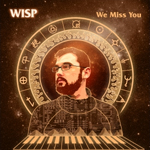 Wisp makes laptop music in the same way an armorsmith fashions plate mail, with structural integrity and superb craftsmanship. For the huntsman, it deflects the arrows of the enemy and makes thorny underbrush traversible. For the artisan, it speaks volumes of the wearer's lineage, a coat of arms woven into the filigree. It is a noble work. After all, dragons don't slay themselves.
Drawing from his personal experience in the wilderness of Niagara Falls and his reverence for medieval fantasy, Reid Dunn (Esq.) has, fresh from the adventure of his LP The Shimmering Hour (Rephlex, 2009), bestowed us with another chapter in his ongoing braindance epic. We Miss You is Dunn's third release from Rephlex, and has been made available digitally, though it may as well take the form of ink on dried parchment. In this scrolling screed is a collection of bard-y ballads and honour beats, delivered sometimes in haste ("Pogonip"), other times in requiem ("Four Thistles") and even in jest ("Happy Sneakers"). When all appear on a single track ("Moss On Stone") the result is pure wonder.
Like his contemporary Benn Jordan (The Flashbulb), Dunn is at home in his element, never once letting formula get in the way of personal expression. What comes through in the music can best be summed up by the six D&D attributes : strength, dexterity, constitution, intelligence, wisdom and charisma. Wisp's character levels up with each album. Recommended if you also dig Kettel, µ-Ziq, Ochre, Squarepusher and of course, AFX. It's about time that Dunn got signed to Richard D. James' Redruth (UK) based label, Rephlex. Welcome home.
– – – – – – – – – – – – – – – – – – – – – – – – – – – – – – – – – – – – – – – – – – – – – – – – – –
Review prepared by Autodestruct exclusively for Headphone Commute
See also Two and a Half Questions with Wisp