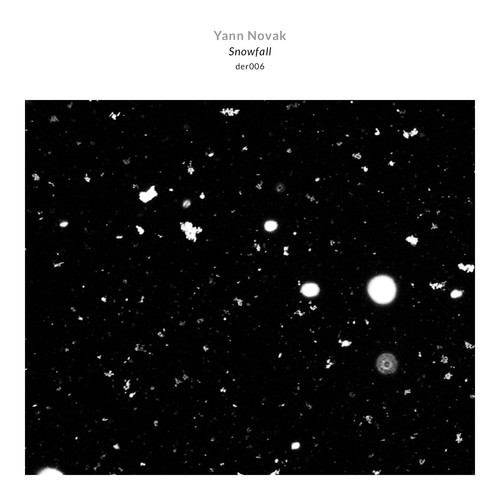 Los Angeles based Dragon's Eye Recordings is a label that keeps resurrecting itself. Originally founded in 1989 by Paul Novak as the audio/visual arm for his very own bread recipe publications, the label was picked up in 2005 by his son, Yann Novak, for his very own sonic explorations in abstract and experimental music. Following a chain of successful releases, the imprint went into a hiatus sometime in 2011, only to return that much stronger three years later. Today we turn our attention to the first release since the relaunch, funded by a successful Kickstarter, by the label curator himself.
Yann Novak's Snowfall opens up like a morning, its dense moving light slowly shining upon the light falling snowflakes, the lake waters bubbling beneath the ice surface, in time gently warming to dull winter rays. Gradually, a sleepy vibration begins to wake up, stretching its comatose fingers across the frequency spectrum of cold, weary tones. Ten minutes into this hour-long piece, and the sounds of deconstructed stillness begin to reveal their very own beauty, audible alone in their isolation from everyday sounds, and our own constantly buzzing mind. If there was ever a soundtrack composed for an understanding of the true nature of reality, and for the vipassana meditation during which such insight may be glimpsed, than Novak's Snowfall is that score.
Condensed from a six-hour long audio-visual performance presented at Human Resources Los Angeles into an hour-long single drone, this microsound composition allows the listener to experience the tranquility observed during a snowstorm, where every snowflake floats and disappears, as precious and unique as this very moment. The original installation was constructed from photographs and field recordings collected by Novak at the Jentel Artist Reidency outside Banner, WY in February 2010.
"Presented over 6 hours, the audience was allowed to come and go as they please. This afford the viewer a more personal experience with the piece through the dispersion of the audience."
I want to say a few more words about the label. Perhaps another catalyst, besides this album version of a performance, that played a role in Dragon's Eye rebirth was another unrelated event. About a year ago, Richard Chartier, the man behind LINE records, moved to Los Angeles, and during his own reinvention of sound as Pinkcourtesyphone subsequently presented A Ravishment of Mirror for Novak's label. These two albums, along with a release by Steve Roden and a collaboration between Lawrence English and Stephen Vitiello were the platform for the label's relaunch, as well as a platform for its Kickstarter fully funded campaign. In 2015 we are looking forward to more music by Robert Crouch, Robert Curgenven, Ian Hawgood and France Jobin. Meanwhile, Novak's Snowfall stands all on its own – molecularly sublime…
yannnovak.com | dragonseyerecordings.com
©
Words by HC