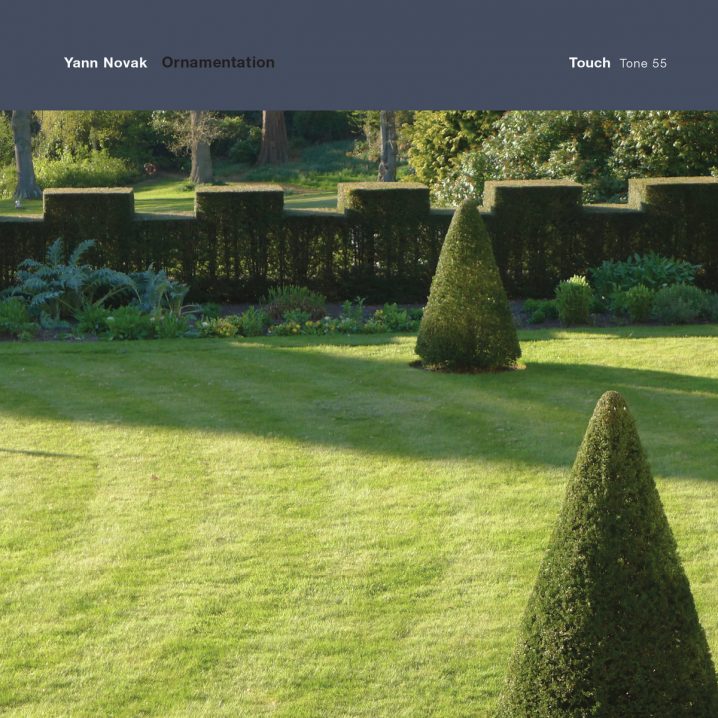 For his latest release, Ornamentation, the man behind Dragon's Eye Recordings, lands on another highly regarded UK label, Touch Music. This is the imprint, of course, that brought us recordings by Fennesz, Simon Scott, Anna von Hausswolff and Lustmord, just to name a few released in 2016! Besides Richard Chartier's Line label, for which Novak has already released back in 2010, and Fabio Perletta's Farmacia901, on which an Undefined collaboration with Chartier appeared in 2013, Touch has been a place, in my opinion, that would always suit this Los Angeles-based sound designer. Add the obligatory cover art by Jon Wozencroft, and the mastering ear by the one and only Lawrence English, and you've got yourself a very nice little package, archiving a live performance, presented in LA in fall of 2016.
As is expected from this master of drone microsound, the sound on Ornamentation is abstract, its structure absent, the future obsolete, and stillness absolute. Here we find ourselves in the present moment, immersed in tranquility, nominal hum, and crackling transformation. The vibrations of this continuous din fully penetrate your being, enveloping your ears with endless sonic buzz, until they merge with your consciousness and become as one with all of the silence. This is where sound nearly ceases to exist, as your mind pushes its perseverance to the outer edges of awareness, where it melts into the void of daily noise and harmonious drones, like fuzz of the power lines, or the whir of your laptop fan, or the purr of your neighbor's refrigerator.
Using field recordings from his archive, captured in various settings in the last decade on numerous low fidelity devices, processed through a complicated chain of effects, along with a recording of a modular synthesizer, Novak creates atmospheres that are also pregnant with a conceptual message. On Ornamentation Novak "resists modernism's problematic relationship to race, class and labor, and attempts to decouple contemporary minimalist sound work from this historical precedent." The title of the album mirror's Adolf Loos' 1913 manifesto, "Ornament and Crime", in which the author claims that human desire to embellish our environments, personal spaces, and bodies with decorations is a primitive impulse, which we must avoid.
Loos devalued the labor traditionally associated with aesthetics and beauty, and equated ornamentation with the degenerate. In this context, one could consider ornamentation as a way of viewing decay. His examples as such (tattoos, fashion, style, painting, et al.) predictably fell along divisions of race and class, coding modernity as the next outward manifestation of white, capitalist patriarchy.
Attending to some of Loos' claims, Novak constructs a composition with a focus on the labor thereof, rather than the extracurricular process of adornment and garnish, that would often distract a listener from its inner core. On Ornamentation Novak concedes to the necessary conventions of today's modern sound art, but focuses solely on the beauty of the labor itself, as the primary aesthetic. This is a beautiful recording on the meditation of sound and time, which will mesmerize as well as challenge one's senses. Recommended for fans of simplicity, purity, and calm.
©
Words by HC