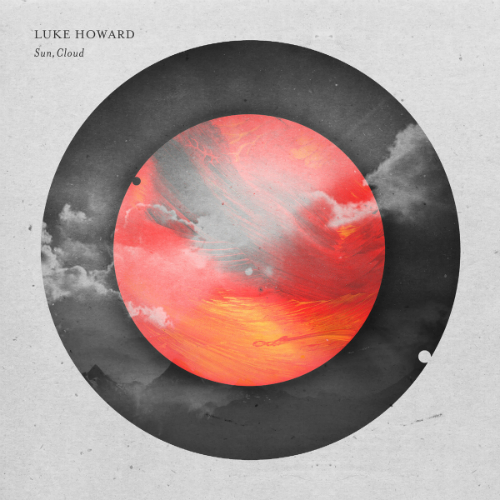 … if you ever wonder about the intricate process that is involved in selecting the albums that get featured on Headphone Commute – don't. It's a convoluted mystery that even I have much trouble solving. Let's just call it a combination of serendipitous events and pure universal randomness, if you believe in such a thing – don't. I mostly feel that certain affairs unravel on their own, flow like music, and finally resolve in one last tonal chord. But as the quantity of music appears to increase, so do the complex algorithms in my filtering logic to dampen out the noise. And so, what you get is the utmost culmination of the best albums that I could recommend, which is why a lot of these words often match my end of the year selections… and that's where you may have seen Luke Howard first.
Seemingly coming out of nowhere, Howard enters the scene with his self-released album, Sun, Cloud. And yet, the output of this Melbourne-born composer is not some low-end bedroom-based production. Recorded over a year in Australia, Iceland and Norway, the piano pieces on the release include the help by a ten-piece ensemble, featuring a string sextet, subtle electronics and a few field recordings. And although Howard manages to delightfully surprise with his musicianship, his curriculum vitae offers entries to backup his skills, including participation in over fifty recordings, and composition for film and theatre. But let's talk about the music!
In 1802 a chemist and amateur meteorologist named Luke Howard presented a paper recommending a new system of classifying clouds, using the names cumulus, stratus and cirrus.
The ten pieces on Sun, Cloud are totally sublime. Each track evokes a strong cinematic feeling by telling a story (sometimes a very sad story) which often reveals the soul of this composer. For example, on "Family", a favorite piece on the album [which does not appear on my vinyl copy], Howard opens up with a beautiful solo piano progression which slowly gets enveloped by barely audible reverbed ambient pads, until their sonic fingers stretch into the sky, and suddenly the piece turns into a majestic journey with soaring violins, pizzicato rhythms and gracious chords.
Besides his solo work, Howard also leads the Luke Howard Trio, as well as an ambient group named Magnolia. It's difficult to compare any one musician to another, but when I listen to Luke Howard I can't help but think of the first time I heard Max Richter, Jóhann Jóhannsson or Ólafur Arnalds. If there was a [new and unsigned?] musician that a label would ask me to tell them about, I would certainly point them to Luke Howard in confidence that in the next few years we will surely hear from him again. Keep your eyes and ears peeled, kids – this is a composer you must pursue!