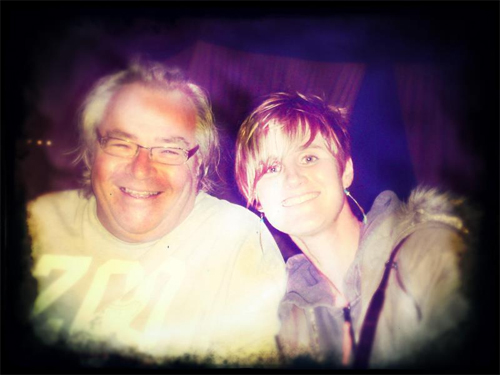 EK: Tell us how you determined the selections that made it onto the album.

JEFF: Jonathan from Hibernate Recordings and I had a discussion about which tracks to include. We wanted to make available those tracks that had either not had a physical release, such as 'Without Saying Goodbye' which was only available as a download from aReW Recordings, and 'The Organist' which is an extended version of a 60 second track that was released on Audio Gourmet's 'Coffee Break Ambient' collection. We also wanted to give people the opportunity to have a physical copy of some of the tracks on our ultra-limited early releases, and 'Wet Roads' because it's one of Jonathan's favourites!
EK: How much time do you spend on average collecting field recordings? Do you ever travel to specific locations to record certain sounds?

JEFF: Hard to say really. I tend to just react if I hear something that could be useful/interesting going on, and I have my recorder handy. Sometimes I just leave it recording in the garden for a while and then edit out the stuff that can't be used. As for travelling to specific locations – let's put it this way – if I know I'm going somewhere that could have interesting sounds – Mexico, Cornwall, Chanctonbury Ring etc, then I'll take my recorder with me. I don't really make specific trips just to record sounds. Maybe I should….
EK: How does the writing process happen when you collaborate with someone?

KATE: The collaborative process between myself and Jeff is very freeform. There's no set formula for how it works. We both want the music to grow from a spontaneous organic internal reaction to sound so often the parts I add will be purely improvised, recorded in one take over the top of what Jeff has prepared. This was the case with the first track we ever did together "Outside Heaven" After that track was done – |I wanted to try something with choral style vocals so I recorded some layers and they became the starting point for "Wet Roads." Jeff had an underneath layer already independently recorded and when we put it with the vocals it just worked like magic. So then I added some sounds, a bass part and we structured the track together.
JEFF: As Kate said, our writing process is very open and fluid. Kate is in the enviable position of being to play a keyboard virtually with her eyes closed, and that works really well when she's trying to immerse herself in a track and play what comes intuitively. For me, it's a little more complex. I tend to get bogged down in the intricacies of frequencies and harmonics.
EK: Is Kate a local musician, or are you geographically distant?

KATE: I live about 25 minutes drive from Jeff – we were introduced by a mutual friend. We both work with other people who are scattered all around the globe and for myself |I can say its great actually being able to write the tracks and talk about the music face to face as well as catching up for a beer or two. Jeff and I have become great friends so we can thank Listening Mirror for that added bonus!
JEFF: Yes, Kate's proximity is very useful. There's nothing quite like watching a track grow and blossom in front of your eyes. Being able to discuss a track and make adjustments in real time sounds like an obvious way to write music, and I would love to work like that all the time. But as Kate mentioned, the internet has allowed both of us to collaborate with people from all over the world – it's a different way of working, and takes a bit of getting used to.
EK: Have you considered scoring music for film? Because I think it would be a perfect fit.

JEFF: I have thought about it. People tell me that our music is very cinematic and that they can visualise all kinds of things when listening to it, so I can see how people could make the assumption that it would make good film music.
The main problem arises in the way I write music. It's very chaotic (in a good way) and it would be virtually impossible for me to tailor a track to fit a visual – it just doesn't work like that. But if someone wanted to write a film around music that was already written then maybe that could work.
EK: What upcoming projects can we look forward to in 2012?

JEFF: Well, Kate has her solo project 'Laska' which looks like it might be keeping her pretty busy this year, plus she has various collaborations in the pipeline. Kate is also working on another long form track for Listening Mirror as part 2 of what we called the 'Lovechild Symphony'. Part one was the track 'Even in The Quietest Moments'.
I am currently working with Alicia Merz (birds of passage) on a collaborative album which, if early signs are to be believed, will be something we're both very proud of. I also have a solo album coming out in April on the Australian label Twiceremoved Records. It's called 'What's Wrong with Miracles?', and features three long form tracks using a new technique of 'wind driven' guitars that I'm trying.
There's also a collaboration with Ian Hazeldine (Antonymes) that's due for release on Hibernate Recordings later in the year, as well as a contribution to the Rural Colours '5 Pieces' compilation.
I'm hoping to try and play a few live gigs this year, along with Kate. So if you see a man with a guitar over one shoulder and an oscillating fan over the other, come and say hello!
Read Headphone Commute review of Resting in Aspic
©
Interview by Elizabeth Klisiewicz exclusively for Headphone Commute.