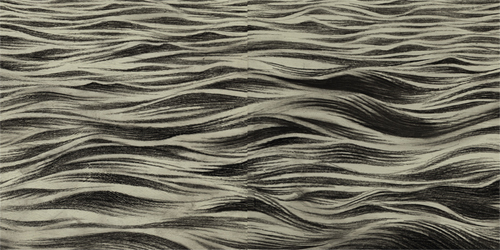 editor's note: answers provided by Aaron Martin (A) and Dag Rosenqvist (D)
How did you guys first meet, and what persuaded you to work together?
A: I had been aware of and admired Dag's work as Jasper TX since I'll Be Long Gone Before My Light Reaches You, but we didn't first come into direct contact with one another until he asked me to record a cello arrangement for a piece called "Weight of Days" that appears on The Black Sun Transmissions album. That went well, and I was excited about the possibility of working on a longer project together. He felt the same way and we got started working on "Woven Tide" from there.
What does the name of your project mean?
D: The thing is I'd had this as a possible title for a while. But I just couldn't seem to make it stick to anything And when Aaron and I started talking about actually giving this project a proper name I started thinking that it might actually work better as the name for a project rather than for a track or an album. It's sort of a weird title for a project but once we decided on it. It just kind of stuck and now I couldn't imagine this being named something else. Initially the title came to me in a dream where I was running up a hill and once I came to the summit I was blinded by this radiant bright sun reminding me of an Aztec Sun God. The light was so intense I could barely look at it and then it opened its mouth and out came a sound unlike anything I've ever heard. It was like the most overpowering drone I've ever heard, penetrating every fiber in my body, filling me with light. This was kind of the anti thesis to the image that spurred the initial concept for "The Black Sun Transmissions". And no, I'm not a hippie and I'm not on drugs…
Talk about the recording process of Woven Tide.
D: I think we started talking about doing something together in the beginning of 2010 but I know I was very busy at the time and couldn't really commit to anything right then. Then when Eyjafjallajökull forced the world to a standstill in April I got stuck in den Haag, The Netherlands for an additional three or four days during which I started playing around with some recordings of Trombone and French Horn I had done a couple of months earlier for another project. And during the course of those very insecure, chaotic and strange days I made the foundation to what was to become "Like Shadows In An Empty Cathedral". And I actually think that Aaron had sent me a recording of an electric guitar (which is the foundation of "My Skin Drinks Light That Has Passed Through Leaves") a while before this that I also started playing around with during that time. But the collaboration didn't take off for real (at least for me, as I remember it) until I had left school in the beginning of June and was basically unemployed for almost two months. And from there on we started bouncing tracks and ideas back and fourth. I made most of the basic foundations in terms of chords and stuff like that for the tracks. And Aaron would send me sounds and recordings that I built even more foundations of. Some things emanated from previous recordings but transformed into something completely new. And once we had a foundation we would bounce that back and fourth a couple of times. Add stuff, mix and re-mix, add more, take away and mix some more. The whole process went quite fast and easy actually and I think that both of us wanted to keep it quite rough, at least that was one of my ambitions with this one. The main part of what I recorded was first-takes. Everything was very well recorded (in terms of recording quality/equipment) but I really wanted to keep a spontaneity about the whole thing and not over-work it. And that goes for the mixing and processing as well. Thinking about it now I don't think we ever talked about what we wanted to do in terms of music, we kind of just let it take its course and see where it would take us. And it seemed to work fine. The album was basically done by mid-December or something like that. So it was a pretty quick one. From initial discussions to finished album in about a year. Fastest recording I've ever been a part of.
Your music is already full of emotion, and yet the titles of the tracks carry on a deeper meaning. What is the main theme behind the album and how is that reflected in the track names?
A: The album is intimate, but has a broader scope than my solo work, which often concerns specific events in my life. The music is like standing in a large, detailed room and absorbing the scope of space from afar, letting the feeling of space wash over you, rather than inspecting each ornamentation up close. During the time that we were working on the album, I did a short tour from Colorado down to New Mexico. I saw a photograph in Santa Fe of a woman sitting in a room with no roof. I carried this feeling with me for "Woven Tide" which coincides with the idea of surrendering to space, rather than trying to control it. Another similar image I kept in mind while recording was the vision of light passing through leaves. Giving in to the knowledge that we are enclosed by nature is an important thread that ties "Woven Tide" together. It's like following a wire into the woods and letting go: there's a sense of awe and bewilderment present throughout the music.
If this was a soundtrack to a movie, what would be the main protagonist's story?
D: I have no idea to be honest. To me this is more about the ebb and flow of nature. For some reason I just came back to images of nature when I worked on it. And also when I listen back to it I see and hear water, meadows, rocks and sand in it.
Tell us about the appearance of your music on Remember Me, My Ghost. How did that collaboration come about?
A: Three pieces of my music had appeared in Ross McDonnell and Carter Gunn's feature-length documentary Colony. The documentary showed at a festival a few hours from where I live and I was able to meet Carter. He showed interest in working with me more closely in the future and when he was editing Remember Me, My Ghost he had the idea to exclusively use my music (as well as one piece from "Woven Tide") for the short documentary.
Given all the praise I sang for the album, I'm hoping that this project is here to stay. Do you think we'll see and hear more?
D: Yes, that was actually one of the reasons why we choose a name for this duo, we could have just as easily called it Aaron Martin & Dag Rosenqvist or something along the lines of that. So yeah, I don't know when or where but you will definitely hear more from us in the future!
I know both of you are very prolific artists. What are you working on right now?
D: Fall 2011 I experienced my first ever serious writers block but now I'm slowly making my way out of it. At the moment I'm working with the Gothenburg based dance company Iraqi Bodies and their new performance "Vowels", set to premiere in Gothenburg in May 2012. I will continue working with the company also for the coming three-part project "Body & Identities" set to premiere during fall 2012. I'm also currently working with Edinburgh based sound artist Matt Collings in preparation for our upcoming UK tour. To start with, we're doing an EP that will be available during our joint dates in April. I've also started making sketches for my next solo album. The entire concept is set so now I "only" need to make the music to go along with that. But when that will see the light of day is pretty much any ones guess.
A: I'm currently working on a release with a musician from New Mexico who records under the name Luperci. He plays sitar and heavily processes it. He did a remix for the recent "Worried about the Fire" remix tape "Stitched in Fire". I've also been contributing cello parts to the new project of Maurice De Jong (Gnaw Their Tongues) called Seirom. That album should be out soon and there are already some unreleased tracks available. This spring I hope to start working on the first Winter's Day full-length with Dawn Smithson.
Read Headphone Commute's review of From The Mouth of The Sun