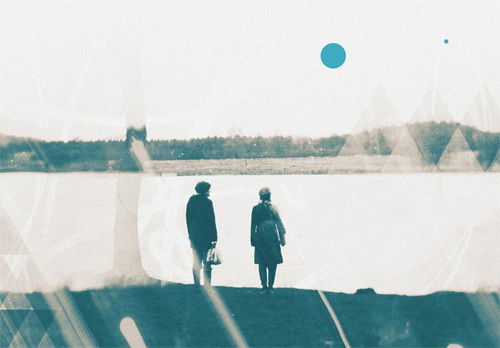 [Editor's note: all answers provided by Alex Smalley]
I listened to your first album, Pine, without realising that Olan Mill was actually a project, and not a real name of a person. So… where does the name Olan Mill come from?
That's cool, I was hoping for this misconception when choosing the name. I like faceless music and often find it works better when a creators personality is abstracted or removed. I met Olan Mill once and she was nice to me, I particularly liked her name so one day I stole it.
How did you and Svitlana first meet and decided to form Olan Mill?
The two of us meet at a high security mental hospital – we worked there! I ran the music department and she's a psychologist. After spending some time together it was a natural progression to collaborate in this way, there was no decision as such, it just happened.
Paths is a more ambitious album. What prompted this particular artistic direction?
It's validating you found this to be the case, thank you for sharing your observation. 'Paths' was primarily written to be performed. The limitations this imposed forced us to strip back the layers and build on the dynamics of the compositions. I like to limit my options when working creatively, there is greater a sense of achievement if you make something from very little. Stylistically I wanted to achieve something different with each song to break up the mood and keep the audience focused. From working with Pausal I knew we could inject more physicality into the Olan Mill sound and aimed to produce tracks that climaxed with a rich density to juxtapose the softer passages we're better known for.
The album is a collection of pieces performed during your 2010 live shows, but is there a central story behind the music?
Nature, and the manipulation of mood continue to be the central themes in my music. However, 'Rube' was written for my Gran who passed away in 2010, the song was played at her funereal. I'm afraid any specific stories beyond this I've been asked to keep to myself.
So were the recordings taken directly from your live performance? How much post processing was applied?
Multi-tracks from the live shows formed the foundations to all the songs. The recordings of 'Amber Balanced', 'Intestinal Flora' and 'Stalled Boson' are as they were on the (best) night, while the other tracks were bits from both shows' with some additional overdubs and mixing. On stage I used a sampler to trigger the pipe organ with some other textures and played guitar, Sveta played violin into a pedal set up with loopers', reverb etc which I was also manipulating. It took me a further 4 months to mix and edit the songs into a record.
Who played the pipe organ? Tell us a bit about that experience.
Sveta played, I recorded. There is no greater low-end then that of the pipe organ, it's the most physical instrument and will cover almost every frequency if you ask it. I'd like to do a record that only utilizes this source; when I think of all the harmonics I had to knock out to make way for other instruments it makes me feel like I'm missing a trick every time.
How did you land on Facture?
Dan was into the first record, so when a show came up in his home town I invited him along. Unfortunately on the night there was some mis-communication on the guest list and he didn't get in! So when I finished the record he was the first person I sent it to; I thought my sharing it with him was an apology of sorts. At that stage I had no expectation for a release, but the next thing I knew he was offering me this super deluxe package of 180gm eco-vinyl, CD, letter pressed book etc… I was, like, cool let's do it! On meeting Dan we got on right away, he's very passionate about what he does and much like working with Huw at Serein, I knew my record would be in safe hands. I was allowed to have total control over the art work, which was really generous considering the scope of the product and its many facets. It was a great experience working on Facture and I'm delighted with the results.
What's next for Olan Mill?
On October 9th I'll be releasing a new album as part of Preservation's Cicra series. I'm really excited by this one as I highly respect the artists this label represents and its clinical approach to presenting the work. The album is called 'Home' and features a far larger ensemble than the first two records. This year I played a few shows as a four piece band and I'm currently mixing the resulting songs and hope to release them next year. I'm scoring a couple of pieces with my new violinist and would hope to take some bit's on the road at some point.
Be sure to read Headphone Commute review of Paths