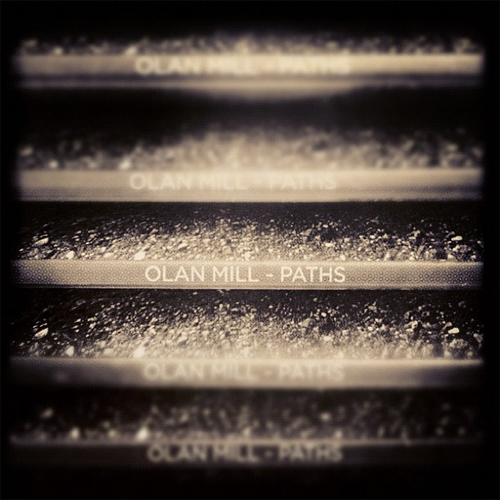 It's true… I've been waiting for just the right moment to listen and finally write about the latest album from Olan Mill. That moment, when I can take a deep breath, close all open doors, and open shut windows, turn down all the lights, and turn up the volume, sit back in my chair and listen to Paths. I could not even begin to imagine the amount of time, attention to detail, and pure patience that goes into production of something as beautiful and seductive as Paths. So the least that I could do is give the music my full undivided attention. Because Olan Mill deserves nothing less.
For Paths, the duo (more on that later) take on that small step (and a giant leap) towards composing not just another modern classical record, but a full-on neo-classical arrangement, capable of transforming the listener into the concert hall surrounded by violins, deep roaring processed guitars, and light sparkling piano notes. Behind every track lies a story enveloped in some deeper emotion, perhaps that of a performer, perhaps that of a listener. Although it would be too easy to slap the term 'cinematic' upon such complex narrative, it does nevertheless evoke motifs of a film score, steeped in sorrow, nostalgia, and hope. Upon successive listens the music open up like a delicate blossom, revealing sounds previously unheard, like a soft scratching of a bow, a shuffle of a foot pedal, or a distant reverberation of a falling rain.
The focus of 'Paths' is the manipulation of boundaries, a direction embarked on more by necessity than choice – reconciling the ambition of an orchestra with the limitations of a duo. The restraint in sound stems from a foray into the previously unexplored realm of live performance – the pair also admitting they were "supporting some serious piano dentists and we were never up to their kind of surgery, so it was as much a white flag maneuver as it was artistic decision".
Now let's get back to the folks behind the project. I'll have to admit, that when I first heard Olan Mill's Pine released by Serein in 2010, I genuinely thought that it was one person, named, well, Olan Mill… It is only upon further [obligatory] inspection of the press release that I learned [and now am happy to share with you] that Olan Mill is actually a project name for Alex Smalley and Svitlana Samoylenko. And wait, it gets better, Smalley has another alias, Alex Alpine, under which he's released Fr:om Harmed Weather To Stark, Micro, Climates on Highpoint Lowlife in 2009, and he's also a member of another group, along with Simon Bainton, which records under the name Pausal. You knew that right? Yes, that's the good news. Because if you are, like me, falling in love with Olan Mill, you must check out Pausal's full length, Lapses (Barge, 2010) on which Samoylenko played the violin as well!
The six vignettes on Paths were originally recorded during the 2010 live shows in Bristol and Reading (UK), which were later reprocessed, mixed, and mastered for the final album. In the usual fashion for Facture, the label put in extra effort to complete the packaging [and the experience] of Paths. The limited run CD comes with a booklet written by Olan Mill in collaboration with Alexander Ross Petersen, 12×12 prints, a poster, and artwork by Jurgen Heckel. Whenever I put on this album, time slows, then stops, and finally ceases to exist. Which is perhaps why I've been waiting for just the right moment to listen and finally write about Paths. Highly recommended!