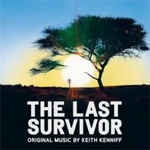 Maybe you have missed the latest release by the prolific Keith Kenniff, but this little gem did not escape my ears. In fact, I don't think there's a single release from this Portland based composer that I have not fallen in love with. From his solo piano works composed under the Goldmund alias, to beautiful electronica sprinkled with light beats released under the Helios moniker, Kenniff's works have been in my rotation since his debut release Unomia, on Merck back in 2004. By the time John Twells has signed Kenniff for his Type Records, Helios and his amazing Eingya album (2006), was a household name among the hungry collectors of modern classical and ambient electronica alike.
The Last Survivor is actually a feature-length documentary, following the lives of people surviving four genocides – The Holocaust, Rwanda, Darfur and Congo. In this collaboration with the directors of the film, Michael Kleiman and Michael Pertnoy, Kenniff is presented yet another opportunity to compose a score, and he easily surpasses all of the expectations, effortlessly gliding between his known monikers and finally producing under his real name. Where solo piano pieces continue to be signed off as Goldmund, most of the soundtrack is saturated with original music composed by Keith Kenniff.
The Last Survivor score follows the four main characters of the film, providing the soundtrack for their sorrows and triumphs. At times serving as a comforting blanket, at times as a fuel for revival. At the core of the film and the music is a story about life. Life with all of its ups and downs, treading along the unknown, one ticking second at a time:
The music itself acts an extension of the characters' inward journey as they deal with death, redemption and new beginnings. Employing a wide range of sounds and instrumentation, the pieces range from achingly beautiful piano-led compositions to ambient string passages and haunting synth drones as Kenniff creates a score that is as contemplative and diverse as the characters and their experiences.
Here are all of the elements of Kenniff's sound that I love. At times seeped in sadness, the piano sings at the center stage of most tracks, at times complimented by full blown orchestration, at times left completely alone, even if it's for a few minutes in length. If the story of The Last Survivors weighs heavily on your soul, it's easy to detach the music from the film, and enjoy the album as the soundtrack to your own struggles. And that's the beauty of this score.
For Kenniff's entire discography, make sure you visit his site, Unseen. There you can browse through his music releases, as well as film and commercial works, ranging from corporate names as big as Honda, Coca-Cola and American Express. While there, I recommend that you pick up my personal favorites: Unleft (2010) and Live At The Triple Door (2009) released as Helios, Famous Places (2010) and The Malady Of Elegance (2008) released as Goldmund (see our review), and Keith's collaboration with his wife, Hollie, Songs About Snow (2009), released as Mint Julep. We're looking forward to the forthcoming Save Your Season from the couple out in 2011. Be sure to check out the most recent Adorn by Mint Julep.
unseen-music.com | circleintosquare.com
More on Headphone Commute