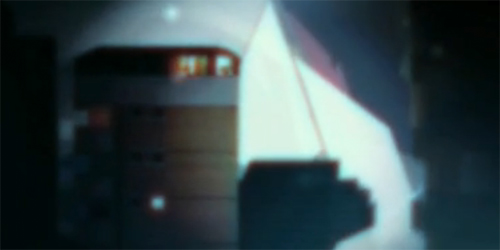 After sharing with the commuters his previous mix, Ethereal Cinematicism, Shukry Adams returns with an edgier side of his likings. Listeners should expect to get enveloped in drone, noise, and even "douchestep", in this slowly evolving, hour long journey. Here's Adams, shining a little light on this darker corner of his psyche:
i wanted to create a mix that kept fluctuating and that was relatively inconsistent yet still keeping the listener intrigued and surprised by taking the notion of logical elevation/progression of sound and makin it do a proverbial backflip and handing out a colossal up yours to the run of the mill mundane beat matching of today's yesteryear. the last bit of the mix is purely dubstep with a drony epilogue made to make the listener think they're gettin the same treatment as the 1st 40 or so mins when in actual fact its just an artillery of hard twisted bumper to bumper douchestep leaving no room to breathe and making the listener pay for their (understandable) assumptions by relentlessly being subjected to the final 15min of the 53min moment you set yourself up for.

lazy piano pieces, drones, glitches and douchestep alike all scrounged up in one romantic fist-fest with guest appearances by gordon brown, benjifuckface netanyahu, marduk and loki (bound to a rock of course) gettin the proverbial lazy eye and a right beating from hugo chavez and that fucken dude from wkrp in cincinatti. or at least that's what the mix will sound like.

[ S T R E A M ] | [ D O W N L O A D ] | [ P O D C A S T ]
Track Listing:
anduin – Reason In Exile Part 2 (Jasper TX Remix)/enko- ah1n1
fieldhead – this train is a rainbow
sibot – stains/ben lukas boysen – md105_md
math head – last
mad ep – hz (rmx)
sukdabeat – vastik
madame – Si el fred canvia de color
current value & rodell – requiem (balkansky remix)
john cohen – -||- x
nonnon – They Get It From An Elf's Head
spenza – rnb rumpler
Himuro Yoshiteru – enjoy alone
robert duvall – napalm (apocalypse now excerpt)/the black dog – waitbehindthisline/Datach'i – strings
noiz – pressure chamber
trill bass – tony danza
vaski – murder
si begg- Are You A Big Boy DJ (Hecq Remix)
roel funcken – martyrz
akira kiteshi – ming the merciless

[ S T R E A M ] | [ D O W N L O A D ] | [ P O D C A S T ]