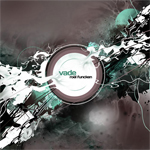 Here's my remedy for a sleepy brain. A shot of caffeine with a touch of Funcken in my headphones. First the mixture goes down easy, drifting in and out of my peripheral hearing – then the beat latches into the neuron receptor, and unlocks its secrets with a click. Roel Funcken is one of the Funcken brothers, together releasing as Funckarma, Quench, Shadow Huntaz [as well as half a dozen other monikers]; and Vade is Roel's very first album as a solo artist. Vade is released on Ad Noiseam, where the brothers have already released Dubstoned Vol 2 back in 2008. This album marks a full on crossover between glitchy IDM and gritty dubstep. Delicious.
Packed with 16 intense tracks (averaging about four and a half minutes each), Vade is a deconstruction of smooth flowing dubbed out beats, with that familiar Funckarma style. Bringing to the operating table an arsenal of razor sharp DSP tools, Roel cuts deep into the harmonics, pulling out coiled frequencies while keeping his eye on the rhythm monitor. The beat staggers, then skips into the oscillating pattern, spewing out old skool 909 percussion, and leaving stains all over the floor. And just as the melody seems to choke, smothered beneath the metallic wires and valves, Roel shocks it with his sonic defibrillator, giving it another reason to soar, out through the window and into my brain. [I write this as I listen to the title track, Vade, and if these words seem abstract, you must hear the music.]
Let me be honest – in my selection of boundary pushing electronic music, the Funcken sound is at the top. Without actually rating the music, it stands alongside output from Autechre, Hecq, Gridlock as well as Deru, Lusine, Proem and Loess. This is that crunchy, glitchy IDM sound that I've fallen in love with from the early days of n5MD, Neo Ouija, and Merck (RIP). Among the latter, only n5MD seems to be still kickin' [still waiting on the return of Neo Ouija], while the Funcken brothers find their albums released by Symbolic Interaction, Skam and thankfully, Ad Noiseam. Music like this deserves to carry on the legacy, as well as the flagship of experimental and ground breaking sound.
Let me put it another way – when people ask me for the top notch electronic sound, I always say – Funckarma. And with Vade, I am able to single out Roel as the force behind group. I wonder if Don is working on an independent release – doesn't seem that Vade had any of his input. It does appear, however, that Cor Bolten (who previously worked with the brothers as member of Dif:use and Legiac), has heavily contributed to this release. In the album credits, he appears as a co-writer and a synth player (Jupiter4, Jupiter 8, Arp 2600, System 100, Monopoly, and others) on half of the tracks. I also see an appearance by TJ Dimoon and one of my favorites, Reimer Eising, aka Kettel.
And while Roel split off into a single entity in Vade, it doesn't mean that the Funckarma project is over. The brothers will continue releasing EPs in their Dubstoned series on Eat Concrete, with vinyl coming out this summer. Be sure to pick up some of my most treasured Funckarma output: Bion Glent (Sublight, 2006), Hip Hop Instrumentals (FUNCK Music, 2007), Vell Vagranz (n5MD, 2008) and Psar Dymog (Symbolic Interaction, 2008). Really like the last one, although I keep buying a corrupted digital copy with annoying 4-5 sec silence before each track in this continuous play album. Oh well – it's still worth it!!!
See also Two and a Half Questions with Roel Funcken
myspace.com/funckarma | funckarma.com
myspace.com/adnoiseam | adnoiseam.net