Release Notes
Label: Bion Glent
Release: Dragomane Misinize
Date: September 15, 2020
Mastered By: Snap Mastering
Artwork By: Roel Funcken
When thinking of a target audience for Dragomane Misinize I tend to classify the population into feedback fractals. Those already familiar with Roel Funcken's sound always look forward to his playful kaleidoscope of deconstructed motifs. Fans of Autechre, Richard Divine, and Metamatics already hold the key to the puzzle of sophisticated beauty that lies within each labyrinthine turn, listening to the dismantled architectures that are rebuilt within the woken mind. And those who are brand new to the hallucinogenic sweeps and swirls of this Dutch electronic musician may at first just label his style as 'glitch', failing to lock into the groove of the complex percussive configurations. But if you're tinkering with electronic music, visual and sonic real-time programming languages, or analogue modular gear tangled in cables and randomness of sample and hold modules, you will be fascinated with Funcken's elaborate sound design, and the freedom from the digital structures, with which he seems to effortlessly paint the canvas. It is only upon consecutive and relaxed listening sessions that the brain starts to pick up on and unlock the intricate elements that unveil themselves in the echoes of their future past. In either case, if you don't seem to match the categories mentioned here above, then all you need to do is simply play the featured track, and then you'll understand.
With this in mind, we may uncover Funcken's latest offering, which follows his previous releases on Funcken Industry, Balaklavskiy Prospex (2017), Iridium Flare (2016) and the most recent collection of EPs which you can find on his Bandcamp. For Dragomane Misinize, which may be another amalgamation of words hiding behind the title ("Drama Gone?" "Mini Size?" I don't know, I'm guessing here by re-arranging syllables), Funcken releases eight solid tracks on the very new Bion Glent imprint (which, incidentally, is the title of Funckarma's debut album on Sublight in 2006). The album cover is a painting by Funcken himself, sharing the name with the title of the album, giving us an exquisite glimpse into this artist's range of talents. And it is beyond the knotted melodies and bass-heavy technoid that defined the sound of the IDM in the 2000s that Funcken's music finally reveals itself.
Another thing that I want to mention here is that I feel that Roel never sleeps. Every time we've partnered on publishing a mix featuring his selections (see a bunch here), he's produced not two, not three, but sometimes even eight and twelve-hour mixes (see "Autotroph" for example)! For the premiere of his upcoming album, Roel put together a 3-hour journey showcasing his music from a variety of past released EPs and albums. This is a fantastic and cohesive introduction to the artist. You can find it on his SoundCloud account here. Finally, I was able to poke Roel on this early Friday morning and ask him about his decision to launch his very own label, to which he replied:
The label is brought to life by Maho Cwejman and me, purely to focus on good quality experimental electronic music and vinyl. It will feature mostly myself as an artist, as well as the projects that I was and am involved in. We are also planning on releasing some older Funckarma stuff. Of course, there will be plenty of room for artists I am a big fan of.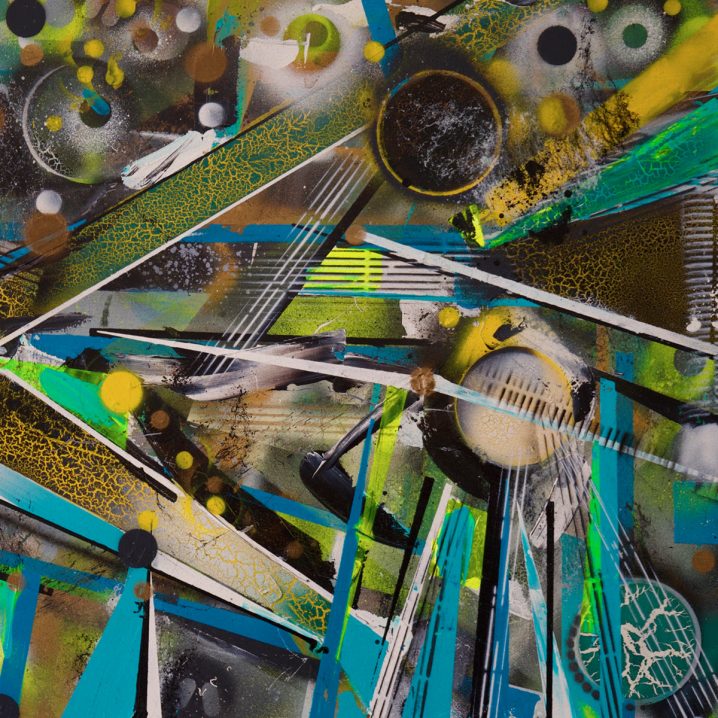 Once again, Dragomane Misinize drops on September 15th on a limited edition yellow vinyl and digital. You can also purchase a t-shirt, a black & white poster of the cover art, or the original painting (there's only one of these, of course). Check out the wares on Bandcamp.