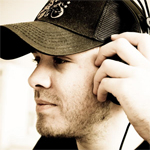 Oi oi oi! Do I have a treat for you! I'm about to set off for a two week vacation, but before I go, I want to present you with an amazing mix from none other than Ben Lukas Boysen, aka Hecq! As you could have already guessed from these pages, I am a big fan of Hecq's dark and crunchy IDM and his amazing modern classical compositions. I usually end up including at least one of his tracks in most of my mixes. In the beginning of this year I sang praise to his latest album, Steeltongued (Hymen, 2009), following up with Two and a Half Questions With Hecq. In 2008, his Night Falls (Hymen, 2008) album arrived at Tier 1 of our Absolute Musts, in Headphone Commute's Best of 2008. And when I revisited the Top 50 of 2007, his album, 0000 (Hyman, 2007) showed up on the list once again. Even the owner of Tympanik Audio, Paul Nielsen, has revealed that he would be honored to have a release by Hecq on his label, in our Tympanik Audio Label Profile. Enough said?
This summer I contacted Ben to ask him if he'd like to contribute to our mixes section and create an exclusive mix for Headphone Commute. And sure enough, here it is, a 55 minute compilation of some of Ben's favorite tracks. I asked Ben to share some of his thoughts behind the mix, and here's what he had to say:
the explanation for the track list is actually quite easy… especially the air liquide tune and also scan x are both super old tracks that followed me around since i was a kid… they never lost their fascination and have the same effect after all the years that they had… and for the strangest reason i never had the possibility to integrate them in any mix… so this mix was just the perfect opportunity. i think its fun to combine that the soulless cold of something like annti rannisto or the eerie conet project coldwar recordings with something so touching and perfect like arvo pärt or stuart dempster… both styles are reduced to their very core and therefore only using whats needed to pinch the listeners sense… like this death blow from kill bill 😀 … just a couple of tiny yet effective attacks will make your heart stop… i personally bow down before these artists to give us the possibility to execute a mixtape like this….
You've got to hear Ben's mixing skills on here as well. At many times there are more than two tracks playing at the same time, layered with excerpts to create quiet a remarkable dark and moody ambient journey. I'm on my 6th listen, and I'm happy to finally share it with you!
Track Listing:
01 Antti Rannisto – Numbers
02 Shinjuku Thief – Water Tinctured With Soot
03 BJ Nielsen & Chris Watson – No Mans Land (Excerpt)
04 James Blackshaw – Transient Life In Twilight
05 Kyle Bobby Dunn – Mobiles (Excerpt)
06 Blueneck – LE:465
07 Gultskra Artikler – Kasha Iz Topora (Excerpt)
08 Air Liquide – Negative Saucer (Live)
09 Kiss The Anus Of A Black Cat – Sighing, Seeing, Soothing (Excerpt)
10 Blueneck – Judas!Judas!
11 Scan X – Turmoil
12 Stuart Dempster & Pauline Olivieros – Nike (Excerpt)
13 Black Ox Orkestar – Violin Duet
14 Ben Frost – The Carpathians
15 Arvo Pärt – Für Lennart In Memoriam (Excerpt)
16 Thomas Köner – Teimo
17 Ulver – What Happened (Excerpt)
18 Mono – 16.12
19 Francesco Tristano – Jeita (Excerpt)
20 The Conet Project Recording – Pozor IRdial (Loop)