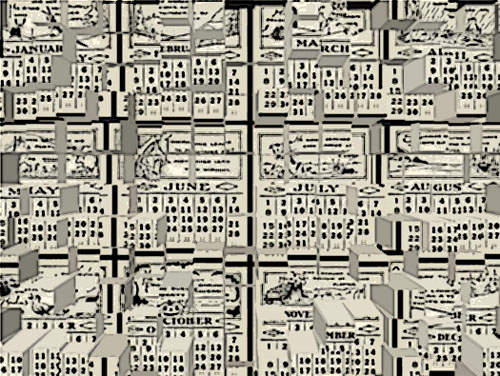 What a great year! As I began my survey of the music that has left its imprint on my mind in the last twelve months, the entries quickly grew from ten, to fifty, and to one hundred and twenty five! How can I reasonably classify, rate, or group all of this music? And have I actually listened to all of the below entries? I have… Numerous times… Which is why it is especially difficult to compare one album to another. Each, a small macro universe of its own, a message wrapped into an auditory communication protocol, a memento of time embedded in memory. And what about all the music that I missed? By now I am completely convinced that it is not possible to keep up. Even for someone like me, who consumes on average five new albums a week. That is why lists like these are essential. A little stamp on a date which forces to reflect. And even it's not final. Revisits and addendums will continuously warp the entries, imploring to come back and listen one more time. I would be absolutely grateful, if you find an album on here that speaks uniquely to you. Than my job has been complete. Meanwhile, I begin my long journey into albums that I failed to notice, as I pour over other recommendations and numerous lists.
This year saw an astonishing development in modern classical and ambient. It could be that the genre has grown on me more. But judging by the overall international appeal, it's surely picking up. 2008 saw many artists familiar with the edgy breaks and micro-programmed beats drop the percussion altogether and recede into the realms of bliss and calmness. Dubstep continues to evolve, with the world looking towards UK for the latest and the greatest. Electronica and IDM keep getting crunchier and more experimental with a touch of melody for taste. Breakcore and drum'n'bass is becoming even more complex and definitely louder. Minimal techno has receded a bit into tech-house, restraining from the pounding grinds. And post-rock blended into shoe-gaze, into instrumental rock, and into indie, with a flavor of its own. Or at least that's my take on it, and the direction that I've been heading in.
To present a list without ratings, I offer you the albums grouped in tiers, and sorted alphabetically. The 1st tier of 10 albums are the absolute must of 2008. They are all rated #1 in my mind, and can't compete for that one desired place. In the 2nd tier I introduce the 25 albums that are truly the very best of 2008. I could rate them all #2 as they make up the top of the crop of the releases. In the 3rd tier of 40 albums, I go over the essentials of 2008 – the music that this year couldn't be without. In the 4th tier are all the honorable mentions and compilations spanning another 50 albums. I assure you, that all of these are still getting playtime on my rotations. The 5th and final tier, is an aggregation of all the additional albums (not mentioned above) that have come from my readers. This list of 50 albums has been compiled from over 1200 entries with over 600 being unique. Lets just say that I spent a few hours in Excel to pivot, aggregate, and sort. The resulting entries are unique on their own, and many even new to me.
So enough of my chatter. Dig into the lists, the music, and its essence. Feel free to send your comments my way, submit something that I missed, or let me know if you've found something here that has left an impression on you. It is truly what keeps me going. And one more final thought. The digital age offers unlimited capabilities of distributed piracy. And I'm not here to preach. But if you truly love the music, then please go out and buy the album. Support the artist and the label. Without them this would be empty. And they give us so much more then a dirty cash can buy. Thank you. See you in 2009! ~HC
TIER 1 : ABSOLUTE MUST OF 2008 : TOP 10 (alphabetical order)
Evan Bartholomew – Secret Entries Into Darkness (Somnia)
Hauschka – Ferndorf (130701)
Hecq – Night Falls (Hymen)
Jacaszek – Treny (Miasmah / Gusstaff )
Jóhann Jóhannsson – Fordlandia (4AD)
Library Tapes – A Summer Beneath the Trees (Make Mine Music)
Murcof – The Versailles Sessions (Leaf)
Ólafur Arnalds – Variations of Static (Erased Tapes)
Subheim – Approach (Tympanik Audio)
The Sight Below – Glider (Ghostly)
TIER 2 : THE VERY BEST OF 2008 : TOP 25 (alphabetical order)
Abbasi Brothers – Something Like Nostalgia (Dynamophone)
Autechre – Quaristice (Warp)
Barry Lynn – Balancing Lakes (Planet Mu)
Benn Jordan – Pale Blue Dot (Alphabasic)
Bitcrush – Epilogue In Waves (n5MD)
Blackfilm – Blackfilm (Spectraliquid)
Byetone – Death Of A Typographer (Raster-Noton)
Christopher Bissonnette – In Between Words (Kranky)
Clark – Turning Dragon (Warp)
Emanuele Errante – Humus (Somnia)
Evan Marc + Steve Hillage – Dreamtime Submersible (Somnia)
Fennesz – Black Sea (Touch)
Helios – Caesure (Type)
Ital Tek – Cyclical (Planet Mu)
Kettel – Myam James Part 1 (Sending Orbs)
Lights Out Asia – Eyes Like Brontide (n5MD)
Max Richter – 24 Postcards In Full Colour (130701 / FatCat)
Motionfield – Optical Flow (Somnia)
Peter Broderick – Float (Type)
Rudi Arapahoe – Echoes From One To Another (Symbolic Interaction)
Squarepusher – Just A Souvenir (Warp)
Sylvain Chauveau – The Black Book Of Capitalism (Type)
The Flashbulb – Soundtrack To A Vacant Life (Alphabasic)
Venetian Snares – Detrimentalist (Planet Mu)
Wisp – Katabatic (Rephlex)
TIER 3 : THE ESSENTIALS OF 2008 : TOP 40 (alphabetical order)
2562 – Aerial
Aidan Baker And Tim Hecker – Fantasma Parastasie (Alien8)
Alva Noto – Unitxt (Raster-Noton)
Anders Ilar – Sworn (Level)
Another Electronic Musician – Five (m5MD)
BLÆRG – Auspices & Vagaries (Bottle Imp Productions)
Balmorhea – Rivers Arms (Western Vinyl)
Bluetech – Phoenix Rising (Somnia)
Claro Intelecto – Metanarrative (Modern Love)
DJ Hidden – We Are Haunted; The Signs (Prspct) & Past The Flesh; Prayer's End (Killing Sheep)
Daturah – Reverie (Golden Antenna / Graveface)
Digitonal – Save Your Light For Darker Days (Just Music)
Fjordne – The Last 3 Days Of Time (Dynamophone)
Funckarma – Vell Vagranz (n5MD)
Ginormous – At Night, Under Artificial Light (Hymen)
Goldmund – The Malady Of Elegance (Type)
Grails – Doomsdayer's Holiday (Temporary Residence Limited)
Hammock – Maybe They Will Sing For Us Tomorrow (Darla)
Hecq – Golden Pines (Binkcrsh)
Hol Baumann – Human (Ultimae)
Igorrr – Moisissure (self)
Integral – Rise (Tympanik)
Jasper TX – Black Sleep (Miasmah)
Juxta Phona & Offthesky – !Escape Kit! (Somnia)
Kangding Ray – Automne Fold (Raster-Noton)
Kaya Project – And So It Goes (Interchill)
Machinefabriek – Dauw (Dekorder)
Meat Beat Manifesto – Autoimmune (Planet Mu / Metropolis)
Near The Parenthesis – L'Eixample (n5MD)
Nico Muhly – Mothertongue (Bedroom Community)
Ø – Oleva (Sähkö)
Ott – Skylon (Twisted)
Paavoharju – Laulu Laakson Kukista (Fonal)
Richard Skelton – Marking Time (Preservation)
Silent Land Time Machine – &hope still (Time-Lag / Indian Queen)
Skyphone – Avellaneda (Rune Grammofon)
Slow Dancing Society – Priest Lake Circa '88 (Hidden Shoal)
Stephan Mathieu – Radioland (Die Schachtel)
The Drift – Memory Drawings (Temporary Residence Ltd.)
William Basinski and Richard Chartier – Untitled 1-3 (LINE)
TIER 4 : HONORABLE MENTIONS AND COMPILATIONS : TOP 50 (alphabetical order)
40Winks – The Lucid Effect (Project: Mooncircle)
Aleph-1 – Aleph-1 (iDEAL)
Amon Tobin – Taxidermia EP (self)
Appleblim – Dubstep Allstars: Vol.06 (Tempa)
Benga – Diary Of An Afro Warrior (Tempa)
Cardopusher – Mutant Dubstep Vol.2 (Spectraliquid)
Deadmau5 – Tech-Trance-Electro Madness (Mixmag)
Does It Offend You, Yeah? – You Have No Idea What You're Getting Yourself Into (Virgin)
Earth – The Bees Made Honey In The Lion's Skull (Southern Lord)
Elite Barbarian – It's only when you get to the end that it all makes sense (Front & Follow)
End.user – Left (Hymen)
Evol Intent – Era of Diversion (Evol Intent)
Ezekiel Honig – Surfaces Of A Broken Marching Band (Anticipate)
Flying Lotus – Los Angeles (Warp)
Heartthrob – Dear Painter, Paint Me (M_nus)
I Awake – The Core (Ultimae)
Ilar & Hedvall – Melt (Narita)
Interbellum – Over All Of Spain The Sky Is Clear (FSS)
Jonny Greenwood – There Will Be Blood (Nonesuch)
Jérôme Chassagnard – (F)light (Hymen)
Kamran Sadeghi – Through Thickness (Dragon's Eye)
Kelpe – Ex-Aquarium (D.C. Recordings)
Kryptic Minds & Leon Switch – Two Swords (Defcom)
Lawrence English – Kiri No Oto (Touch)
Lustmord – [ O T H E R ] (Hydra Head)
Minilogue – Animals (Cocoon)
Mr Scruff – Ninja Tuna (Ninja Tuna)
Nebulo – Ãvutmã (Hymen)
Noisia – FabricLive. 40 (Fabric)
Peter Broderick – Home (Type)
Philip Jeck – Sand (Touch)
Plastician – Rinse 06 (Rinse)
Port-Royal – Flared Up Port-Royal Remixed (Resonant)
Portishead – Third (Universal)
Sigur Rós – Með Suð Í Eyrum Við Spilum Endalaust (XL)
Sumner McKane – What A Great Place To be (self)
The Black Dog – Radio Scarecrow (Soma Quality)
The Doubtful Guest – Acid Sauna (Planet Mu)
The Fun Years – Baby, It's Cold Inside (Barge)
The Herbaliser – Same As It Never Was (Studio !K7)
The Ideal Setback – Dream Dialogue (self)
The Remote Viewer – I Can't Believe It's Not Better (Mobeer)
Valet – Naked Acid (Kranky)
Vampire Weekend – Vampire Weekend (XL)
Various – Diaspora: Cottage Industries 5 (Neo Ouija)
Various – Now (Underscan)
Various – Our Sound 2 (Destructive)
Various – The Platinum Series (Metalheadz)
Windy & Carl – Songs For The Broken Hearted (Kranky)
Zentriert Ins Antlitz – …No (Tympanik)
TIER 5 : ADDITIONAL READER'S SELECTIONS : TOP 50 (alphabetical order)
Aidan Baker – Book Of Nods (Beta-lactam Rin)
Atlas Sound – Let The Blind Lead Those Who Can See But Cannot Feel (4AD / Kranky)
Atmosphere – When Life Gives You Lemons, You Paint That Shit Gold (Rhymesayers)
Auburn Lull – Begin Civil Twilight (Darla)
Beach House – Devotion (Carpark)
Beck – Modern Guilt (XL)
Benoît Pioulard – Temper (Kranky)
Bersarin Quartett – Bersarin Quartett (Lidar)
Bohren & Der Club Of Gore – Dolores (PIAS)
Cut Copy – In Ghost Colours (Modular)
Deadbeat – Roots And Wire (Wagon Repair)
Deerhunter – Microcastle / Weird Era Cont. (Kranky)
Department Of Eagles – In Ear Park (4AD)
Distance – Repercussions (Planet Mu)
Dusk + Blackdown – Margins Music (Keysound)
Elbow – The Seldom Seen Kid (Fiction)
Fleet Foxes – Fleet Foxes (Bella Union)
Fuck Buttons – Street Horrrsing (ATP)
Gang Gang Dance – Saint Dymphna (Warp)
Gas – Nah Und Fern (Kompakt)
Gregor Samsa – Rest (Own)
Grouper – Dragging A Dead Deer Up A Hill (Type)
Have A Nice Life – Deathconsciousness (Enemies List Home)
Headhunter – Nomad (Tempa)
Leila – Blood, Looms & Blooms (Warp)
Lindstrøm – Where You Go I Go Too (Smalltown Supersound)
M83 – Saturdays = Youth (Virgin / Mute / EMI)
Maybeshewill – Not For Want Of Trying (Field)
Mogwai – The Hawk Is Howling (Matador)
No Age – Nouns (Sub Pop)
Our Sleepless Forest – Our Sleepless Forest (Resonant)
Pocahaunted – Island Diamonds (Not Not Fun)
Ratatat – LP3 (XL)
Ricardo Villalobos – Vasco (Perlon)
Scuba – A Mutual Antipathy (Hotflush)
Shearwater – Rook (Matador)
Shed – Shedding The Past (Ostgut Tonträger)
Starkey – Ephemeral Exhibits (Planet Mu)
Sun Kil Moon – April (Caldo Verde)
TV On The Radio – Dear Science (4AD)
Tape – Luminarium (Häpna)
The Alps – III (Type)
The Bug – London Zoo (Ninja Tune)
The Daysleepers – Drowned In A Sea Of Sound (Clairecords)
The Dodos – Visiter (Wichita)
The Notwist – The Devil, You + Me (City Slang / Domino)
Tricky – Knowle West Boy (Domino)
Twine – Violets (Ghostly)
Why? – Alopecia (Anticon / Tomlab)
Zomby – Where Were U In '92? (Werk Discs)
also on Headphone Commute