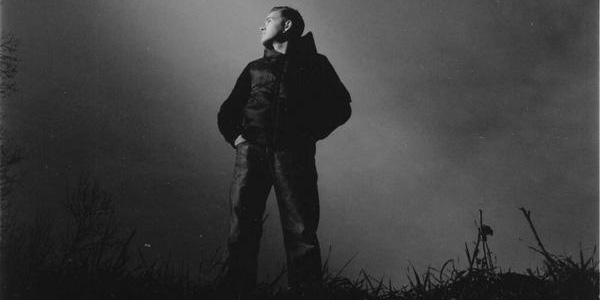 I've always wondered how Hymen Records has discovered you. How did you end up getting signed to the label?
i switched from kaleidoskop records to hymen since all parties agreed that it would be more suitable and also the ways of distribution and representation were more suitable.
After a dark ambient trip with the Night Falls, you return with an even more mind blowing rhythms, occasionally laced with orchestral explorations. What was your inspiration behind this album and what does a storyline of "Steeltongued" represent?
steeltongued feels like the whole beat-science cant go any further for me – i wanted to take a (propably final) shot at it and get as much as i can from it. i have the feeling that there are a lot of these musicians out there (so the genre didnt need much more reflection in my eyes and ears) and also i want to do different things now. night falls was a step forward for me and my development, showing me that i touched new grounds (not because its orchestral since there so many orchestral albums out there) but the way of conception, the meaning and the techniques behind it are way more thrilling to me than pure IDM/electronica concepts. so steeltongued is look back, a revision of the previous albums, summing up the whole constructivism (!?) that happened there, but is probably the last one in this style for me…(i'll never know but it feels like it right now)
In my previous interview, while working on Steeltongued, you've hinted that the album "will be showing more and different approaches to music." Now that I've heard it, I can definitely agree. Can you elaborate on this "approach"?
this has also to do with the "looking-back" factor to my previous work… to condense what happened on the earlier records and combining this with new elements (the most obvious example is the cooperation with nongenetic) was the aim for this one. but, like mentioned above, there was also and end and a new beginning to it at the same time: by trying new things i noticed that i need to go towards a new direction and have to try completely new things from now on. there's no other way to grow and to stay an artist i guess.
I have always been impressed with your sound production. Can you share with us the components of your studio?
im working 100% digital these days. i started with an mpc 2000, an old PC a 4-track recorder and so on in 2003… pretty archaic setup already back then… i was never good in dealing with a lot of hardware tho since it confuses me and i really need to pin ideas down when i have them without going to a huge DAW setup – so i narrowed everything down as much as i can and still creating the optimal work environment for me. at the moment the setup looks like this:
1x 19″ rack PC (for heavy duty work)
1x 15″ macbook pro (for livesets and mobile works like inerviews etc)
1x echo audiofire 4
1x motu ultralite
2 x 22″ samsung syncmaster 226bw
2 fostex pm0.5 (good for small, detailed sounddesign like websites etc)
2 mackie mr8 (excellent speakers with the perfect range for my needs)
1x soundcraft compact 10
1x AKG 220 studio headphones
1x rode NT4 (for fieldrecordings and instruments)
1x AKG 220 perception (for voiceovers/interviews)
1x marantz 620 HD recorder
ableton live 8 (for everything – its the best!)
NI kontakt
NI absynth
NI battery
NI FM7 and FM8
Rob Paapen Albino
What was the idea behind a second disk with remixes of Steeltongued, and how do you go about selecting the artists that get this honor?
when i finished the actual track steeltongued i was happy with it but it was also weird for me… its very open, not defined but its shape and structure is pretty obvious… i had a couple of different version of it here before i decided to send these to other artists to see what their interpretation of the song would sound like. each and every one of them are musicians that i highly admire and i'm proud and happy about their support! i.e. si begg one of my greatest role models and i grew up with his music and releases on force inc and noodles – to have him on the record was a dream come true and also goes well with the thought that he, who influenced me all the years, is releasing something on an album that is a farewell to my previous work. same goes for michael fakesch and team doyobi. the younger artists (like blackfilm, el fog or disscoxx) pointing towards the future of things to come – these guys are inspiring me a lot and show me new ideas and approaches through their work!