Oi oi Oi! Here's comes the long awaited part two of our Tympanik Audio Special sound bytes! If you missed part one, you can read it here. Below we present four more mini-reviews covering our latest favorite releases from the label (in alphabetical order). And don't forget to download a FREE Tympanik Audio 2010 Catalog Sampler.
Dirk Geiger – Autumn Fields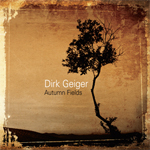 Any album that begins with rain and thunder grabs my attention from the start. Carefully placed piano phrases only hyper focus my interest further. And as suspected, after the very first track, I fall in love with Dirk Geiger's first album for Tympanik, Autumn Fields. Backed by detailed field recordings, each track glitches and clicks through warm electronic pads, washed out ambiance, and sharp IDM percussion. Tübingen (Germany) born Geiger creates a film score for chilly evening strolls, and early morning [headphone] commute, where the music leaks out of your headphones into the world, mixes in with the external sound, and seeps back into your ears again. Geiger is not a newcomer to the scene. In 2002 he formed his own label, Raumklang Music, releasing music under his own name (see Geiger's 2008 album, Dondukov 15), as well as albums from Kraftmaschine (an industrial group he formed a few years prior). On Autumn Fields, Geiger continues his explorations with fuzzy noise, experimental beats, and extensive field recordings, wrapping it all up into a neatly packaged listening experience. The album gets polished off with two remixes: from Svart1 and Access To Arasaka. Recommended!
Famine – Nature's Twin Tendencies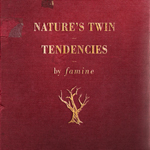 Entering the mysterious world of Famine, is like being welcomed into the depths of the unknown, where life, and ultimately death, fight over each other's turn to play with the spirit and the flesh. The weather is perfect – lush synthetic pads are cut through sharp, precision savvy glitch and triggered percussion; where IDM elements and metal breakcore create chaos, synthesized strings and chorus raise the listener's spirits from the fatigue of an ongoing noise onslaught. Nature's Twin Tendencies explores sonic landscapes oozing with slimy leeches and prickly porcupines, all trying to grab onto your skin, first for a local anesthesia with the melody, then for a deep bite with the beat. This is the sophomore release for Toronto based Famine on Tympanik Audio. "Distinctive, turbulent, and unwavering, each chapter of Nature's Twin Tendencies offers a diverse new tale full of compelling elements that will seize your senses and grasp your attention at every twist and turn." I definitely agree with that. For comparisons and recommendations, my mind travels to the early discovery of Hecq, Gridlock, and Venetian Snares whose intricate harmonic compositions are ripped through a torrent of DSP-heavy beats. Check out Famine's Every Mirror Turns Black out on Toronto's industrial label, Bugs Crawling Out Of People in 2008.
Tapage & Meander – Etched In Salt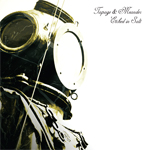 The hypnotic beat and flowing melodies are just the beginnings of the foundation laid by Tijs Ham and Conrad Hoyer, collectively producing under their Tapage & Meander monikers. Their first work together was the Hydromedusa EP released by Meta0 in 2006. Celebrating Tympanik's 50th compact disc release, the album by the duo nicely wraps all the dark, cinematic, and surreal explorations of sound that Tympanik is known for. On Etched in Salt, the newly formed group explores vast soundscapes, rising from the blank canvas with mathematical precision, like distant mountains constantly warping in their occupied area of frequencies. Add to that electro driven sharp rhythms and IDM percussion, and the listening experience guides the explorer to climb higher, where the peaks hide in the clouds, and the sky becomes the inverted ocean. And all of a sudden you fall… up… "This fantastic pairing of two beautiful minds produces steady waves of beat-driven melodies captured in a net of heavy atmospheres and complex rhythms that mimic the power of the tides themselves." Truly inspiring work for all up and coming musicians interested in keeping with the experimental nature of music. Check out Tapage's previous releases on Tympanik: The Institute of Random Events (2008), Fallen Clouds (2009), and his very recent digital release, Seven out on Raumklang Music. Meander's previous work can be heard on his Dreaming In Reverse EP, out on Low Res Records.
Undermathic – 10:10pm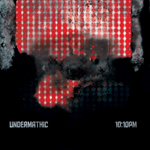 It feels a bit peculiar. Didn't I write about an album titled 10:10pm before? This feeling reminds me of that moment in the night, when you wake up at a seemingly random time, yet the alarm clock always beams in red, 10:10pm. Undermathic did in fact record the same titled album before he was signed to Tympanik, but it was a self-released album, at times lacking the self confidence and pride that an independent label can provide. From the composition and production perspective, the sophomore release by this Poland native Maciej Paszkiewicz, offers the listener a transparent view into the world of multiple dimensions and spectrum of sound. Complex textures and sonic treatments blanket the surface sprinkled with rhythm and intricate percussion, until the central theme seeps through and carries you away with its cinematic undertones, and you hear the seagulls by the beach, and forget that you are merely on a commuter train with a screaming baby in the seat behind you. With the album's "massive washes of ambiance and infection beatwork mixed with brooding melodies and heavy synth lines," the second album by Undermathic for the label is a lot more mature than his previous, Return To Childhood (2009). I will definitely continue keeping my eye on the music from Undermathic, as this artist continues to develop his inevitable brilliant future.
Read Headphone Commute's 2009 interview with Maciej Paszkiewicz when he was still unsigned and produced under a different name: Two and a Half Questions with Mechanical Steering
If you made it this far in the review, make sure to check out our Interview with Paul Nielsen of Tympanik Audio, as well as Part One of the Tympanik Audio Special