Celebrating Headphone Commute's 15th anniversary, I am highlighting albums that I covered 15, 10, and 5 years ago. [And in this instalment, I'm even starting with the one from 20 years ago!] I do this by going back through my archives and selecting a favourite for the current month. But I'm not just copying and pasting the words here; I'm also refreshing these write-ups a bit to bring them up to date, and, of course, I'm listening to all this music! And so should you!
Harmonic 33
Extraordinary People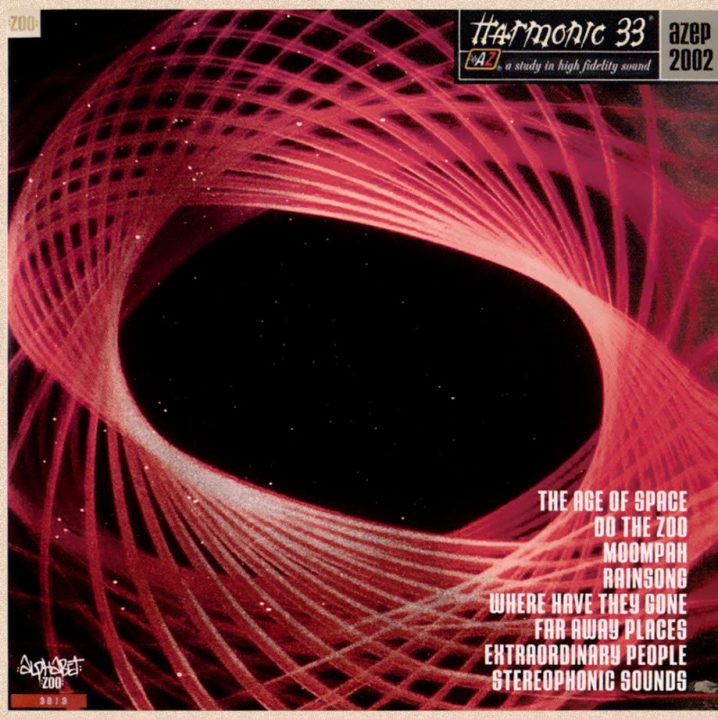 I know that it's important to keep up with the evolution of sound, music, and genres, but why can't I stop listening to Harmonic 33's Extraordinary People, which, as of this writing, is more than two decades old? Did the common folk forget about the light, spacey, and spy-sexy trip-hop sound, or am I just not looking in all the right places? Even the project's follow-up album, Music For Film, Television And Radio Volume One on Warp Records, did not satisfy my cravings for a similar sound. Out of fourteen tracks on this first full-length Alphabet Zoo release, every single one is a standout! The label owner, Danny Breaks, even contributed a few cuts and scratches to the record with his turntablism skills. So who's behind this project? The Harmonic 33 is Dave Brinkworth and Mark Pritchard, producing under various pseudonyms since the 90s. Brinkworth has previously contributed to Capio and the duo's early drum'n'bass outlet, Use Of Weapons. Pritchard's discography, on the other hand, is almost impossible to trace and cover, with his numerous aliases and group collaborations, most notable among them with Thomas Middleton under Global Communication [note to self: revisit 76:14] and Jedi Knights. Although I can also appreciate Pritchard's gravitation towards a more Detroit-influenced hip-hop sound with his Harmonic 313 moniker, I still turn back to Extraordinary People time and time again. This was one of the albums that made me want to write music reviews, simply for the sake of spreading the good word about awesome music!
2023 UPDATE: This project has been long on ice, and Brinkworth hasn't put out much music, although his Instagram account seems to be a bit active. Pritchard, on the other hand, continues to produce, most recently, under his real name with MP Productions – EP1 for Warp Records (2020). My favourite records of his include Under The Sun (2016), Ghosts (2013) and 93 Million Miles (2011), together with Steve White as Africa HiTech. And don't forget the 2020 reissue of Global Communication monumental 76:14! If you want to then follow another rabbit hole, check out E2-XO by GCOM (that's Tom Middleton).
Barry Lynn
Balancing Lakes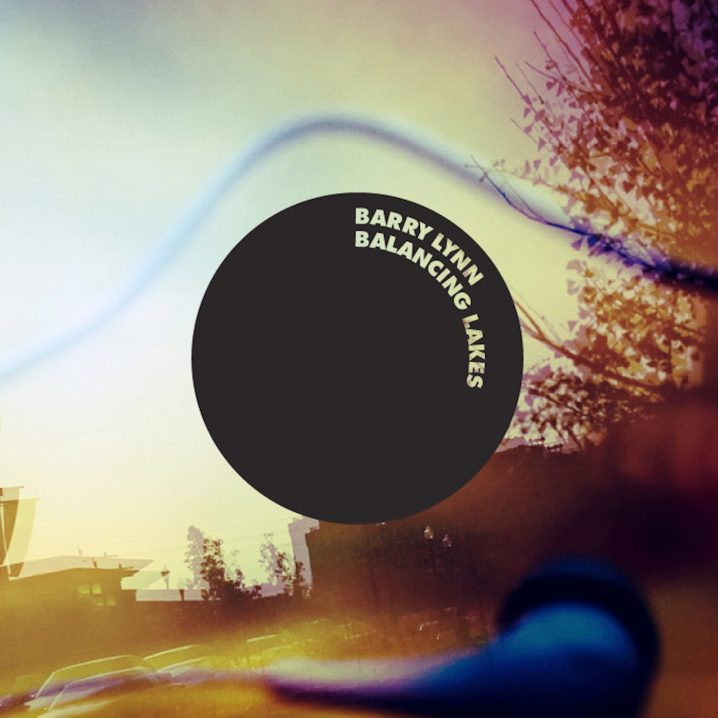 Fifteen years ago, I discovered a new artist. Barry Lynn has a few monikers, the most known of which is his Boxcutter, under which he releases for Planet Mu and, most recently, on his very own Kinnego Records. For this 2008 debut under his real name, we find Lynn on Planet Mu again. Well, Barry, what have we here? A delicious collection of abstract glitchy IDM, with an occasional dub track and even some breakcore. Must I drop a reference to Squarepusher in this write-up? Ah, but I guess it all makes sense: Balancing Lakes is a collection of previously unreleased material produced in the four years prior to Boxcutter's LP, Oneiric (2006, Planet Mu). It's no wonder that I hear influences here from all of my favourite Warp artists. And in my opinion, some of the drill'n'bass tracks don't even feel that dated [even as I re-listen to the album in 2023!] and are instead very welcomed by a nostalgic ear. It almost feels like discovering an accidentally missed artist [that very first thing I alluded to in this writeup]. In fact, we could pretend that it is true – and that artist is Barry Lynn. There is a wide range of styles on this hour-long release, and somehow Lynn manages to tie it all together. It's a wonderful flashback into the era of post-IDM sound, where only a few standout albums persevered. One of these is definitely Balancing Lakes. This album is still available as a digital download and on a compact disc directly from Boxcutter's Bandcamp. Recommended for a revisit if you like The Flashbulb, Aaron Spectre, Aphex Twin, and Clark.
2023 UPDATE: A decade later, Lynn self-released an even earlier archive of '01-'04 Tracks, followed by two volumes of Taurus Tapes, and most recently, Compositions For Software Instruments, which is another "selection of tracks from two decades in storage". As Boxcutter, Lynn also appears to be active, with the most recent self-released new material titled Béaloideas (2020). All of these you can find on his very own Kinnego, which is his outlet for special projects and collaborations. Be sure to check out The Host project, which I covered in 2012 (and read this Interview with The Host).
Matthew Collings
Splintered Instruments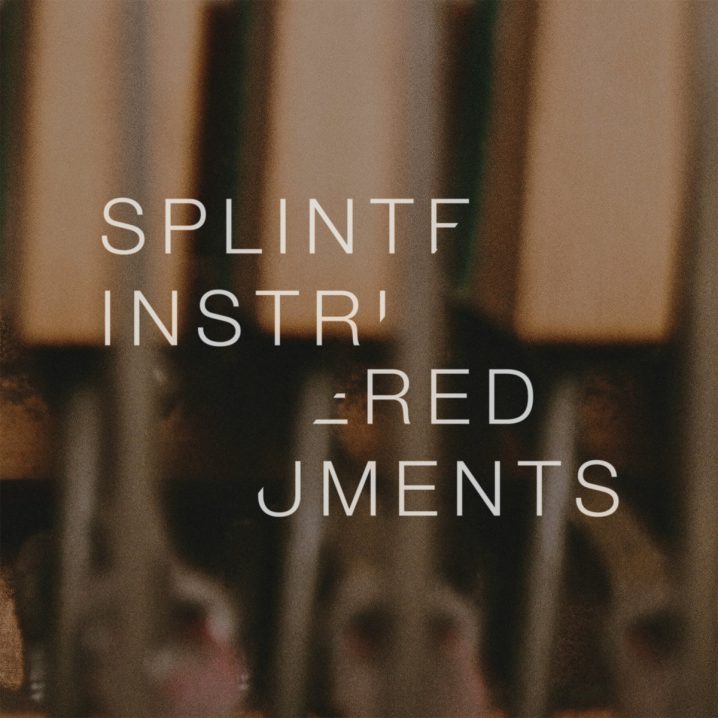 There is tension in the very first note… What is that growling bass slowly rising through the building, rhythmic percussion? What is that uneasy feeling of a swelling sound that takes up all of the oxygen in the room, leaving you gasping for breath? What is that strong presence that seeps through each pore of its textured coating, raising the sound on a soft pillow of sculpted dynamics and a perfectly designed atmosphere? It is the culmination of all previously stored energy releasing itself through Matthew Collings' debut album for the beloved Fluid Audio. And I am immediately in love… The music on Splintered Instruments is both rough and beautiful. Like a fragile rose, it's ready to puncture your skin with its thorns while intoxicating you with its scent. The strings uncoil, and the hammers break. The metal is twisted over the splitting wood as the harmony shatters and pierces with chords. This is not about noise or the decibel levels (although I do recommend you listen to this album loud) – it's about the sheer uncompromised approach to raw sound as if extracting an essence with a masticating juicer from each acoustic instrument in play. The final result is somewhat unclassifiable. It's peppered with an eclectic array of later manipulated acoustic instruments and field recordings. The structure is very organic, breathing like a heaving animal, transforming build-ups into collapsing drops, and resting softly on the space in between. The vocals are not distracting and instead add an element of humanity towards this instrumental requiem of artistic expression.
2023 UPDATE: After this 2013 release, Collings moved over to Denovali Records, which also repressed this record on vinyl. This Scottish composer continues to produce, regularly releasing new music every few years or so. One of my favourite albums is his collaboration with Dag Rosenqvist, titled Hello Darkness (2017), with the most recent output being Uzonia (2019). I managed to track Matthew down, and he informed me that he has been busy with a full feature-length film score, which we will hopefully hear soon, plus designing post-production plugins for Krotos.
Alva Noto & Ryuichi Sakamoto
Glass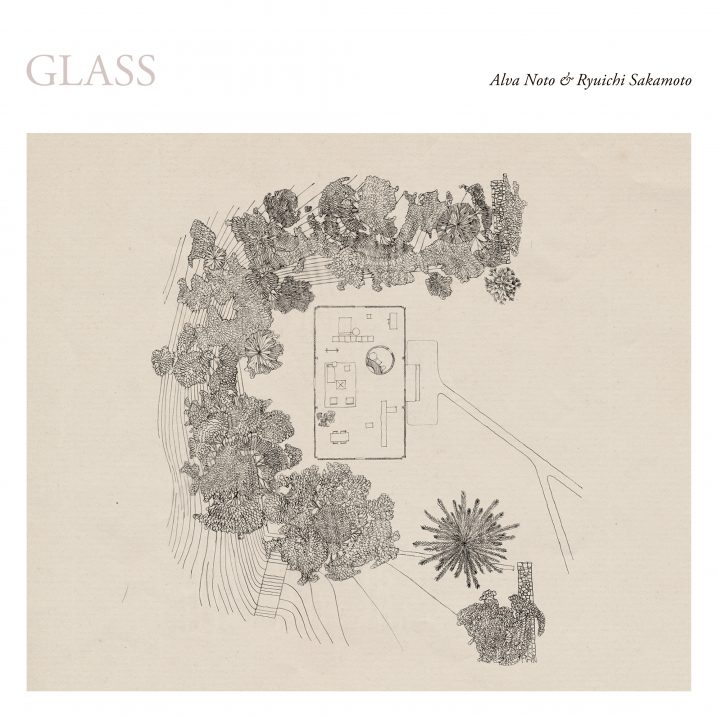 Instantly grabbing a spot on my Best of the Year lists in 2018, Glass is a recording of an improvised live performance, which took place in architect Philip Johnson's 1949 home, "The Glass House", in New Canaan, Connecticut. Using the entire building as its own instrument Ryuichi Sakamoto and Alva Noto released the vibrations of sound waves to resonate the structure from within, as an aural portrait of the architecture in its ambient, minimal, and contemplative design. "This is the sound of glass and of glistening condensation. Pristinely fresh audio stratus float amorphously by, unfurling from a meditative calm into an evocation of sparkling wonder, like a baby observing raindrops on a nocturnal window for the first time." Although many were unable to attend this amazing live performance (and I know a few lucky souls that have!), we nevertheless can be extremely thankful for its sonic archival on the NOTON imprint. I can only imagine the awe and sensations that surrounded the crowd experiencing the vibrations of the building as the occupants of the whole. Listening to this 37-minute single piece, I often get a sense of floating, with the beads of high-frequency pin-drops piercing the harmonic fabric of time and of space and that very special third place where neither time nor space exists. "Although the work is largely atonal, textural and spatial, fleeting moments of melody appear towards the end, which despite their scarceness, achieve a profoundly moving effect."
2023 UPDATE: Both of these celebrated musicians continue to be active in the music scene. Earlier in 2023, the duo released the V.I.R.U.S. collector's boxset as a slipcase (without the albums, but available for vinyl and for CDs), intended to accommodate the five remastered records of their fruitful career: Vrioon (2002), Insen (2005), Revep (2006), UTP_ (2009), and Summvs (2011) – did you know that's what it all spelt out? This is an absolute must for any collector serious about storing the documents of the past for all the ages of the future.