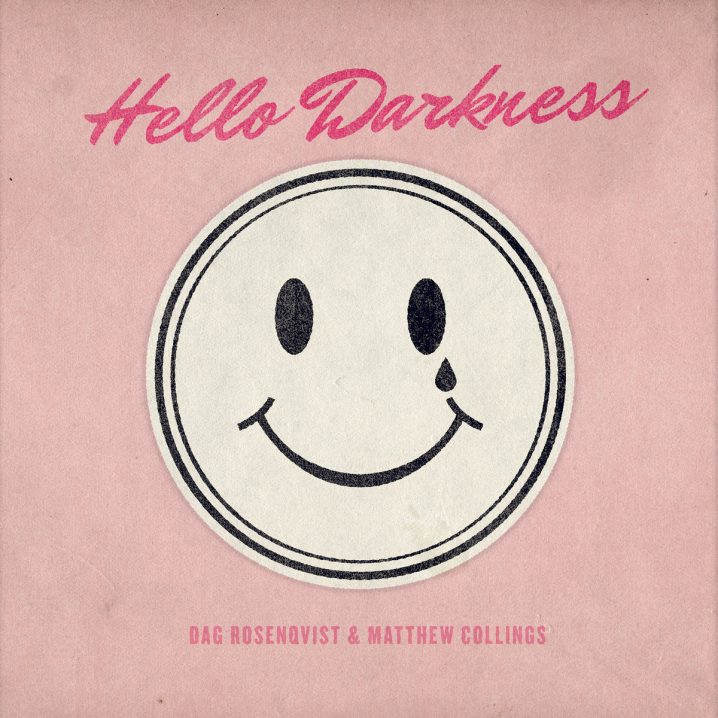 I think that before I even go into describing the music, it's important to first address the cover art. Flip through a stack of vinyl at your local record shop and you will surely skip past this pink cover, with a huge clip art smiley face, and the lipstick red album title. There is so much different about this presentation, so drastically incongruent its approach relative to the past releases by Dag Rosenqvist and Matthew Collings, that I immediately understood all that was wrong with it, which, of course, was very much right. Look at the little tear drop, flip over for track names (like "You Don't Have to Tell Me About Hell"), follow the story of the title to that of the Simon & Garfunkel piece, or better yet, gather a deeper understanding of these two musicians through their past works, as I did throughout many years, and you will no doubt conclude that, no, this will not be a happy ride. So strap in and let go.
Rosenqvist's signature dynamic build ups, that marinade, bubble, and then spill over into a hot splash of noise are perfectly complimented by Collings' organic distortion, a sense of pace and cinematic textures. Old de-tuned pianos drive forth with their simple melodies, playing throughout the night as if in a rebellion towards the menacing coming darkness. Grinding deformation of sounds, layering, building, expanding, and always increasing in its sense of belonging, intensifying presence, and reinforcement, growing, swelling, spreading and then dropping, just like that, into a single note. This is a sound that one must feel, with every inch of their body, their outer lining of incarnation ("in carne" of course means "in flesh", as in the prison of one own's meat), turned to the upper limits of the volume, until the air pressure move more than the ear drum, and your whole being convulses with waves.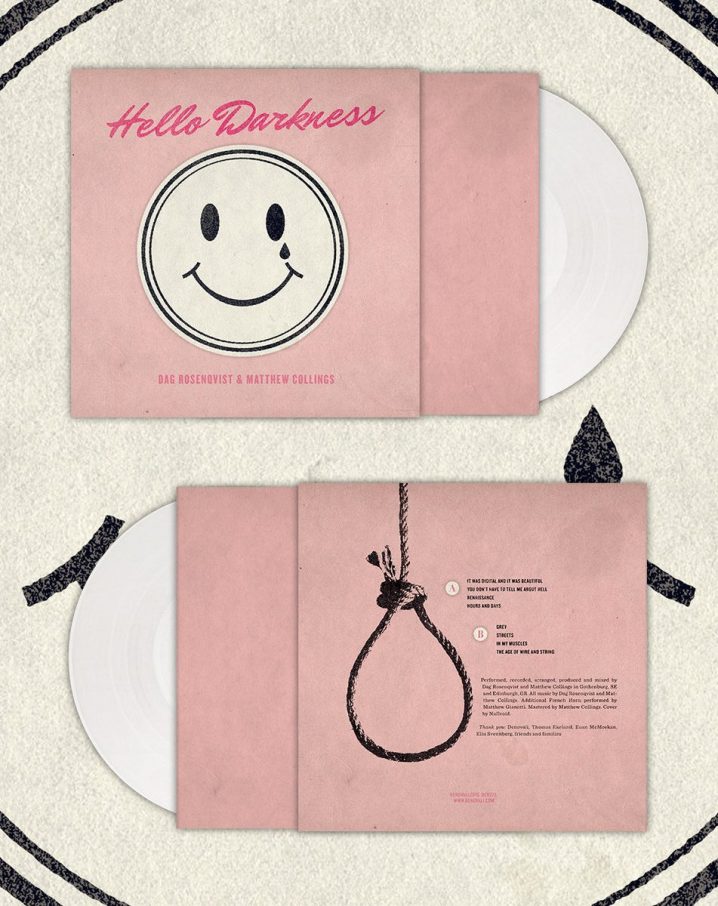 Rosenqvist's conveyed pain has been growing throughout his last few releases. Starting somewhere around Fall Into Fire (n5MD, 2014), then, perhaps Vowels (Awkward Formats, 2015), and finally exploding on Elephant (Dronarivm, 2016), one of my favorite albums to date. His past collaborations with Rutger Zuydervelt, Simon Scott, and of course, Matthew Collings [see the first EP titled Wonderland on hibernate from 2012], was what began as a collection of pieces that slowly, and carefully, became an album in front of you right now. Similarly, Matthew Collings has been a favorite since his Splintered Instruments (Fluid Audio, 2013), followed by his move to Denovali with Silence Is A Rhythm Too (2014) and A Requiem for Edward Snowden (2016), all of which I highly recommend. This particular collaboration, however, was on and off, turning into a four-year project, with intermittent disruptions between the sessions, and many times of retraced steps.
Rosenqvist and Collings worked destructively from processed stereo tracks with botched fade-ins, scrapping entire sessions and adding new layers and sounds of all kinds, letting it go in any directing it needed to, adding different time signatures on top of each other, turning sounds and entire tracks inside out and upside down. 
And back to the artwork, again, by Nullvoid, so blatantly over the top with its smile, perhaps even taunting and mocking the listener in its invitation to step in, unfold, and dissolve in the beautiful noise. Come and see for yourself, if it's just a mask that we wear every morning, covered with makeup of visions and lies, dreams and delusions that we tend to project, upon judgment free truth that we mix with reality, only to absorb it all back, through our limited [oh, how very limited] senses of perception, where this input becomes fabrication again, after being processed through our distorted understanding of present and past. Acknowledge this and then finally open that door, where the sound and the light mix with all time and with space, and where everything's nothing again, in a beautiful void of our ever fleeting, barely conscious understanding. Hello, darkness… I've been waiting for you…
dagrosenqvist.wordpress.com | mcollingsmusic.com | denovali.com
©
Words by HC