Release Notes
Label: Slowcraft
Release: Dear Unknown
Date: April 1st, 2022
Illustrated By: Anne Garner
Directed By: Maya McAllister Demangeat
Animated By: Radu Rojas Oprean
Sound Design By: Chris Turner
Few things inspire me these days to take a moment and pause, put aside some of my own bullshit, and share some music. Most come from within, where the emotions get churned up by the storm of current affairs. Some are real, some are imaginary, and yet, both feel the same in my mind, in my being. So when the dust devil shakes up all my thoughts, it takes some time for the noise to subside. This is my own personal friendly reminder, to breathe in and breathe out. These moments of settling are conveyed in this piece, composed by my dear friend, Anne Garner, which she so kindly offered up to be remixed by yours truly (see Mike Lazarev Pent Up Rework premiered on Fluid Audio), and which is now brought to life in this stunning animation. The stop motion was entirely hand-drawn by Garner, lovingly directed by Maya McAllister Demangeat, and painstakingly animated by Radu Rojas Oprean with dynamic sound design from Jungle's own Chris Turner. It's a collaboration of a like-minded collective, that makes me feel right at home, with my dear friends, friend and friend's friend, of course.
This is a story about a sad and troubled girl who made her world so small and familiar that she now feels trapped and weighed down by all the emotions she's collected to keep her safe. A wise owl comes to visit and urges her to let go of all the things that aren't serving her anymore, giving her the courage to sweep them all up and away in a whirlwind.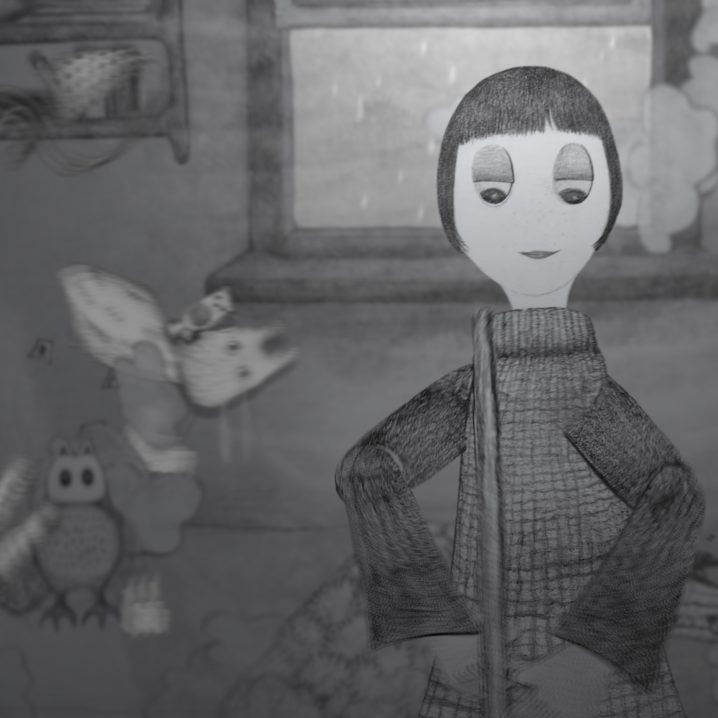 The track is currently out as a single via Slowcraft Records, and appears on Anne's full-length album, titled Dear Unknown, which is scheduled to be released via digital and a glass-mastered compact disc on April 1st.