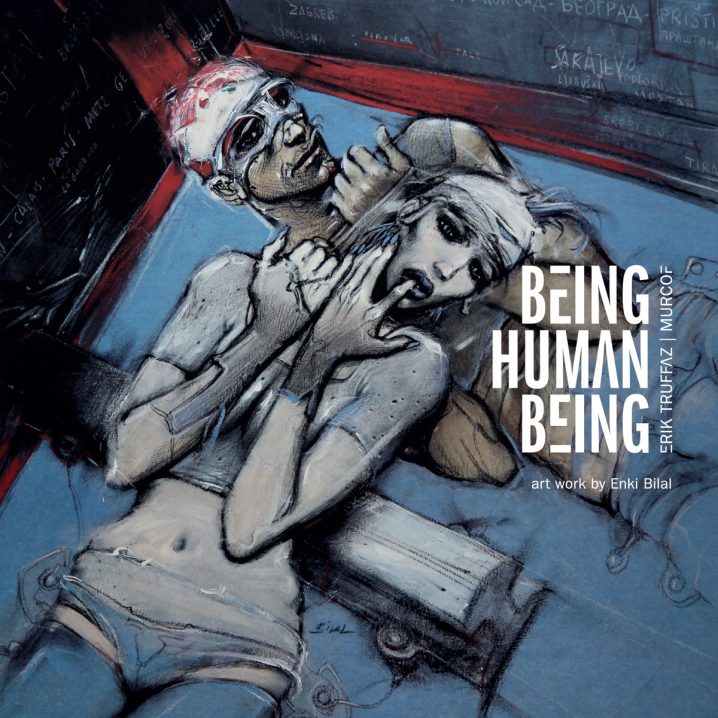 Murcof has been in hiding, and now Murcof's back! First, let me get all my excitement out of the way. You see, I've been a fan of Fernando Corona's music ever since his 2002 debut, Martes on Leaf. Ever year, or so, since then, Corona would put out an album beginning with a letter that would slowly spell out his name. So after Martes there was Utopia, then Remembranza and Cosmos, (you see, M-U-R-C-…), and then we've been waiting on 'O' which has been rumored to stand for Oceana, but… that album would never come. Instead, Corona worked on a commissioned pieces called The Versailles Sessions (2008), then a soundtrack for La Sangre Illuminada (2009, Intolerancia), followed by a short collaboration with Philippe Petit on First Chapter for Aagoo… And still no word of Oceana. Oh well… I am _extremely_ happy with his latest work with Erik Truffaz titled Being Human Being as the third catalog release on a brand spanking new Switzerland based Mundo Recordings.
Besides that staple micro-electronic Murcof sound, the album comes to life with Truffaz' acoustic elements of piano, voice, trumpet and tuba. The jazzy feel to Being Human Being is not completely incidental – Traffaz is a Swiss Jazz trumpeter with over a dozen albums on Blue Note – a monumental jazz label that pretty much defines the genre. The two musicians have first collaborated on a short Mexico mini-album for Blue Note in 2008 [did I mention that Corona is Mexican?], and now, six years later, the two have teamed up to deliver a top-notch culmination of electronica and jazz. And before I jump into the music itself, a few mentions on the art, produced by Enki Bilal, a French comic book artist. Besides the album cover, there's also a video collage which is a part of the troupe's live multimedia performance, as showcased around the world at music festivals, such as Montreaux Jazz Festival, Glastonbury, MUTEK and more…
Being Human Being is somewhat of a dark journey, down a futuristic terrain of cinematic landscape, mysterious narrative and a questionable and lonely existence. Truffaz' gorgeous trumpet playing processed through extensive reverb and other effects reminds me a bit of Arve Henrkisen works on Rune Grammofon, but as soon as the speckles of electronic percussion kick in (courtesy of Murcof, of course), I find myself in a very different space, previously undisturbed by abstract jazzy riffs. Corona's intricate production values are immediately familiar and truly welcome, taking me into carefully crafted district of glitchy rhythm, minimal atmospherics and future jazz. The result is a seamless traversal of styles (which feels like one continuous piece), coming into its full fruition with "And Nina", a fifth piece on the album, bridging the works of these outstanding modern composers.
'Being Human Being' epitomizes the combination of jazz and electronica, a combination that has taken quite a number of years for them to craft. One can fully seize the gravity of the album if it is perceived 'as a sound event, as a visual event and as a synthesis of the two'. From start to finish, each piece melts effortlessly into the next, giving the impression of the blending of various states of being.
Notwithstanding the longing for Murcof's solo compositions (I know I keep harking on this), Being Human Being is a standalone force to be reckoned with. No doubt grabbing a spot on Headphone Commute's Best of 2014 releases, the album captures the evolution of music obliterating the gaps between genres, and in the process offering the only that matters: a sonic message that somehow speaks in all new ways. Although not a real score to any visual event, unless one looks at it as an archival document of the trio's multi-form event (including the live painting works of  Enki Bilal), one can not help but feel the drama unfold with tints of wistfulness, existentialism, and simply being… Highly recommended!