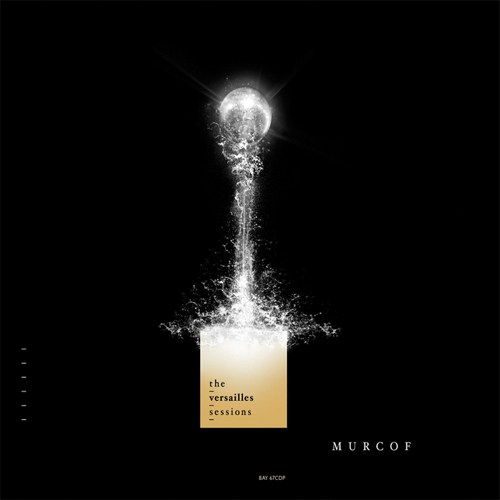 I am way overdue to give this album a proper review. I first heard The Versailles Sessions back at the end of 2008, when this Leaf release immediately made it on to my Best of 2008 list. Then, as time flew by, I was expecting to cover the upcoming release, Océano. The latter is expected to be a fourth installment in a five part album series, that spells out Fernando Corona's shortened Murcof alias with the initial letters of the titles (Martes, Ulysses, Remembranza, Cosmos, Océano, F___?). Alas, Océano is still in post-production. Meanwhile, The Versailles Sessions still haunts me at night.
During the 50-minute experience, the instruments howl, screech, and cry in a tormented industrial prison of sound. Intense heartburn of horror rises through the pulled and scratched strings until it spills over into the bile of harmony. Rhythmic structure ignores the background beating of sacrificial drums, as the violins tune up into the unison of terror. Darkness surrounds all, as the melodies creep up the underground stairs towards the purity of light. In The Versailles Sessions, Murcof creates one of the most dramatic, suspenseful and cinematic soundtracks to date. The imaginary film consists of the images from the annual festival of sound, light and water at the Chateaue de Versailles. The score is composed entirely out of 17th century instruments, such as harpsichord, flute, violin and viola de gamba, and is performed by a troupe of professional baroque musicians.
This commissioned release for the festival's Les Grandes Eaux Nocturnes, is unlike any of Fernando's previous albums. In 2002, Martes hit the scene to overwhelming critical acclaim, juxtaposing samples of Arvo Pärt and Morton Feldman over deep rolling bass and micro programmed beats. The Mexican producer followed up his debut with an even more elegant and mature production. With Cosmos, you simply fly away (a must, in any serious connoisseur's library).  But The Versailles Sessions stands out completely in its own spectrum of compositions. The dark ambient and modern classical passages haunt the listener into a corner of eerie memories and distant fears, evoking an unnatural response of increased blood pressure and cold sweat.
Highly recommended for the likes of Deaf Center, Julien Neto, releases by Alva Noto + Ryuchi Sakamoto, Kangding Ray, Dictaphone and Arovane. If you're digging around to complete your Murcof discography, pick up Corona's release as Terrestre, Secondary Inspection (Static Discos, 2004), and Terrestre vs. Plankton Man (Nimboestatic, 2004) as well as his collaboration with H.Amézquita, C.I.D.I. (AR) (Statis Discos, 2004), and his latest work with Erik Truffaz, titled Mexico (Blue Note, 2008). Best of 2008 for sure!