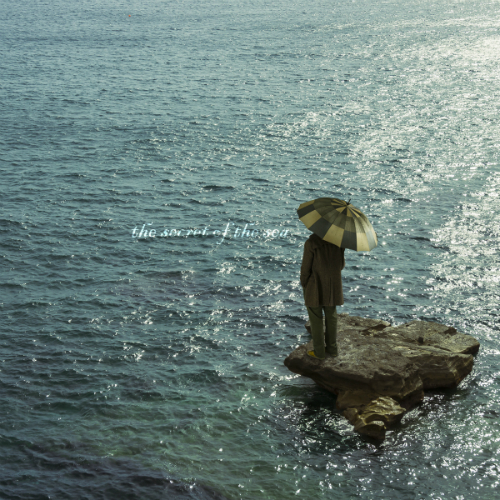 For his third album, The Secret of the Sea, composer and musician Bruno Bavota found inspiration in the allure and mystery of the Mediterranean that washes up against the shores of his home town of Naples, Italy. The lyrical romanticism expressed through the piano on his previous albums, Il Pozzo D'Amour (2010) and La casa sulla Luna (2013), is amply present on the new record, but the arpeggiated picking of a reverb-soaked guitar that introduces the opening track "Me And You" lets us immediately know that Bavota intends to broaden his musical canvas. The Secret of the Sea feels warmer and more expansive than anything he has done before.
Whereas the earlier music strikes me much like lovely scenes captured in a sketch or photograph, the pieces on The Secret of the Sea feel more like a collection of poems and vignettes and thus they form deeper connections upon listening. Much credit for that goes to the added elements of acoustic and electric guitar and the rich inspiration of the general theme, but some must also be given to the literary references Bavota has chosen for some of the titles. For example, "Les Nuits Blanches" references the melancholic tale of loneliness and unrequited love by Fyodor Dostoyevsky. And the wonderful solo piano piece "Plasson" refers to the character in Alessandro Baricco's novel "Ocean Sea" who "paints the sea with the sea", dipping his brush into the surf to create invisible pictures on a blank canvas.
"…I have always loved the waves, their sound and even more their rocking movements, suggesting to me the idea of the deepest human gesture, the embrace. So immense and familiar at the same time, through the sea you can look into yourself discovering your own inner sea.".
While it is tinged with melancholy and an overall reflective mood, there is also a very bright and ultimately uplifting feeling that comes with listening to The Secret of the Sea. This is not the music of ominous, churning ocean depths. It is the music of sunlit blue-green water, gently rocking waves, and the life affirming sound of the surf washing up against the beach. Perhaps Bavota would also agree with author Isak Dinesen who once said, "The cure for anything is salt water: sweat, tears or the sea". Certainly, The Secret of the Sea seems to harmonize with those sentiments as it no doubt represents a great deal of creative sweat on the part of the artist, and I would not be surprised if more than a tear or two were shed in the making of this enchanting album.
brunobavota.it | psychonavigation.com
©
Words by Brian Housman of Stationary Travels