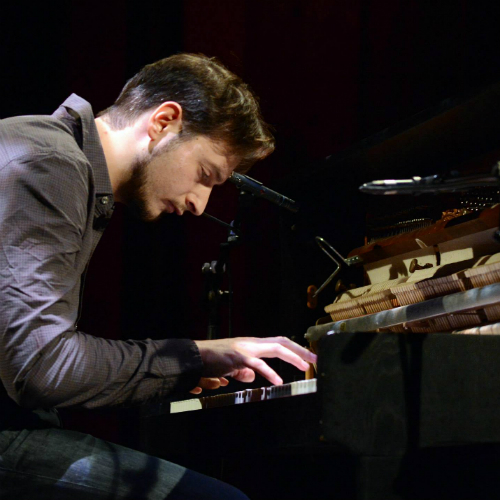 First of all, Bruno, you just completed a trip to Moscow for a special performance. That must have been amazing. Please, you must tell us what that experience was like!
It was absolutely an amazing experience! The concert was almost sold out, the venue where I played had excellent acoustics and since the sound check I was already totally captivated by the atmosphere. After the performance a lot of people wanted me to sign their tickets or asked me to take a picture together, but what has stunned me overall, is that a large number of them came from St. Petersburg, so far from Moscow! This was absolutely awesome, I consider myself their fan!
So, The Secret of the Sea is out now worldwide. Can you share with us a little about the journey of making the record and how it feels to see it being embraced by listeners around the globe?
It all started in my town, Naples, and from the deep relationship I have with it and particularly with the thing I most love about it, the sea. I love the seafront at night, a few minutes by bike and you are there, the landscape is truly breathtaking. The record has been inspired, as I said, by the deep relationship I have with the sea; it is for me a source of awareness, when I feel confused it suggests to me the way and at the same time I confess to it all of my feelings. Then when I create my compositions I write all of our secrets. Concerning the signature style of the album I had in mind a specific sound to realize that I have found combining a particular reverb and delay with electric guitar, my intent was to give an essential support to the piano. Did you ask me how I feel? What can I say… It's a dream coming true!
You make some direct literary references on the new album, Fyodor Dostoevsky in 'Les nuits blanches' and Alessandro Baricco's Ocean Sea in 'Plasson' to name a couple. What is about a piece of literature that draws you to make a musical connection to it?
Sometimes I think that books don't have their own soundtrack, it happens every time I read a book while listening to music. Books have the capacity to push my imagination, I can depict everything I read, so I just give a sound to those images that the book inspired to me. Talking about Baricco, for instance, in the imagination of the writer, Plasson is a painter that tries to reproduce the sea and its waves by using the water from the sea, it's hard not to realize a music for such vibrant story!
I've noticed that you are very active on social media, both in promoting your music and connecting with fans and writers. Has that been rewarding and would you say it genuinely helps grow your audience?
Can I be honest? Absolutely yes, I think that the most important thing an artist could do is to talk with the fans and introduce himself to the writers. I really believe that both, fans and writers, had to know not only the artist, but the man and his humanity. To talk with them is, for me and for the artist I represent, is a front of growth.
I recently watched a video you shot playing piano in the London Undergound at 2AM, where you made wordless connections to the passers by. It was delightful. What inspired you to do that?
It's a funny story, I was simply going to take the train to London airport after my show in the Royal Albert Hall, as you said it was 2 AM and while walking I noticed a piano so I started to play, a friend of mine and also my manager, Alex, took his smartphone and recorded me, so all you see in the video happens by chance and I think his beauty resides exactly in such reason!
Well, congratulations again on your wonderful album. You have had an incredible start to the year. What's next for Bruno Bavota?
I will play at the wonderful Piano City festival in Milan meanwhile I'm waiting for the next European shows, I hope to bring my music as far as possible.
Be sure to read our review of The Secret Of The Sea
©
Interview by Brian Housman exclusively for Headphone Commute