Hi Stephan, where are you these days, and how have you been holding up during these unprecedented times?
Right now I am in Los Angeles piecing together the plan to tour the world in 2022. Playing my melodies for live audiences around the world will have me feeling wonderful and yet I recognize I am lucky because throughout the pandemic my creativity has been unwavering.
"Tales of Solace" only came out a year ago, and since then you managed to release at least seven more volumes of piano compositions and a whole slew of singles and EPs. Tell us about this journey.
The release of Tales of Solace unleashed a deep love for solo piano music globally. The success of Tales persuaded me to release my previously recorded opuses knowing listeners were keen to hear more of my piano melodies. Those who believed that Tales of Solace was my inaugural album organically inspired me to share the music I composed as early as 2006 when I began to reflect on the possibility of pivoting my focus to strictly solo piano music. The Volumes encompasses a rich collection of work that I recorded on my Yamaha C7 piano.
Where did so much material come from in a span of a single year?
If I had actually recorded and produced the entire body of work I released in 2021, that might make me one of the most prolific artists in the world. Rather, it was the culmination of 15 years of compositions leading up to this point. It felt relevant to share with piano music enthusiasts the full scope of my oeuvre to date.
Your latest album for Decca, "Lionheart" is a lot more intimate, personal, and sensitive in character. What prompted you to record these pieces?
Lionheart unfolded during the most solitary moments of the pandemic for me. I composed and recorded a large portion of this album during the chapter with the most widespread gloom and isolation. There has always been a certain melancholy and nostalgia to my music; however, Lionheart possesses a feeling of rebirth and an audibly more hopeful tone when compared to my previous work. In my life, there is never a moment when I don't feel compelled to compose and create music. The silver lining of the pandemic for me was the gift to have this time to create so much music. It was such a prolific time for me creatively.
Can you tell us a bit about your recording setup? The piano is quiet and somber. Were the hammers damped with the felt? What kind of microphones did you use?
Other than a change of venue, my approach to recording was knowingly the same. There were seven microphones in total – a stereo set of Neumann U 87s for the room, a stereo set of B&Ks on the hammers, two ribbon mics in the back of the piano, and one Neumann M 149 for the entire room sound. The crucial element of dampening the hammer with felt was something I wanted to keep once again.
In our last "In the studio" conversation you talked about your pianos. Which one (if only one) did you use on this album? And is there a story behind this instrument?
I deliberately chose to use my preferred upright, the Yamaha YUS5 on this recording. It is a custom piano in a few bespoke ways. I collaborated with my piano technician to ensure the action is desirable for me. Even more critical, we worked meticulously to achieve the 'felt' sound you hear on both Tales of Solace and Lionheart. I love this piano so much that I purchased another; it was one of the last remaining few in the Los Angeles region. These pianos will remain with me forever.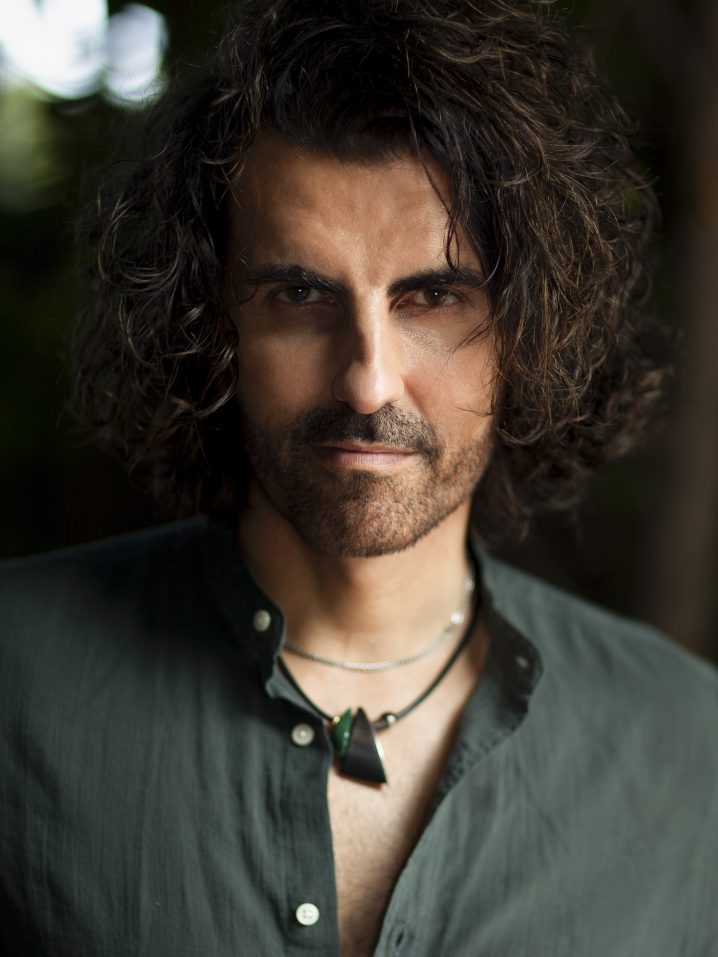 How did you go about interpreting other forms of art, like Monet's impressionist painting 'The Artist's Garden at Giverny', into music? In one of your studio photos, I saw a very large projection screen, next to the piano – I wonder if you had the image of the painting projected while you played?
The projection screen is useful because I love classic old Hollywood black and white films. I often project them to further elicit inspiration and bring movement into the room. The genesis for Le Jardin de Monsieur Monet did not begin with a film, rather it was with books. As much as I love film, my penchant for beautiful Taschen art books is genuine. While seated on my piano bench, I was surrounded by Taschen books open to exquisite and alluring images of the artist's garden at Giverny. As I hear it, this piece is full of hope, and particularly vivid with color.
What music do you listen to when you're not composing?
Throughout my entire life, I have defaulted to classical, instrumental music, including some of the jazz giants. However, this is not to say that I don't listen to other genres of music, including ambient, electronica, film scores, and more. Routinely though, I am listening to music without words.
I love the tenderness and quietude of all these pieces. What would be the challenges in performing these solo piano live, and do you have any plans for that?
I appreciate that, thank you. I am in the process of planning a distinctive and special live experience for my audience. For now, I can only share that given my music is so highly cinematic and visual, I am exploring new ways of combining these elements into my show. The seemingly difficult challenge will be ensuring that a YUS5 is available to me on stages across the world.
If it's not a secret, can you tell us what you're working on right now?
The secret is my imminent live show. I am committed to giving my audience a concert experience that is as special as the solo piano genre itself. To do this well, it takes tremendous forethought. It is one thing to simply play my albums within a concert hall. It is an entirely different process to design a show that incorporates elements to awaken the other senses; this is the work that consumes me, at least for now.