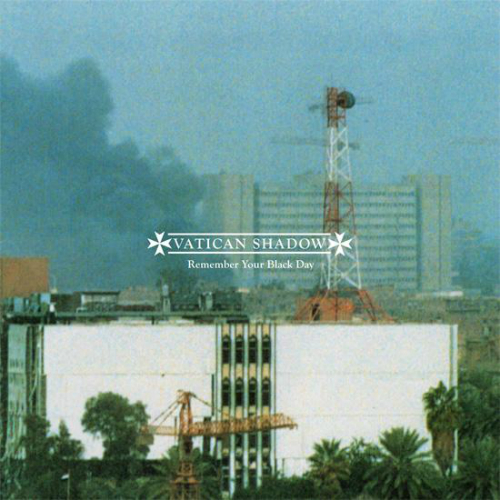 Dominick Fernow seemed to appear out of nowhere. Like an obscure stalker lurking in the underground quasi-government, veiled in secrets, sinfulness and crime, Fernow creates sinister passages out of mischief, equal to their mystery through mediums and names. Releasing numerous cassettes dating back to the late 90s under his Prurient alias on his very own Hospital Productions, Fernow eventually developed a sound (and a cult following) under a guise of Vatican Shadow. Each release baring a military photograph and a title of some Yemen, Jordan, Kuwait or a CIA official, the extremely rare and limited releases (sometimes only 25 pieces) would feature two or more tracks of almost industrial, ominous rhythms, riding into the disquiet for ten minutes plus.
The project finally surfaced on the radar after a few of the collections appeared on labels such as Blackest Ever Black, Type, and Modern Love. Of course, there is a much deeper archive of releases under his many other monikers, not to forget Exploring Jezebel, Rainforest Spiritual Enslavement, and of course, his real name. Yet the subject of this particular coverage, Remember Your Black Day, appears to be the very first album proper as Vatican Shadow, as in material conceived and produced to be a full-length from the start. A glimpse at track titles continuous the ongoing theme of warfare conceptualization, with names like "Tonight Saddam Walks Amidst Ruins", "Contractor Corpses Hung Over The Euphrates River", and "Not The Son Of Desert Storm, But The Child Of Chechnya".
"The album includes the most direct and propulsive Vatican Shadow material yet, continuing an evolutionary shift away from the complex, collage-based narrative of those cassette releases into more visibly direct contact with the listener. There is a functional connection to dance music here, honing in on the human element embedded within a subject matter so fraught with inhumanity."
The music is minimal, hostile, and dark. Mostly based on repetitive patterns, the distorted yet perfectly balanced percussion drills through the concrete warehouse walls long into the night. If used as a soundtrack to the next generation first person shooter, the player would experience an unprecedented surge of adrenaline, nausea and revenge. The occasional use of distortion brings the dense atmosphere to near suffocating limits. The music appears to flow like water: both, as a life-giving force, and a device of death and torture. Pieces begin and end abruptly, sometimes in jarring and harsh way, like a slammed shut prison door or a gun butt to a temple. "I'm not naïve, and I don't romanticize war," proclaims the text on the back of the album sleeve, "the worse moments of my life have come as a seal. But I can stand before God with a clear conscience".
As typical with Vatican Shadow releases, do not expect the sounds on Remember Your Black Day to brighten up your mood. Your best bet for a genuine experience is a gloomy rainy day, as you picture yourself crawling through abandoned buildings, the smell of burned rubber in your nostrils, the death of lost children embedded in your skin. If you're just getting into Vatican Shadow's sound, I recommend you pick up Ghosts Of Chechnya (2012), Ornamented Walls (2012), or a 3xCD 20-track compilation, It Stands To Conceal (2012) collecting multiple cassettes. Recommended for fans of Raime, Andy Stott, The Haxan Cloak, Demdike Stare and The Stranger.