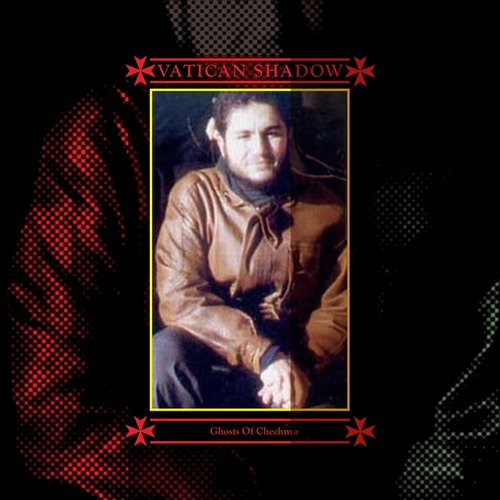 Vatican Shadow is one of many aliases of Dominick Fernow. He's been cranking out releases under this moniker for years now, but this is one of the first ones admittedly that I've actually picked up. (I'm pretty sure he's made more than a few since this album came out.) The aesthetic of Vatican Shadow releases is fairly consistent, with militaristic imagery and titles that suggest politics and power struggle; in this sense, it reminds me of Death in June or perhaps even NON, although the music itself is fairly different. Fernow has recently been signed onto Modern Love, but Ghosts of Chechnya, along with countless releases on cassettes by Vatican Shadow, Prurient, Exploring Jezebel, and Rainforest Spiritual Enslavement appear on his very own Hospital Productions.
The sound is rather looped; once a track starts, it doesn't change much. So chances are that if you don't like the first 30 seconds, you won't like the other 2 to 6 minutes that follow. The aesthetic sometimes runs the risk of falling into the cassette-hiss ephemera of Not Not Fun, but it stops short (which is a good thing). By contrast with some of the label's other output, the sound here is fairly clean, despite all of the various effects and reverb that soak many elements. "Peace Rage" is appropriately named with an aggressive tempo and rhythm section, but its reverberation and airiness emphasize the contradiction of its title. That almost soothing atmosphere comes through on "Voices Came Crakling Through A Motorola Hand-Held Radio" as well, despite its crisp drum programming, and on "He Held The Victims Responsible," which recalls the dreamlike atmosphere of vintage John Carpenter scores.
The notable thing about Ghosts of Chechnya is that Fernow is really increasing the contrast between the clarity of his rhythm section and the reverberation of his synth arrangements; "Chechnya's Ghosts Loom Large in Death of Foreign Spy" has a startlingly clear electronic kit in the foreground while the supporting, more washed out arrangements float behind it like the ghosts its title references. It's yet another entry into Fernow's ongoing musical statement about the brutality of war and politics of strife, well worth a listen. If you're a follower of Vatican Shadow then by all means pick up It Stands To Conceal, a triple vinyl edition collecting Jordanian Descent, Ghosts Of Chechnya and Atta's Apartment Slated For Destruction.
©
Review by Matthew Mercer of Ear Influxion.
Republished on Headphone Commute with permission of the author.