[Editor's Note: HC was unable to personally make it to Seattle this year to cover Decibel. Nevertheless, we had a pair of trusted eyes and ears on the ground to bring you this wonderful review of the festival by Jefferson Petrey! We hope you enjoy!]
After the smörgåsbord that was the festival's tenth anniversary – wherein Decibel became an amalgam of highlights from both its past as well as all possible futures – this year's lineup looked to be a somewhat less overwhelming affair. But that was only on the surface. Within the very first night of programming, it was revealed how shortsighted this original assessment was. Beginning with a quality Indian meal and conversation in the company of Ghostly International's Mikel (Jacaszek), Rafael Anton Irisarri (The Sight Below), the label's representative Matt along with Jesy Fortino (Sub Pop's Tiny Vipers) and Thomas Meluch (of Kranky's Benoît Pioulard), this extended Ghostly party rushed back to the nearby Experience Music Project to catch the end of their label-compatriot Lusine's Opening Gala set. In the setting of modern architect Frank Gerhy's famously warped, fluid and organic surfaces, the EMP with its massive (and I do mean massive, one of the largest in the world, in-fact) LCD screen and sound system, Jeff Mcilwain's motoric, suggestively high-altitude techno glide could not have found a more complimentary setting. Open, voluminous, high-vaulted ceilings, kaleidoscopic lights, it's as though the Skychurch venue was made with 21st Century techno in mind.
A short break followed as the stage and audio-visual system was calibrated for the first of the festival's Optical showcase. Shrouded hilltops and nestled coves shrouded in fog filled the towering building-size screen as Rafael Anton Irisarri brought a bow against his guitar strings, shuddering the venue with the low-end bass and reverberating dream echo of pulsing rhythms. A contemporary sound informed as much by the guitar swirl of Slowdive and the submerged rhythmic pulse of Wolfgang Voigt's GAS project, The Sight Below has found itself in a unique place in the modern sonic diaspora. Irisarri's more earthen-hewn sound was a stark contrast to the antiseptic digital micro-detail of the opening of Max Cooper's 'Emergence' set. Startling HD generative animation filled the totality of the field of vision as writhing Digital Signal Processing pointillism swam through the stereo field, punctuated by piano keys at body-impacting volumes. Nothing in Cooper's lengthy discography on tech-house labels like Traum would suggest this would be the path he'd follow in the wake of this year's excellent Human and Inhuman EPs. A Nils Frahm remix dropped in the middle of his set was as explicit a statement of intent as you could make if you were looking to establish your departure from the dancefloor.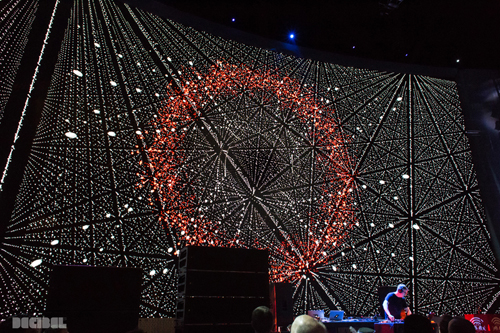 Lusine performing at the EMPs Skychurch © Drew Tyson
Concurrently (and there well be a lot of this kind of venue hopping) across town at the ReBar a very different kind of ambiance was being dredged up by Hospital Productions maven Dominick Fernow, in one of his multitudinous pseudonyms (Prurient, Rainforest Spiritual Enslavement, Exploring Jezebel, River Magic, and Tortured Hooker to name a few). What hit you immediately upon entering the venue was the absolute contrast to the high-tech, monied, 'museum' feel of the EMP; here was a decades-old club with all of its funk, sweat, black sarcophagus painted walls and sweltering heat generated by bodies in motion. What better setting for the low-fi propulsive thud and industrial wastelands of Fernow's Vatican Shadow project. Safely rejecting the signifiers of the 'witch house' sound much of his label's output has been associated with, Vatican Shadow is a transmission from an imaginary history where 1980's early industrial music co-existed with Detroit techno's rhythmic force. His headbanging, flailing, all-physical stage persona literally embodying the project's collision of endless rhythmic drive and crepuscular gloom-and-thrum.
Departing the Pitch Black showcase and the dystopian visions on offer from Black Asteroid and Sandwell District's Rrose, it was another short jaunt to The Crocodile for the conclusion of their night of Haunted Pop. Perfectly descriptive of the intersections of genre his music embraces, Ryan Lott's releases can be found on the surrealist hip-hop imprint Anticon, and amidst the indie rock squall of Joyful Noise. His most recent project, Son Lux, which he himself admits didn't exist as a band until 6 months ago before beginning the worldwide tour of 110 shows, is itself an amalgam of all of those stylistic poles. The punch of hip-hop and soul rhythms framing an emotive, projecting vocal presence and Battles-style guitar cubism were the concluding utterance of the first of many days of diverse, unexpected musical intersections.
©
Words by Jefferson Petrey for Headphone Commute