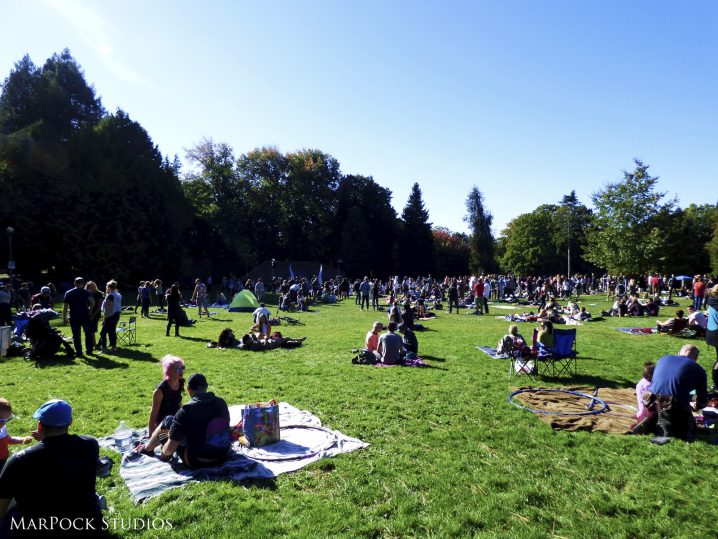 Having arrived at the festival's fifth and final day receptively attuned and relatively free of listener's fatigue, the morning began with another sampling of some of the best espresso to be had in North America. What was once the bohemian center of Seattle, Capitol Hill neighborhood having gone through major zoning changes and development in the course of the current recession, it is still thankfully graced with excellent cafes and an abundance of culinary culture, if little else. Sequestered on a quiet side street Analog Coffee offers locally roasted beans and an abundance of reading material in print. True to their name, their dedication to a genuine music playback experience (no Pandora here) is readily evident by the stacks of vinyl on hand. You'll regularly hear them spinning a selection of world, hip-hop, psych, americana, indie rock, soul and electronic. On the subject of physical media, what would a true urban experience be without the time spent at at least one great record shop? There are increasingly fewer opportunities to come across the revelation of a finely curated specialist shop like Michael Ohlenroth and Jeffery Taylor's Wall of Sound. Operating in various locations across the city for some twenty-five years, they are Seattle's incontestable purveyors of the greatness to be found at the musical fringes. Regardless of genre considerations, the sunlit corner shop features a finely curated crème de la crème of records spanning experimental, noise, electronic, post-punk, electro, techno, psych, folk, underground soundtracks, modern composers and the unclassifiable. This is where you can come away with a reissue of Kranky records drone-rockers Stars of the Lid, an original Nonsesuch LP of Morton Subotnick's "Silver Apples of the Moon" and an ultra-rare copy of Coil's "Blacklight District: A Thousand Lights in a Darkened Room" and they'll reward your patronage with prices less than you would find on online marketplaces. Batteries charged and records acquired, it was then time to hit the traditional mid-day spent in the open expanses that comprise Volunteer Park. Many of us who have attended the festival since its inception were glad to see this year's Decibel in the Park return to the outdoor ampitheater-on-the-green with DJ sets by J.Philip and a longtime west coast mainstay, Michael Manahan. Spinning a crowd pleasing set of techno and tech-house, this was another of Decibel's many intersections with the wider community outside of the festival attendees. Free and open to the public, the crowds on hand spanned the spectrum of dedicated passholder to casual stoppers-by, lured in by the thrumming bass of the powerful PA. Dancing, gathering in picnics, alone or in small social knots, there was a palpable sense of the summer being withheld from receding. Amusingly, Washington State's recent legalization laws lent the beautiful sun drenched afternoon "on the green", a fragrant double meaning.
The second of the festival's showcases, Optical 2: Viscerality appeared on the surface to be a more eclectic assembly of artists than Saturday's Dark Overtones. Where the showcase lacked in a thematic and aesthetic through-line, there are unexpected intersections found between the evening's artists. Under his Eskmo alias Brendan Angelides has been exploring the intersection between chamber music, field recordings and electronic processing as an extension of his Los Angeles-based Echo Society project and their showcasing international artists performing original works that incorporate electronics and traditional orchestration. His set for Decibel share much in common with label-mate Chris Clark in its distorted angularity, where Angelides most notably differed was in his ever-ascending melodic crescendos. A quality he had in common with Seattle's own Briana Marela and the fruits of her recent songwriting venture in Iceland, assembling her debut full length with Sigur Rós associate and producer Alex Somers. While bearing some resemblance to the abundant femme indie-folk songstress that have appeared since the millennial cusp, Briana's orchestrations of electric, acoustic and electronic processing lend her songs a sweeping gravitas. All the more appropriate that Somers produced her work, there is a widescreen, unobstructed horizon to the heights that her songwriting ascends. After a flurry of activity in the early 2000s on Kranky and Further Records, Paul Dickow's Strategy was brought out of cold freeze to deliver his own hand crafted cut-up assemblages of acoustic and electric instruments and field recordings, via a distinctly dub modus operandi. The elastic spring and rebounding thrill of live dub mixing on a soundboard can outweigh the perils of the lack of correctable margin for error, where the whole production is in danger of derailing into chains of misalignment. Sadly this seemed to be the case with much of Dickow's set, here's hoping it's not a discouragement to future live outings from him as his presence has been missed around the scene.
The night's greatest surprise may have come in the form of Decibel's annual cast and crew roll-call which they've traditionally hosted at the conclusion of the closing Optical showcase. The champions of this year's production and development team joined festival programming director Sean Horton on stage for their recognition of the herculean feat achieved. Massive rounds of applause and showering of gratitude are the norm from the audiences present, as Sean struggles with a voice ruined by five days of yelling over soundsystem PAs at venues across the city. This year differed from previous in that he had a personal announcement to be made. Expressing his love for the city and burgeoning electronic music community that gave form to Decibel's heart and soul, his own life is to take him elsewhere in the coming season. With the changes of fall, Horton has sold his house, quit his thirteen year career at PlayNetwork and is relocating to Los Angeles. Issuing a personal statement online he expressed his endless gratitude to the community and the innumerable persons who helped fashion his life's creative vision here in the Pacific Northwest into a tangible reality in which we all shared. The following week a more in-depth piece appeared in city's local entertainment pages. In his interview with The Seattle Weekly, Horton spoke of the great triumph and tribulations of the festival, and assured all of its followers, attendees and performers of its ongoing continuance. Recognizing the changing climate of economic and cultural stratification that Seattle currently faces, Horton assured Decibel's patrons that "[he had] a difficult time envisioning it taking place in any other city. What I can say is Decibel will continue… somewhere… in some form.". With a moving, emotional outpouring of gratitude, and promises for the future, Decibel's programming director has bid us farewell.
My own experience was to take me away from the festival's enticements including a showcase featuring a rare US appearance of Thievery Corporation and across town at the ReBar, the meeting in a B2B between Manfredi Romano's DJ Tennis project and longtime Klang Records producer extraordinaire, Roman Flügel. Instead the promise of the concussion trauma offered by the double bill of Godflesh and Dominick Fernow's Prurient won out. Outside the Decibel triangle, their show was at the combined venues that comprise El Corazon and the Funhouse stage, a rock and metal bar with one of Seattle's premier punk and DIY spaces. Correspondingly, this was a very different scene than the one you would find in Decibel's theater and club spaces. Impenetrably black-clad and a lot more earthen, the night was a strong showing for the city's still relatively vital underground and experimental subculture. Departing by degrees from the darkwave electro he's predominantly produced under his Prurient moniker, it's telling that Fernow's most recent album finds its home on the progressive doom and black metal label, Profound Lore. Though there are nods to his earlier sound, as well as glimpses of the oppressive atmospheres heard on his Vatican Shadow releases for Modern Love, "Frozen Niagara Falls" is a different beast. Its live incarnation evoked parallels with Tim Hecker's performance of the night before, with the exception of a pulsing, insistent electro core driving the torrential raining down of distortion forward in serrated waves. Fernow himself in the mode we saw him in last during Decibel's Blackest Ever Black showcase in 2014, his headbanging, flailing, all-physical stage persona theatrically embodying the project's collision of gloom-and-thrum. Purient's North American tour paired Fernow with one of the all-time defining metal acts of the late 80's and 1990's. The revived musical monstrosity that is Jesu's Justin Broadrick and bassist G.C. Green's Godflesh came on the heels of a series of European festival appearances in 2010. Those who caught the successive tours and performances with Cut Hands, Pharmakon and House of Low Culture were witness to some of the most unrelenting nights of punishing, loud, assaulting music created by man and machine this decade. Sunday's set delivered on more of the same, the venue's limited confines and proximity of the PA creating an even heightened immediacy to the attack. Five days and nights of performances, from tens of artists from across the globe, in numerous venues throughout the city ended with sixty minutes of decisive and furiously discordant punctuation. Bodies literally staggered in response. For those with a taste for this kind of opprobrious sonic abuse, there could be no better conclusion to a week of cultural, social, auditory adventuring.
©
Words by Jefferson Petrey for Headphone Commute