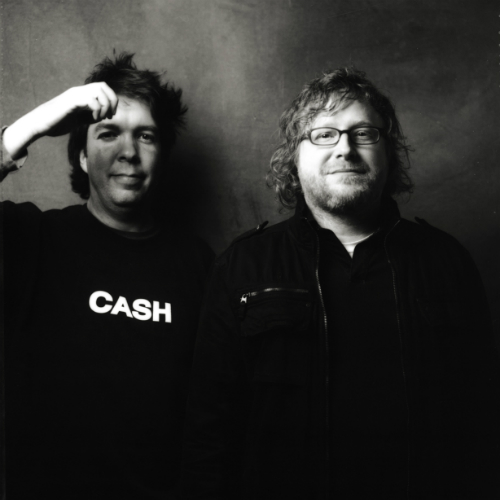 [Editor's Note: All answers for Hammock are furnished by the two members, Andrew Thompson (AT) and Marc Byrd (MB).]
HC- Hi guys. It's been a year since we last spoke (can you believe it?). What have you been up to?
MB- We finished our new record, Oblivion Hymns which was a great experience. We learned a lot of things working on this record. My home studio, "Breathturn" finally got finished. We've done some remixes for other artists. We've been approached with some really cool opportunities that could happen in the future; hopefully they will become a reality. Right now I've been dealing with neck and shoulder problems and have pretty much been laid out for the last six weeks. I think I'm on the upswing now.
AT- Mixing, mastering & artwork for Oblivion Hymns mostly. We are always writing & recording, of course, and have been working with Matthew Perryman Jones on something new and different for all of us. We also have an entire record completed that we recorded with Matthew Ryan. We're waiting for the right time to put it out. We're also making plans to expand our label and begin releasing music by different artists that we admire.
HC- I hear some choral elements as well as requiem vocals in your latest work, which also has the word "hymn" in the album title. What was a particular concept or aesthetic that you were trying to achieve?
AT- We really wanted to have the strings, horns & choir do the melodic heavy lifting on this record. It was a very conscious effort to compose with that aesthetic in mind. Taking our usual guitar elements & using them for the backdrop, rather than the focus.
MB- Well the title of the record came first. Normally the title is one of the last things to show up in the process. We wanted a noticeable connection with our last record, Departure SONGS. Hence the name, Oblivion HYMNS. We included a physical ticket to "oblivion" in the CD version of DS as well. It was all a deliberate and intentional connection. After making Departure Songs we both felt like we needed to do something different and create a very focused piece of work with an emphasis on the strings. Our manager, Johnny Pleasant, is the one who suggested the idea of using an actual choir on this record. We chose to use a children's choir in order to keep a sense of vulnerability. Working with the kids was a great experience. I think the entire album feels like a requiem, a collection of condolence. Departure Songs was an album about living life within the midst of finitude; Oblivion Hymns is the passing away… the acceptance of saying, "goodbye." An ongoing hymn to the temporary.
HC- In our last conversation, you conveyed that on the new album you'd be "taking a completely different direction". Can you elaborate a bit on that? What new things did you try on the album, and what old techniques did you attempt to perfect?
AT- There are a few songs on Oblivion Hymns that we decided to wait to add any additional elements until we had the strings down first. It made sense to record our guitars (etc.) to not only what the strings were playing, but how they were being played. At times it was a little white-knuckle, going into a string recording session with nothing but our scores & the song's tempo, but in the end, the experience was amazing.
MB- We actually recorded the strings on "Like a Valley With No Echo" and "In the Middle of This Nowhere" during the Departure Songs string session so we had an idea of where the album was going to go. We knew we wanted to do something "string heavy" and more in the neo-classical vein but we didn't want it to sound like we were thinking about the process. A few years ago I fell in love with the soundtrack from the movie, The Fountain by Clint Mansell. That piece of work planted a seed in me to hopefully one day create an album that was overtly cinematic and sweeping in scope. We've always wanted to do something more orchestrated but I think we needed enough time to pass and enough growth to occur in order for the music to sound natural, like a true progression and not like we were trying to imitate something/someone else. The guitars are less linear on this album but also more experimental when it comes to the sculpture of their sound.
HC- Tell us about some of the collaborators or participants on the new release. For example, who's playing the strings?
AT- It's the Lovesponge Quartet mostly, some additional cellos by Matt Slocum. It was the usual suspects but we did get our dear friend Timothy Showalter from the band "Strand of Oaks" to come in and sing on "Tres Dominé". It's the last song on the record and definitely stands out from the rest of the album. The song feels like a post-funeral performance, an ending… like the moment people start walking to their cars after a graveside service. Timothy really captured that emotion and we could not be happier with his performance on that song. He is truly gifted as a vocalist & songwriter. Phil Madeira also played accordion.
MB- For this album we asked Amy Pleasant to create the artwork. She's a great artist and since this record is different from the rest of our catalog we also wanted the artwork to be different. We are so fortunate to work with such talented visual collaborators like Amy, photographer Thomas Petillo, Jónsi & Alex, David Altobelli, and Alex Amoling, who as we write this is creating the first video for Oblivion Hymns. I think Amy was able to capture the aesthetic of the music and the meaning of the titles/stanzas. The only other album in our catalog that is drawing/painting-based is Maybe They Will Sing For Us Tomorrow, which is also another album that stands out from the rest of our work.
HC- I would claim that your music is often full of sorrow, melancholy and at times even grief. To what would you attribute some of these assessments, and how would you say making music has allowed you to communicate some of life's struggles and woes?
MB- My very close friend, Chuck Dodson once asked me why the theme of impermanence is so prevalent in our work. I couldn't elaborate too much at the time but it got me thinking and I can only speak for myself regarding this but when I was younger I experienced the loss of several people who were around my age. By the time I was nineteen there were some very close people to me who had passed away, several from suicide. It's hard to explain if you haven't been through it, but when you're used to hearing someone laugh and talk to you on a daily basis, when you talk back to them and make them laugh, when you share who you are with someone and overnight they're gone… they disappear… It profoundly changes you and has a lasting influence on who you are and how you view the world. There are many times when we're recording that I remember the ones I've lost and the absence they left in my life. Their memory fills me with so much emotion and as a result that emotion is present in the performance. I hope that in some way their presence/absence resonates through the music…
AT- Hammock definitely allows us to purge our demons. Working on this music has been a true catharsis from the very beginning, and hopefully has been a cathartic experience for our listeners as well. Marc has taken to calling it "Sad Boy" music, which does seem quite fitting at times.
HC- A lot of track titles read like poetry. They even seem to fit well into a micro story. Where do these come from or how do you come up with these words?
MB- I'm glad you picked up on this. The titles are usually the last piece of the creative puzzle we come up with but with this album they were pretty much the first piece. One Saturday morning this stanza kind of spilled out of me all at once. After a little editing I felt like I had a nice flow of words. The flow made more sense to me after my wife, Christine and I rented a house high up in the cliffs of Big Sur. Our view consisted of the ocean far below us and cliffs and mountains that surrounded us. I know it's an old analogy but I was watching the ocean from an elevated distance. I could see all the waves coming in, each one a different piece of the ocean but not separated from the ocean. I was very struck by the idea that we all come from the same thing yet are unique and separate. In the ideal we're all one, but I'm not you and you're not me… I feel like this is a great representation of our new album. Each piece of music can stand on its own but the separate pieces are stronger and make more sense when listened to as a collective whole. So each title is also stronger when read in order… within the context of the other.
HC- I would still love to see you guys live. So when is that tour going to materialize?
AT- There are some things in the works on the live front and we'll keep you up to date on that as it continues to develop. In the meantime, we are writing & recording for the next Hammock record already as well as a few other surprises.
MB- Yeah we want the idea of performing live to happen. Until then, we're just gonna keep creating. In about a month we're packing up our gear, computers and instruments and leaving for the mountains. We've got a cabin rented for a week. We're going to set up a temporary recording space and figure out where we want to go with our next record. The possibility of the live experience is always an ongoing conversation. One day, hopefully soon, it will make sense.