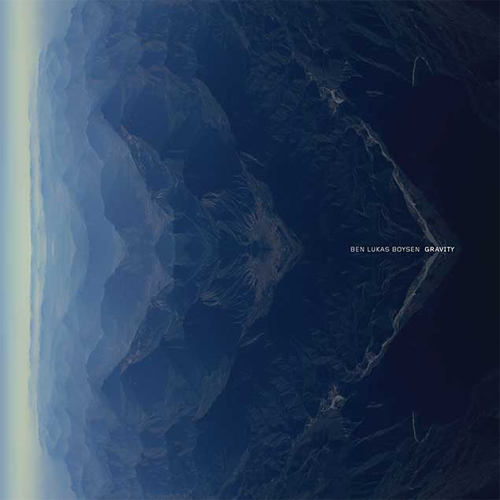 I've already raved on my obsession with Ben Lukas Boysen, also known as Hecq, in my past recommendations and reviews. From his darkstep infused glitchy goodness to the cinematic ambiance reserved for his soundtrack works, there's literally nothing this man can do wrong. When I spent a few days in Berlin this past Spring I made sure to visit with Boysen, even if it was for a couple of drinks in some dank and dinky bar, just so that I could shake his hand [ok, there was also a hug], and thank him for all the music that he has furnished over the past decade. During the same encounter I finally met with Nicolas Chevreux of Ad Noiseam label, and it is there that I learned of the upcoming Gravity release. I have heard an advance preview of some pieces, but it was not until I received the final product that I was able to appreciate its grandeur in full sum and totality.
Having recently put out a few original motion picture soundtracks on Hymen Records [see Restive (OST) (2012) and Mother Nature (2013)], Boysen has begun to establish himself as a serious composer of scores that combined ambient, modern classical, and experimental sounds. For these particular works he has slowly distanced himself from his Hecq moniker, reserved for the aforementioned darker IDM and abstract bass-heavy glitch. In 2008, Boysen surprised the community when [still behind the Hecq alias] he released Night Falls – a beatless dark ambient ethereal bliss. The album received much deserved praise and Boysen paced on. For Gravity, Boysen moves up on my pedestal even higher, this time within the contemporary classical and solo piano genres.
Before I even cover the sounds on this album, let me take a short pause and acknowledge that it was mixed and mastered by then one and only Nils Frahm [my other source of admiration], who also appears on one of the tracks. I only mention this factual tidbit whet your appetite to set up some high expectations, because they surely will be met! In addition to Frahm, Boysen is joined by Achim Färber who contributes a few shuffling jazzy beats to already hushed out overtones and textures. And seriously, are these the piano sounds I hear? And on Ad Noiseam at that? Am I seriously imagining things or have my wildest dreams came true?
Gravity is a deeply personal work in which this highly-praised producer sheds the artifacts of electronic music to compose a solemn and touching album of beauty and depth. Melancholic piano lines, warm analogue sound, tender drums: Gravity is only as sad as you want it to be, for it is first a solitary and introvert journey through heights and emotions. Much more than a new beginning: a revealing.
I dare to bring up Nils Frahm once again to stress the appeal of sound on Gravity for all the fans of fragile piano notes. The touch of the keys, the lift of the dampers, and slight ambient noises are all present behind this highly introspective work, which brings the listener much closer to the artist than even handshake [or a hug] could draw. The eight frail pieces offer a glimpse into this composer's soul – something that is not readily open and available for anyone to see. And this time we are permitted to see with our ears. The minimal and subtle progression behind each piece reveals the inner feeling of this artist: from happiness and joy to grief to sorrow and despair. The only drawback of this splendor is the shortness of its length – after a little over forty minutes I want to hear the sounds again!
Billed as a 'new beginning' for this prolific producer [since it's the very first studio album release under his real name], Gravity strips away the cloaked mysteries of electronic music production to expose the tender side of this musician's mind. But for some of us, the long-term fans and avid followers of his sound, this doesn't come off as a jolt at all. It's something that we've always known, but very grateful for sharing! Be sure to also check out the exclusive Gravity Mix, which Boysen contributed towards Headphone Commute podcast, compiling the pieces that influenced his work. Highly recommended!