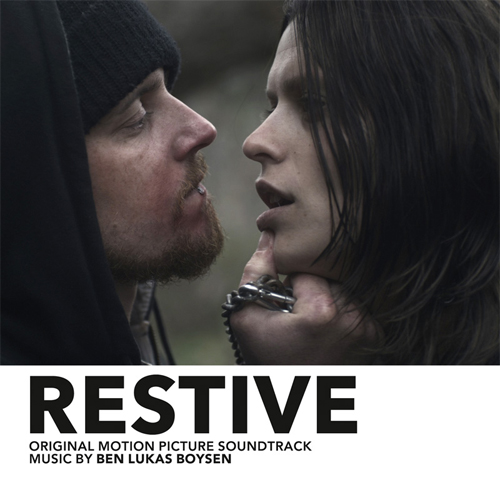 If I still haven't covered Ben Lukas Boysen's last album as Hecq, it is because I assumed that everyone has heard it, loved it, and rejoiced. I still feel like I need to do a proper write-up on Avenger (Hymen, 2011). But if eventually [and possibly permanently] I lag, do know, that it indeed made it onto Headphone Commute's Best of 2011 list (see Music For Synergizing The Synapse Of Ideas), and that I listen to it at least once a month – and that's actually a lot, considering I consume about a dozen new albums a week. My last.fm charts don't lie – Hecq is still at the top spot of overall plays. But I digress… It is with that initial thought in mind that I appoint myself to bring to your attention his latest magnum opus, perhaps because it is recorded under his real name, and may indeed be easier to overlook, even though it is released by Boysen's home label, the Lappersdorf (Germany) based Hymen Records.
You see, Restive is unlike anything Boysen has produced before. Well… almost… Besides the fact that it is an actual soundtrack to the original motion picture by Jeremiah Jones (Enemyhouse Films, 2011), Restive is an imaginary landscape of sonic trepidations and pensive insight into this wonderful composer's mind. Although Boysen has released a modern classical meets ambient album in the past, stripping away the digital onslaught of micro programmed beats (I'm talking about his Night Falls on Hymen in 2008, which should explain why I hesitated in pronouncing this a rarity before), Restive appears to be a more cohesive conceptual piece, as it unquestionably must be, given the fact that it's an intricately devised film score. This is, however, not the very first soundtrack that Boysen produced, but it is the first physically released as an album. And so, I close my eyes and consume it as one.
Over the thirteen tracks on Restive (not counting the very last one, to which I will return later), Boysen paints dark ambient soundscapes that layer the skullcap in thick aural fog. The passages evolve through orchestral progressions into unsettling cliff dives, crawl with your skin towards the throat, and eerily whisper their secret desires. The lower register strings gnarl like hungry wolves, left in the night to fend off one more frost. The brass instruments howl in the distance like slow crashing pipe columns, twisting in throes of their last dying breath. The bass quivers drop with a rumble of a colossal cinema earthquake, resembling the midnight showing of a horror film, rippling the sound waves through concrete cement walls, and the fabric of space itself.
With its beautifully elaborate compositions carrying dense moods from light sadness to subliminal tension and disturbance, Restive's music is strong enough to speak for itself and to create a motion picture in the listener's mind. with a basis of mighty sub-basses and partial beats, dramatic orchestral ambiance interweave with atmospheric synthesized pads and deep reverberation carrying continuous imaginative suspense of something hiding right beneath the shadow of a thinly layered sonic veil.
Throughout the album, it is clear that Boysen has spent numerous hours agonizing over the production quality of his work. Every detail is critically thought over, designed to guide the mind into cinematic hypnosis, whether there's a visual stimulant or not. With the film behind my closed eyelids, the passion of this musician is evoked through grayscale fragments and film noir scenes. Add to the program additional mastering by Nils Frahm [who, incidentally, contributed a track of his own as "Closing Credits" to the album, hence the last one to which I inferred above], and you've got yourself a soundtrack of the year – if not for the film industry, then at least for your life. Highly recommended if you enjoy dark cinematic works by Murcof, Ben Frost, Daníel Bjarnason, Subheim, Lustmord, and of course, Clint Mansell.
Be sure to check out Interview with Ben Lukas Boysen!