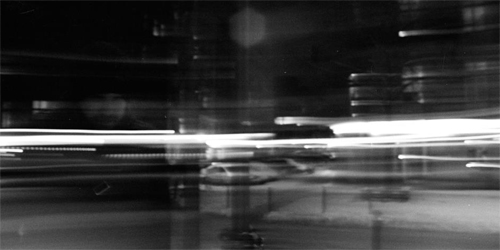 Hey Ben, how is it going? What did you do this weekend?
hey! all good! surprisingly there was a lot of work do be done this weekend (and actually still is) but i just had an excellent dinner while watching the european soccer finals between italy and spain – an entertaining sunday evening.
Let's start at the beginning. How did you get involved in composing a soundtrack for Restive?
Jeremiah, the director, sent me a mail almost 2 years back now, completely out of the blue and proposed this project to me. since scoring films is one of my major long term goals i did not waste a second to think about it and jumped on it. S o i'm not sure what more to say that this really came in unexpected and i'm more than happy and thankful about it.
Tell us about other film and advertising work that you've done.
there were 2 more films i scored after that – the strange thing was that these requests came in completely independent from RESTIVE – more infos for both will follow within the next 2-3 months i guess so i don't want to give away too much but that much i can say: at least one of them will be released as an album as well – the mastering date is already set. other than that i was working a lot on commercials and related projects to make room, time and money for the next/new album… although i'm not sure at all in which direction it will be going…
And what lead to a decision to release this particular score as an album on Hymen?
i know, love and trust the guys at hymen/ant-zen for many years now and i felt it was important to have a secure backround and a surrounding i know when trying something new. stefan was obviously open minded as always and his decision to release the album was pinned down instantly. that helped a lot with the entire production.
Talk about the approach that you take when composing a film score vs. a studio album.
obviously scoring a movie is different from writing an album that only and exclusively to your own personal standards but also to match the concept of the film and find a common ground with the director. after i had a long call and solid brief with and from jeremiah i set up a concept myself, describing how i imagined the sound, feel and structure – the elements/instruments to use and overall texture and composition. although a concept like this is subject to change over the course of the production, the score is relatively close to what i imagined. in a way i'm still figuring out what works best for scoring a movie but my personal approach for this one was to dig in as deep as possible into the story and found out that it's an amazing experience to see an entire movie without music – this really triggers a variety of ideas.
How do you go about getting immersed with the film and storyline in order to produce a perfectly accompanying soundtrack?
the storyline is not linear, so you have flashbacks and scenes set in real time but you are not really sure which is which until a certain point. this made everything quite tricky since you don't want to force the meaning of particular scenes or give away anything. that's why i aimed for an overall tone, a general atmosphere that would not over empathize any events, unless the scene would ask for it. what was very important for me was the fact that the movie is a quite intimate play which i thought the score should reflect and i decided to keep the number of elements relatively low.
How did you record and what was the source of all of the orchestral instrumentation on Restive?
the entire score was produced almost completely digital. only very few elements, like certain string sounds where recorded seperatly. the intimacy i mentioned before made me limit myself to a few elements only. strings, bowed gongs, a small number of percussions, some kind of waterphone and piano here and there. these would take turns in prominence and strength throughout the album but would always return or rather be the foundation of the score. different re-sampling and morphing techniques would allow me to have a pretty big range of variations while maintaining a general feel for the score.
There are lots of awesome sounds on Restive. What went into the making of some of that earth shattering sub bass?
if i think of the right ones, it is a layer of out-of-their natural-range pitched down cellos/upright basses, bowed gongs and simple sine-sub basses (for the punch). if you set up this kind of layered "instrument" and play with it's possibilities the results come rushing in i think. the work in finding the right balance between these layers.
With this release under your real name, do you see yourself splitting in half? Hecq being one of the most innovative experimental electronic projects, and Ben Lukas Boysen the composer of ambient and modern classical works?
i did yes, although i'm not sure if this actually makes sense at this point. the freedom of "hecq" for me was always that i could do whatever i want to do – therefor there's no real need for an alternative project name. at the moment i would stick to ben lukas boysen for the score releases and with hecq for everything else but as i said…i'm having a very open discussion with myself about this these days.
By the way, I have to mention that it's always exhilarating to discover two of my favorite artists all of a sudden working together! So how did you get involved with the amazing Nils Frahm?
we've been in contact for quite a while, being admirers of each others work. since our approaches are quite different, it was more than thrilling to see what one can do to the others work and ideas. i'm still waiting for a moment to return the favor but what nils contributed to this score means the world to me. i was very happy when he said yes to my idea of having a variation of the opening titles that is just "hovering" around the theme and which leaves the overall sound of the score without abandoning the feel.
Do you think we'll see another beatless album from you in the future, like the 2008 "Night"?
yes, very much so. "avenger" was quite a departure for me and i noticed a lot of things: first, i had to get it out of my system – i was playing quite a few gigs in these 2 years that avenger was in the making that were full on clubsets and i enjoyed it alot. yet, to write an album like this is highly restrictive to me, due to stylistic barriers (at least that's the way i felt about it). there were and still will be a few more clubby remixes but in general i feel that this well ran dry for me. at the moment i'm figuring out how the next album will sound like and what can/should be done. breakin free of certain influences and restrictions is the main goal for now – once that's done the door for some fresh thoughts and ideas is open.
What are you working on right now and what's next for Hecq?
i'm remodelled my quite small studio/set up, bought new/more speakers and some other new gear to change / optimise my workflow. this also is an essential part of a new album – i find it quite hard to write a new album with the exact same set up i had for the previous one. even if its small changes (in this case new speakers, new software etc) but they will be significant. i also borrowed a xoxbox from a friend, which is fun in bags – fantastic! so in a nutshell:  finishing the ongoing projects one by one, then hopefully take a month off ( knowing me, i doubt this will happen tho) and then start working on the next album…i noticed that it will be 10 years next year since " a dried youth" was released which forces me to make the next album quite special.
Read Headphone Commute's review of Restive (OST)