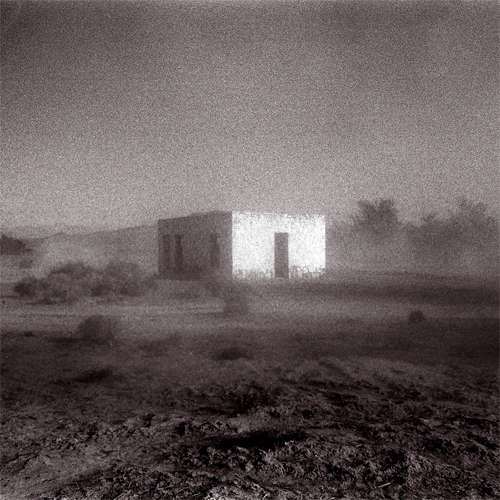 The storm is coming. It's Monday, October 29th, and hurricane Sandy is scheduled to land on the shores of New York City in just a couple of hours. The governor has declared a state of emergency. The stock market has shut down. Even the presidential election has been put on hold. There's something inevitable about Sandy's approach. There's nowhere to run. There's not much to do. We just have to wait it out. It's ten o'clock in the morning, but the sky is dark as night. I shut off the lights and roll up the window blinds. I open the windows, and let the wind do its dance through my home. I can smell the electricity in every tiny particle that enters my room. And all I need now is some music.
There's nothing more apocalyptic than the sound of Godspeed. The Montreal based band has been credited with influencing the so-called post-rock music genre since their debut, titled F♯ A♯ ∞ (1997). Named after a documentary on Japanese biker gang, The Black Emperors (1976), Godspeed You! Black Emperor (which is commonly abbreviated as GY!BE) has put out numerous records on the Canadian Constellation imprint, home to many shoegaze, instrumental rock, and post-rock bands such as Esmerine, Silver Mt. Zion Memorial Orchestra, Lullabye Arkestra and Do Make Say Think. The albums have also been reprinted by the Chicago based Kranky label, which exposed the band to a larger audience and gained them somewhat of a cult following among the experimental, ambient, and indie scenes.
It's hard to describe the sound of Godspeed. Like an unstoppable moving storm, ready to consume and destroy everything in its path, the music of Godspeed is all about the dynamics. These build ups, inevitable from the very first note, first lurk behind the curtains and then explode onto the stage. This final appearance is raw, heavy, and mighty. The cinematic progression behind each track can take up to twenty minutes to unfold. And in those twenty minutes your mind may wonder and drift with the wailing melody until its jarred back into the presence with a volatile and unstable weather. No need to turn up the volume – the crescendos will come. No need to board up your windows – the glass still will shatter. But with destruction comes hope, credence and peace. No wonder the album is titled, 'Allelujah! Don't Bend! Ascend!
our cities' grace and pain
a stinkin' wind – a plague of policemen
and our dreams, alit, sinking in the harbour
thee onlookers stare.
'allelujah! don't bend! ascend!
After a ten year hiatus, it's great to see Godspeed return. The band still maintains its dark humor (the spine of the record is credited to "God's Pee") and political message (the focus is now war criminals and Quebec student protests). This long awaited comeback may signify a point of reflection on the evolution of social landscape and independent music culture. "Godspeed's music will do that to you. It is music that bears witness to, channels and transforms this predominantly terrible, infuriating, venal and nihilistically sad story we're all living, sharing, resisting, protesting, deconstructing and trying to change for the better." And since it's really hard to describe the sound of Godspeed, I only wish to share one final phrase: Godspeed's music makes you feel! And that's a transmission of message through sound.