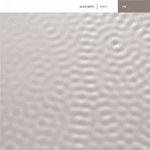 Following a triumphant 2009 and two of the most notable releases of the year (Xerrox Vol. 2 and Utp_ with Ryuichi Sakamoto) Carsten Nicolai, aka Alva Noto, returns with a second installment of compositions devoted to creative personalities from a number of different fields. Coming four years after the first one, For 2 features compositions dating as far back as 2003, although most are from around 2007.
For 2 confirms that Nicolai's music has become more and more orchestral in recent years, for lack of a better word, and not as heavily anchored in the glitchy beats of Transform and the Transall series. Although the micro beats, squelches and static continue to be among the defining characters of Noto's music, there's more going on all around them than there used to be. Of course, Nicolai has been rubbing up against modern classical music in his collaborations with Ryuichi Sakamoto going back as far as 2002 so this is no sudden revelation. But it feels like there's more weight to his recent solo output as well. His two Xerrox volumes are a case in point.
So is opening track "Garment (for a garment)". The sonic identity is intimately familiar – sonar beeps, white noise and minimal glitch. But halfway through, the cellos enter, providing the emotional depth that has often been absent from Nicolai's sterile soundscapes. It's a terrific track and simply put, the blend of the electric and organic just sounds great.
Understandably, since For 2 is a compilation of material composed for many different occasions, there's a lot of variety on offer. There's the field recording-based "Villa Aurora (for Marta Feuchtwanger)", with birdsong and airplanes flying overhead. The dark and oppressive "Stalker (for Andrei Tarkovsky)" features Russian dialogue, presumably from the film of the same name, and is reminiscent of Kreng's L'Autopsie Phénoménale De Dieu. On the other end of the spectum, there's the bright and luminescent "Sonolumi (for Camera Lucida)" and the rhythmic beeps of "T3 (for Dieter Rams)". But on the whole, the tone of For 2 is contemplative and atmospheric.
This is a fascinating and rewarding collection and it makes you want to dive in and explore the connection with the people to whom the music is dedicated. I must admit that most of the names are unfamiliar to me, although I know Russian filmmaker Andrei Tarkovsky and have heard of Phil Niblock. But the others drew a blank. So I thought it would be worthwhile to flesh out the context a bit. As Carsten Nicolai said when I interviewed him last your for Headphone Commute (see Two and a Half Questions with Carsten Nicolai):
"I think, personally, that it's not really necessary for the listener to know the full background of the concept… The listener can just enjoy and listen without any preconception… If you want to know more, if you want to have a really detailed view, you can go deeper and you can explore several levels of the piece. It can be enjoyable to be able to see the background of the piece…"
So while it's certainly not essential to know the stories to enjoy the music, it does add an extra dimension. And those familiar with Carsten Nicolai's music know that "concept" is virtually his middle name. I have therefore added some info on the devotees here below, which may be of interest to those wishing to "go deeper". It's well worth the journey.
alvanoto.com | raster-noton.net
– – – – – – – – – – – – – – – – – – – – – – – – – – – – – – – – – – – – –  – – – – – – – – – – – – –
Villa Aurora (for Marta Feuchtwanger): Villa Aurora in Los Angeles is the former home of German-Jewish writer Lion Feuchtwanger and his wife Marta, and is now an artists residence used to promote German-American cultural exchange. Lion Feuchtwanger was on a lecture tour in the U.S. when the Nazis came to power in Germany and he remained in exile and became a fierce critic of the Nazis. He and Marta were interned for a time in a camp in France, where Marta fought for better conditions for the prisoners. Marta managed to get out and have her husband freed. She then organized their flight across the Pyrenees to the U.S. Marta lived in California until her death in 1987.
Stalker (for Andrei Tarkovsky): Stalker is a 1979 science fiction film by Andrei Tarkovsky, the most famous Soviet filmmaker since Sergei M. Eisenstein, according to imdb.com. "His films are characterized by spirituality and metaphysical themes, extremely long takes, lack of conventional dramatic structure and plot, and memorable cinematography. Ingmar Bergman said of him: 'Tarkovsky for me is the greatest [director], the one who invented a new language, true to the nature of film, as it captures life as a reflection, life as a dream'." [Wikipedia]
Sonolumi (for Camera Lucida): This piece was recorded for Evelina Domnitch (Belarus) and Dmitry Gelfand's (Russia) Camera Lucida project, which centers on the phenomena of sonoluminescence. Sonoluminescence means to transform high frequency sound waves into emissions of light irradiated in a gas infused liquid. (A camera lucida is an optical device used as a drawing aid by artists; it superimposes the subject onto the surface upon which the artist is drawing.)
Interim and T3 (for Dieter Rams): Rams is a German industrial designer closely associated with the consumer products company Braun and the Functionalist school of industrial design. He's often referred to as "the designer's designer". These two tracks were composed for a ceremony where Rams was presented with the German Design Award. T3 is a 1958 pocket transistor radio designed by Rams, which featured a jog-wheel to change channels, remarkably similar to the design of the iPod.
Early Winter (for Phill Niblock): Niblock is a composer,  filmmaker,  videographer, and director of Experimental Intermedia, a foundation for avant-garde music based in New York which also has a branch in Ghent, Belgium. "Early Winter" contains a sample from Phill Niblock's music; I would assume that it must be taken from the piece of the same name that appeared on the 1993 album Music by Phill Niblock.
Anthem Berlin (for the Kingdom of Elgalend-Vargaland): In 1992, Swedish conceptual artists and composers Carl Michael von Hausswolf and Leif Elggren's proflaimed the fictional Kingdom of Elgaland-Vargaland, "the largest – and most populous realm on Earth, incorporating all boundaries between other nations as well as Digital Territory and other states of existence. Every time you travel somewhere, and every time you enter another form, such as the dream state, you visit Elgaland-Vargaland." Alva Noto's national anthem for the Kingdom premiered at Haus der Kulturen der Welt in Berlin in October 2006.
Ans (for Eugeny Murzin): Murzin (1914-1970) was a Russian audio engineer who invented the ANS synthesizer in the late 1950s. ANS was based on the technology of photo-optic sound recording, which made it possible to obtain a visible image of a sound wave, as well as to realize the opposite goal of synthesizing a sound from an artificially drawn sound wave. Incidentally, most of the music for Andrei Tarkovsky's film 'Solaris' was made with with the ANS. This interrelationship between audio and the visual image has been a central aspect of Carsten Nicolai's (aka Alva Noto) work as a visual artist. For "Ans", Noto drew onto the glass plate of the ANS synthesizer, producing the modulating sound heard on the composition.
Argonaut (for Heiner Müller): Müller (1929–1995) was a German (former East German) dramatist, poet, writer, essayist and theatre director. Described as "the theatre's greatest living poet" since Samuel Beckett, Müller has been called the most important German dramatist of the 20th century after Bertolt Brecht. "His 'enigmatic, fragmentary pieces' are a significant contribution to postmodern drama andpostdramatic theatre." [Wikipedia]
– – – – – – – – – – – – – – – – – – – – – – – – – – – – – – – – – – – – – – – – – – – – – – – – – –
Review prepared by Tigon for Headphone Commute.