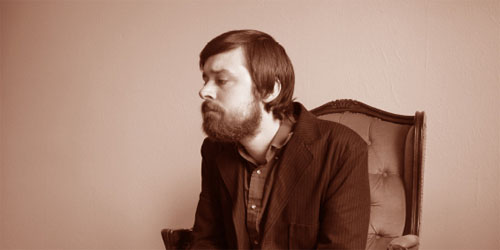 What is your typical composition process?
When I begin a song I have little idea of what it's going to sound like. I don't write down ideas or read music so if an idea comes to me can be quickly lost. I usually just sit down with the guitar or at the computer and see what happens. The only thing I am usually certain of at the start is the feeling I'm trying to convey within the music. I'll begin with a basic melody or try to create a background texture. After that i add what sounds right to me, there's rarely a plan or structure and most of the time the songs just grow naturally. Something that happens quite frequently is that i have a song that i feel isn't working so i begin to disassemble or destroy it by stretching it many times and just using a small section, or slow it down, reversing or distorting it. This can provide some unexpected, random sounds that can be a new starting point to develop a new melody when again, things naturally grow.
What emotion, would you say, is mostly expressed in your music?
I think sadness and hope are the two that seem most prevalent. Over the duration of all my albums (including the new one) there's a melancholic feeling of sadness but this is always balanced with optimism and hope.
Do you ever write music in your sleep?
No but I often wake with songs in my head, I can hear finished tracks in their entirety but as i don't read music or play the guitar very well it's difficult to jump out of bed and capture these ideas. So i just enjoy them before they evaporate.
Tell us about your upcoming album.
The new album is called 'The Safety of The North' and it's about a couple, their young daughter and their move from a city to a rural setting. I think it's a more cinematic and detailed account of a narrative than 'Sea'. I've treated each track as if it were a section from a movie. There are small parts of spoken word and some vocals on one track. It explores the loss of a loved one and recovery from such a situation.I've spent more time working on this than my previous 2 albums and it has been more of a challenge because I've been writing songs for very specific scenarios. This extra time has proved beneficial, I think it sounds very complete and diverse and focuses more on compositions rather than abstract music. It's now just about finished and should be out very early next year.