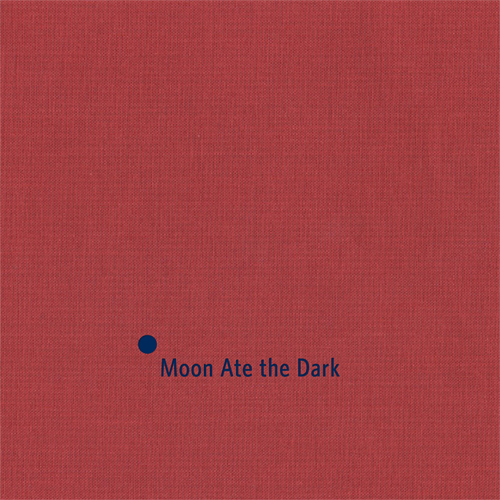 There's plenty of beautiful piano music to go around these days. And hey, who's complaining? I could never get enough! And somehow, among variety of styles, each artist manages to shine, shimmer and sparkle like a bright speckle of dust floating in the darkness of my wine glass, containing an entire universe all within itself. Somehow, there are times for the pensive Library Tapes and the playful Chilly Gonzales; times for the sullen pieces by Dustin O'Halloran and a little somber works by Peter Broderick; times for the bright percussive tracks by Hauschka and the magnificent masterpieces by Nils Frahm. And among these wonderful contemporary classical composers, who have selected the piano as their solo instrument, there's always room for a new name. Enter Moon Ate The Dark, a project by Welsh pianist Anna Rose Carter and Canadian producer Christopher Brett Bailey with their self-titled debut on Sonic Pieces.
The seven pieces on Moon Ate The Dark at first seem simple and repetitive. But it is their simplicity and repetition that take the center stage and slowly captivate, delight and enchant. The minimal melodies take on a hypnotic quality half way through each track, as barely audible sound processing kicks in, making me wonder at times if it's an actual audio effect or if my mind is playing tricks on me. This nominal, yet innovative touch by Bailey around Carter's keys gives a new life to the instrument. A particular darkness is explored on a track titled "In Fiction", on which a clever rhythmic gating reverb inspires the piano to heartbeat and roar. My favorite rendering of effects on the album is when piano notes echo and reverb in detuned shadows of themselves. There is nothing grandiose throughout the forty-five minutes on the album. But it is this humble approach at making reserved, retained, and restrained music that we've come to expect from the catalog of Sonic Pieces. And Moon Ate The Dark does not disappoint.
'Moon Ate the Dark' is an album of depth and complexity; a record which would be equally at home on the shelves of avid early 4AD fans as it would in the ranks of any contemporary classical collection. And with a subtle sense of pacing and space, Bailey and Carter have created a record which echoes through the last thirty years of experimental piano music without necessarily sounding exactly like any of it. This should be something we can all cherish. 
Anna Rose Carter is not a stranger to the music scene. Born in 1988 she began her musical career with a few EPs in 2010: Something For A Rainy Day EP (Dedicated, 2010) and Silver Lines (Schedios, 2010). A year later she collaborated with Bartosz Dziadosz (aka Pleq) on My Piano Is Broken (Rural Colours, 2011). But a few years prior, Carter met Bailey in London (where both currently reside), and the two have been working on a few improvised pieces [one of which can be found on Carter's Soundcloud]. For a signature touch from the wonderful Sonic Pieces, the limited edition release comes in a canvas bound cover, which I'm sure Monique Recknagel has handcrafted by herself once again. For more from Sonic Pieces, be sure to check out our reviews of Hauschka & Hildur Guðnadóttir's Pan Tone, Dictaphone's Poems From A Rooftop, and Gareth Davis & Machinefabriek's Grower. Also recommended for fans of Ryan Teague, Olan Mill, Clem Leek and Nest.