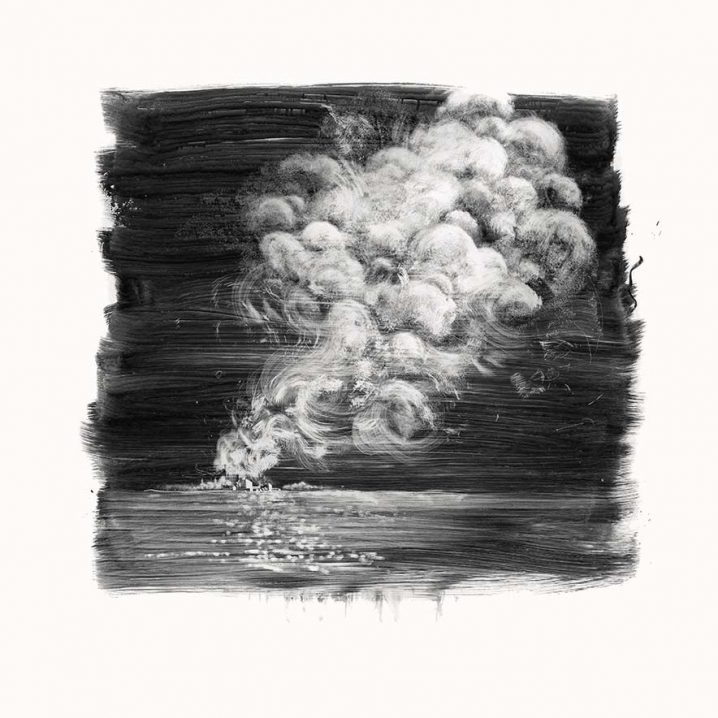 So you haven't heard of Dead Light prior to this post and are curious about this new act on Village Green imprint. Fear not, the always loyal Headphone Commute is here to edumacate you in the latest and greatest music on the scene. And Dead Light is exactly just that, immediately impacting from the fading lo-fi drones and the gorgeous felt-padded piano notes of "Blooms", the very first piece on the debut self-titled album. But peel back the layers of this project and you will find that the duo behind the name is not a newcomer to the world of beautiful and gorgeous modern classical meets ambient genre. Dead Light is Anna Rose Carter (one half of Moon Ate The Dark) and Ed Hamilton. The couple has moved from London into a "quiet, remote space in the countryside" and this new environment has given birth to Dead Light.
Delightful melancholy is persistent throughout the eleven short pieces on the 40-minute album (a warning to those already suffering from a heartache, as it will pierce through all the newly healed scars). But there is also a glimmer of longing and hope, perhaps found in the isolation, contemplation and self reflection that could be found in such remote places, away from the craziness of a city life. Stillness may have been the inspiration behind some solo piano minimalism and electro-acoustic ambiance, and its significance, impact, and influence is best conveyed through Dead Light's music. I think another important element of the album is its elegance, delicacy, and frailness. That particular factor is slightly different than pure minimalism, as Anna's soft piano keys, Lasma Anspoka's gentle voice, Carys Davies' somber cello, and Hamilton's subtle treatments with tape machines, hydrophones and home-made synths create a concise little package, best savored in its entirety in a full and active listening.
The migration out of the sprawling metropolis to their new rural refuge was a transition that significantly impacted them both; the reality of this new setting an opposition between the serene nature of their new life, and the dislocation from the lives, people and places that they left behind; two conflicting sentiments that co-exist in a somehow beautiful, bitter-sweet relationship. Dead Light is the tension between these two states, a textured and imperfect dream world.
The duo join Matt Dunkley, Ben Chatwin and John Matthias on London-based Village Green label, which has also brought us records by Ryan Teague, Keith Kenniff, and Mint Julep, so we know that they are in a good company. It's also worthwhile to mention that the artwork for the album is done by the one and only Gregory Euclide, the same Minnesota River Valley artist that did the cover art for Bon Iver, Lubomyr Melnyk and Erased Tapes Collection VI (I personally follow him on Instagram, and so should you). In addition to this release, you can find Hamilton's solo 2013 album, Sketches For Skomer on Futuresequence; Carter's Silver Lines on Schedios Records and her 2011 collaboration with Pleq, titled My Piano Is Broken on Rural Colours. Highly recommended, especially if you are ready for your own little escape!
Stay tuned for Headphone Commute's In the studio with Dead Light
dead-light.com | villagegreenrecording.co.uk
©
Words by HC