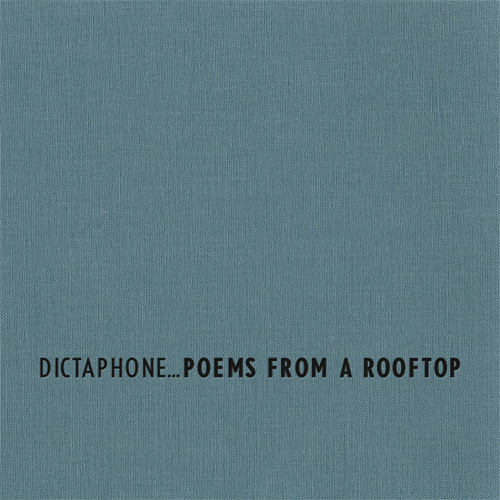 It's been over six years since Oliver Doerell and Roger Döring released their 2006  album, Vertigo II as Dictaphone. And to tell you the truth, I'm still playing their 2002 debut, m.=addiction. Both of these, along with the 2004 Nacht EP are part of my dearly treasured catalog collection from City Centre Offices. In fact, I have almost every album from this Berlin based label, including Doerell's collaboration with Stephan Wöhrmann on their Swod project, with all installments of the trilogy: Gehen (2004), Sekunden (2007), and Drei (2011). So you could definitely say that I was pleasantly surprised when I saw a new release from Dictaphone. And more importantly, this new album is released by Sonic Pieces – another Berlin based purveyor of hand-made media featuring recordings by Erik K Skodvin, Nils Frahm, Dustin O'Halloran, Ryan Teague, Greg Haines, Simon Scott and many others!
Once again we find Döring on clarinet and saxophone, while multi-instrumentalist Doerell picks up guitar, piano, electronics, and what I think is an upright bass. To enhance Dictaphone's staple of smokey, jazzy compositions, drenched in cinematic melancholia, and lightly sprinkled with glitchy circuit chirps, the duo invites Alexander Stolze to play the violin. If the immediate thoughts of m.=addiction evoke the groovy rhythms and wheezy scratches of Sonne Free, forever implanted in your mind, then so will the melody of The Conversation, once you think of Poems From A Rooftop. From the very first track you will realize that this is the album that should be slowly sipped out of a hand-warmed glass on a chilly afternoon. This is the album to fall in love with over many evenings, each subsequent rotation capturing another moment of time to be recalled in the future. This is the album of the distant past, when in 2022 you will play it again and silently sigh for the life of your present.
The title 'Poems From a Rooftop' comes from Iran's 'green revolution', where people were so afraid to go out on the street that they emerged on their own rooftops to protest the stifling regime. […] It seems as if 'Poems from a rooftop' catches a point in the band's career where they appear perfectly at ease with their sound, and able to distil the jazz, subtle electronics and haunting ambience of their previous records into one deftly coherent whole. 
Towards the end of the album we find a song, "Rattle", on which Mariechen Danz sings a heart wrenching poem for a dusty night. The lower register female vocals evaporate images of a jazzy prayer, half begging and half cursing the gods for the state of life, cloaked in the mystery of the character's struggle, wishing to learn more. With this abstract narrative, coupled with concrete arrangement structure, Doerell and Döring compose beautiful songs even without the lyrics. Once again, the duo crafted an album that will sweep the listener into the unique world of Dictaphone, leaving you begging for more, even if it's only every six years… Highly recommended!!!