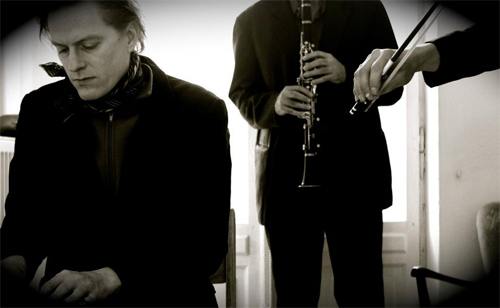 [note: all questions are answered by Oliver Doerell on behalf of the group]
What have you been up to during the six years between Vertigo II and Poems From A Rooftop?
I was mostly involved in the Raz Ohara & the odd orchestra band … releasing two albums and touring . i also compose a lot for modern ballet productions . at a certain point 2 years ago , i missed my bands SWOD and Dictaphone and this resulted in the two new albums…
Talk about the events that set the stage to compose an album themed around Iran's Green Revolution.
I'm very linked to the The Persian-born Berlin choreographer Modjgan Hashemian , having composed for 3 pieces of her work . When we started to get into the intense production period of the Dictaphone album , i was also composing for " Move in Patterns " a dance-piece about Mojdgans childhood in Iran and the withdrawal of people from public life , seeking for freedom in their privacy … we were struck during the production by the events in iran … so this had an impact on the dictaphone album , too.
How did you end up releasing on Sonic Pieces?
We wanted a change in structure , i met Monique Recknagel from Sonic Pieces , liked each others work and we decided to release it on her label .
How did you meet Alexander Stolze and what prompted the collaboration on the album?
I know Alexander Stolze for a long time , i always liked him and thought of playing with him . as a coincidence our children landed in the same schoolclass , we met at a celebration for this event , so he had to join the band … he is not a guest ..he will stay forever ! It was good for Roger Döring and me to have a new bandmember , we were like an old couple .
For the first time we hear vocals on the Dictaphone album. What inspired your song writing for Mariechen Danz?
For the second time . On the first Dictaphone album M. =addiction there are also guest vocals of Malka Spigel ( Minimal Compact ) on the song Tempelhof , anyway… i wanted first to produce an album with lots of vocals , but things developed differently …Mariechen Danz is great , she will join us for some shows . Maybe in the future we will work more together . We also plan to work with Stanko as a singer , an italian psychotic dog , who thinks he is the reincarnation of Caruso .
Where are the lyrics of Rattle from? Are they perhaps an excerpt from a poem?
Yes , it's a modification of a poem by Vachel Lindsay, that was written about the crimes during the Belgian colonisation of the Congo .
How do you see your work with Stephan Wöhrmann on Swod differ from the sound of Dictaphone?
Swod has a much more abstract and minimal sound structure , dominated my Stephan Wöhrmans piano play . Dictaphone is a darker moving monster .
Read Headphone Commute's review of Poems From A Rooftop