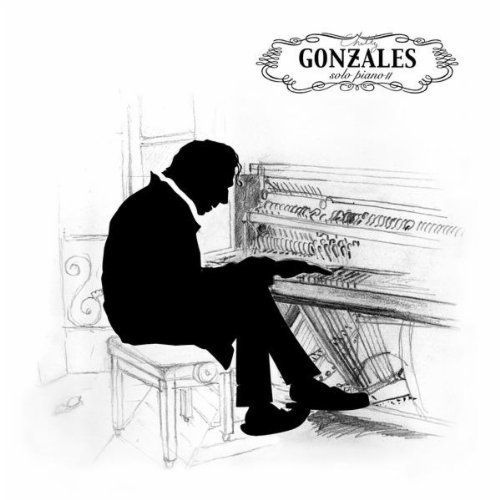 Do you know Gonzales? Perhaps you simply know Jason Charles Beck by his Chilly Gonzales moniker, under which he produces orchestral hip-hop with tongue-in-cheek humor and silly-witty rhymes. I'm talking here about his 2011 The Unspeakable Chilly Gonzales, on which he spews ridiculousness like "I'm at home in a taxi cab / self-absorbed, the musical maxi-pad / I like sunsets, long walks on the beach / I don't rap like Big Poppa / 'cause I don't preach." And for some reason I'm secretly attracted to these pieces as well, slotting them away for my guilty pleasure. Afterall, his stage persona of a Jewish supervillain MC has achieved some European nightclub recognition, and even scored a Grammy nomination. Oh, and did you know that his 2010 track "Never Stop" was the opening tune in the Apple iPad commercial?
But I'm not here to discuss his comic rap outfit today. Did you know that Gonzales is also one of the most prolific piano players on the scene? That's right – his 2004 Solo Piano album, on which Beck lays down some of the most intimate piano pieces you have ever heard, is still his best-selling release to date! The inevitable success of the album has earned him appearance spots on albums alongside Jamie Lidell, Buck 65, Feist, Daft Punk, and even Drake. He seems to be that "piano guy" everyone wants to hear and compare to Erik Satie, and not the monologue spitting entertainer, the way his very own track declares "Shut Up and Play the Piano":
"Solo piano's musical cocaine
I tell myself make another, don't be so vain
But imagine if I just tossed it off
Imagine if the cock was soft
Imagine if I turned just the image off the one and only album
That people really cared about, well, that would be a problem
So bear with me, I'll be right with you
Thank God, I have another personality to switch to"
Well, it's eight years later, and Gonzales is back! A hunchback silhouette behind an upright piano, Chilly returns to his inner beauty he left us with the first release. The immediate observation by an unprepared listener reveals the effortlessness with which Beck glides across the keys. The elasticity of rhythm, the dry string reverberations with just enough sustain, the proximity of microphones to capture the hammer mechanics – all of these elements shine on the second volume and instantly propel Gonzales back onto the stage. The man is an absolute genius behind my favorite instrument! No doubt about it!
The fourteen delicate pieces on Solo Piano II contain about fifty ideas in each, exercising restraint and exuberance, and always showcasing pure musicianship. Hearing Gonzales on the piano once again reassures my previous suspicions that he always knew where his heart truly lies. These are not fun and games that he plays with his audience. These are compositions that will pierce your soul with their lyricism, inner beauty, and exceptional skill. For me, listening to Solo Piano II brings up the one and only thought – when will Gonzales come to play in US so that I can witness this true master perform live?
Solo Piano II is one of those albums that's nearly impossible to simply describe – check out the tracks for yourself and the little video medley. Better yet, don't even bother – just pre-order your copy! If you loved his first Solo Piano release, you know that you will absolutely have to have the second! If for some reason you're not familiar with his work, it is highly recommended if you're a fan of Eluvium, Dustin O'Halloran, Nils Frahm, Library Tapes, Goldmund, Hauschka, Peter Broderick and company… And yes, the Solo Piano II tour is already scheduled – check out the main site for your cities and dates!