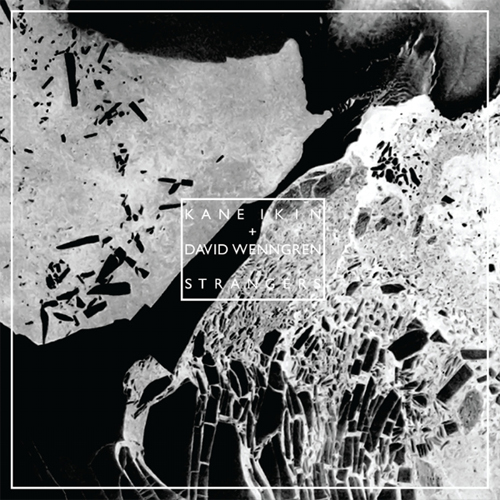 After falling in love with music by Library Tapes, I learned to memorize David Wenngren by his real name, so that I can keep track of all of his projects. This is how I recognized his collaboration with Danny Norbury on Le Lendemain (see Fires, released by Home Normal in 2009), his work with his girlfriend, Ylva Wiklund, on Murralin Lane (see Our House Is On The Wall, released by 12k in 2010), and his pairing with Christopher Bissonnette for an album titled The Meridians Of Longitude And Parallels Of Latitude (Home Normal, 2011). A few years ago I added Kane Ikin to the list of "real names" I'll keep track of! After all, he's one half of a beautiful project, Solo Andata, with Paul Fiocco (see the self titled album followed by Look For Me Here EP released by 12k in 2009), and a wonderful 7″ EP, Contrail (12k, 2011). So when Simon Scott reached out and mentioned a new release on his Kesh Recordings by Kane Ikin and David Wenngren, I immediately jumped at the opportunity to secure a promo copy of Strangers… and it's a pure intoxicated bliss.
Kane Ikin and David Wenngren spread the sounds on a sonic canvas with a palette knife covered in clay. Thick textures of frequencies spread out and solidify throughout the pieces, washed out by field recordings of ocean waves, white noise, and ambient chastity. Single-word titles, such as "Swell", "Call", "Veil", and "Drifter", keep the complexity of album at bay, leaving the minimalism at the forefront of imagination. What we are left with is genuine music – heartfelt, organic, and incredibly warm – with traces of guitar, strings, and analog consoles. The story of making the Strangers, however, is just as honest and simple as the record. The two musicians approached the album without preconceived ideas, allowing the music to speak for itself.
"This record was made without ever meeting, without real discussion or a plan. The concept is simply just communication though sound and that is what informed the title Strangers." -Kane Ikin
Personally, I get all warm and fuzzy inside when any two of my favorite artists decide to collaborate together. It's like learning of a perfect matchmaking among the two distant friends, when individual eccentricities compliment each other's talents and fulfill the missing void. It is even more exciting, when the matchmaker is one of my favorite labels. Simon Scott's KESHHHHHH Recordings has been responsible for putting out Saito Koji's Theme (2008), Hannu's Hintergarten (2009), Martin Herterich's Silent Fields (2009) and most recently a 12″ from Isan, titled Easside (2011). Strangers is available on the label's bandcamp site. Oh, and yes, it was mastered by Taylor Deupree!
Be sure to check out Interview with Kane Ikin